Looking for a home-run pair of sunglasses this season? Look no further than what MLB sunglasses the players wear! If the pros can trust them in any condition to stay at the top of their game, then you better believe they will get the job done for you too. As baseball season comes into full swing, don't play a game without the best pair of MLB sunglasses resting on your nose!
During the World Baseball Classic players on team USA such as Giancarlo Stanton and Christian Yelich pictured below were seen at Dodger stadium rocking their Oakley and Under Armour glasses before team USA's game vs Japan.
Stanton is seen sporting Oakley Radar EV Pitch when playing for the Marlins as well as Team USA. The Radar EV Pitch is made out of O Matter material for increased impact resistance. Each pair of these MLB sunglasses also comes with unobtainium earsocks and nosebombs for extra support.
Yelich on the other hand, wears Under Armour Octane. The Octanes are known for their ArmourSight lenses which provide enhanced, distortion-free vision. The Octanes are made out of high grade injection polyamide enabling them to have increased strength and durability. Check out what athletic sunglasses the pros wear broken down by brand name below.
Oakley Glasses
Team Puerto Rico's Mike Aviles wearing his Oakley Flak Jacket 2.0 before taking field for one of their day games during the World Baseball Classic. Aviles's Flak 2.0 XL's are known for their updated styling specifically the added upper peripheral view and wrap around coverage. Each Flak 2.0 XL is made with Oakley proprietary O Matter for amazing durability and ultra-lightweight comfort.
Venezuela's Miguel Cabrera shown here wearing his Oakley Radar EV Pitch athletic sunglasses. Cabrera had a great World Baseball Classic with a clutch game-tying home run vs Team Italy in the top of the 9th. Cabrera's Oakley Radar EV Pitch sunglasses are available online at SportRx.com
Dodgers outfielder Scott Van Slyke is yet another player that wears the Oakley Radar EV pitch. With the added benefit of the taller lens design and the anti fog view thanks to the upgraded ventilation system. Its no wonder these Radar EV pitch's are used by so many players throughout the major league baseball.
After 17 years in Major League Baseball Ichiro knows and trusts his limited edition Oakley Radar athletic sunglasses to keep him on the top of his game. As a right fielder it is so important to have sunglasses that you can trust to block out the sun all while providing the comfortable fit to your face. With anti fog lenses the Radars wont let you down when it comes down to making the play.
But lets not forget the coaching staff needs glasses too. Giants bench coach Ron Wotus is seen above sporting the Oakley Flak Jacket XLJ. These athletic sunglasses come in five different colors and have a semi rimless design these eye coverage you need to play any position on the field.
Kaenon Glasses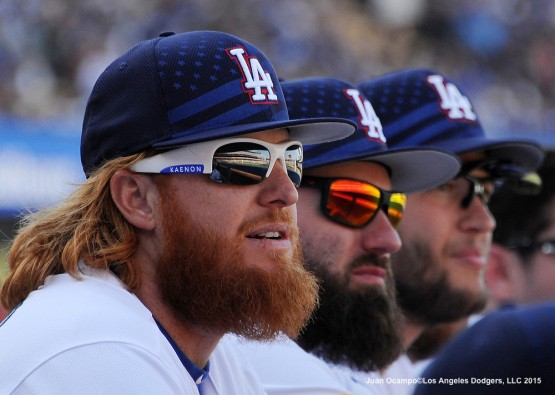 Justin Turner wears Kaenon Hard Kore to get the job done at Third base for the Dodgers. The Hard Kore is extremely durable thanks to its strong frame. Turner is not the only MLB player who wears Kaenon glasses, Josh Hamilton and Adam Jones also trust these Kaenon Hard Kore athletic sunglasses to get the job done.
2017 World Baseball Classic champion Adam Jones is pictured during an interview before the United States played in Miami, Florida. Jones wears Kaenon Hard Kore athletic sunglasses. In addition to their extremely durable design the Hard Kore comes in 6 different lens tints allowing you to find the perfect tint for your eyes. All six tints and and 7 different color coordination are available at SportRx.com
Under Armour
The Mets Jose Reyes pictured above hanging out in the dugout before a game wearing his Under Armour Core 2.0 ANSL sport sunglasses. The Core 2.0 ANSL's are known for being very adjustable with adjustable temple and nose pads to offer more comfortable fit to your face. The ANSL's also have cap gripper technology which allows them to grip onto the top of your baseball cap when not being worn.
The face of the Nationals, Bryce Harper wearing the Under Armour Freedom Rival. The Freedom Rival athletic sunglasses are constructed with a three point grip to ensure a snug. The Freedom Rival fit also have 100% UVA, UVB,UBC protection to prevent your eyes from ever being damaged by the suns rays while wearing them.
Prescription MLB Sunglasses Available at SportRx
Now it's your turn you've seen what the pros wear, find your pair of prescription MLB sunglasses at SportRx! Prescription or non prescription sunglasses from 40 different brands we have you covered. If you have any questions please feel free to contact our eye opticians. They will gladly help you find the perfect pair of baseball sunglasses.