Wondering what baseball sunglasses MLB players are wearing? There's a good chance your favorite ball player is rocking a pair of Kaenon frames on the field. Kaenon is in the business of engineering quality frame and lens technology for all your outdoor adventures - baseball included. Delivering durable frame design and crisp optics, it's no mystery why Kaenon is so clutch on the baseball diamond.
Enter: The Kaenon Hard Kore
Kaenon Hard Kore sunglasses are among the most popular frame styles for baseball players in the bigs. Why, you ask? According to our very own in-house baseball enthusiast and sports optical expert, Tim Darnell, ABOC:
It's a large-fitting frame design in comparison to other brands' similar half-rim styles. A lot of pros have HUGE domes. Thick temples also give players extra peripheral coverage. When it comes to lenses, Kaenon is known for their top-notch lens technology. They use their own patented SR-91 material, which is a resin material that is known to have the scratch resistance and clarity of a glass lens but is as impact resistant as a polycarbonate lens material. I like to tell people it is the best of both a glass lens and polycarbonate lens combined.
So who's wearin' em? Let's take a look at MLB Players (and coaches!) sporting Kaenon Hard Kore sunglasses across the league...
Josh Hamilton, #32, Left Fielder, Texas Rangers | Josh Hamilton shows how polarization and patriotism go hand-in-hand - in this case his Hard Kore Kaenon frames.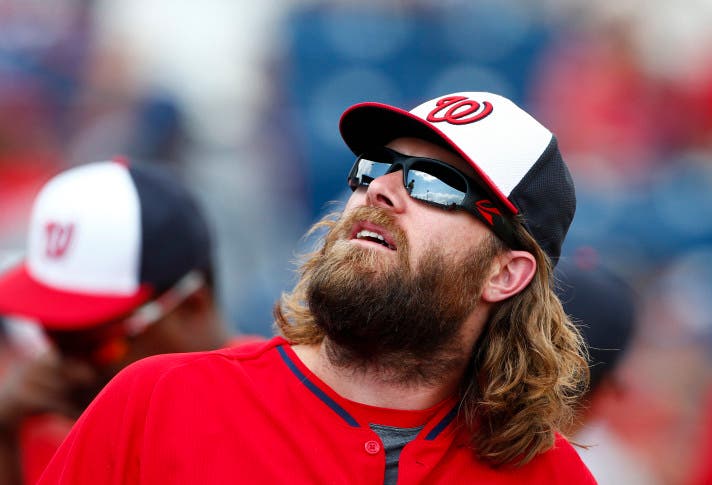 Jayson Werth, #28, Outfielder, Washington Nationals | Jayson Werth rocks Kaenon Hard Kores alongside his wavy mane, modeling how the 8-base curve lens provides wrap coverage for fly-ball-catching perfection.
Justin Turner, #10, 3rd Base, Los Angeles Dodgers | Justin Turner a.k.a. The Red Dream is yet another MLB player who wears Kaenon baseball sunglasses. His beard isn't the only thing giving him super powers.
Adrian Gonzales, #23, 1st Base, Los Angeles Dodgers | Gonzo knows he can depend on his Kaenon Hard Kore sunglasses - just like we can always depend on his classic walk-up song (Dodgers fans know what we mean.)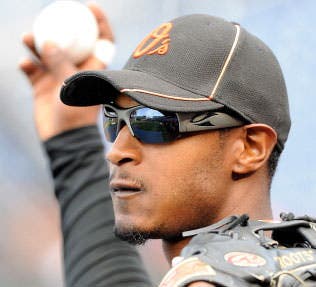 Adam Jones, #10, Center Fielder, Baltimore Orioles | Adam Jones is too cool for school but not for crisp optics. His trusty Kaenon Hard Kores give him pro vision to track fly balls and make Web Gem-esque plays on the reg.
Ben Zobrist, #18, 2nd Base, Chicago Cubs | How cool is this guy? Kaenon Hard Kore at the plate = pitch tracking perfect + helmet compatibility to the fullest.
Alexi Amarista, #2, Shortstop, Colorado Rockies| Alexi Amarista in deep thought wondering where is sunglasses went (as well as how he ended up in Colorado.)
Cliff Pennington, #7, 2nd Base, Los Angeles Angels of Anaheim | Cliff Pennington knows his Kaneon sunglasses will be comfortable and stay in place through all nine innings. You can tell by the expression on his face...
Logan Morrison, #7, 1st Base, Tampa Bay Rays | With eye black and Kaenon Hard Kores, Logan Morrison is ready for anything at 1B.
Bruce Bochy, #15, Manager, San Francisco Giants | Players aren't the only Hard Kore wearers. Bruce Bochy rocks the Kaeonon Hard Kore in SF Giants orange & black. #SWAG
Don Mattingly, Manager, Miami Marlins | *Record scratch* Donnie Baseball switchin' it up with the lifestyle frames in the Kaenon Leadbetter. (Although we have spotted Mattingly plenty of times with some Hard Kores on his face.)
If you need a little extra correction keeping your eye on the ball, SportRx will happily custom tailor your prescription to your baseball sunglasses. Just like our sponsored athlete, Joe Kelly! See what the Boston Red Sox pitcher has to say about his Kaenon Montecito Sunglasses:
Feel free contact us with any questions about baseball sunglasses - we're here to help!