Ready for another pair of Dragon snow goggles? We are too. With their original frameless design, we've got the Dragon NFXS in the shop and ready for your next trip. Eyeglass Tyler is joined by Jon Finger from Dragon to give you all the details and features you'll need to know before you shred in the snow.


Dragon NFXS Review
1. Dragon NFXS
1.1. Frame Technology
1.2. Lens Technology
2. Prescription Goggles at SportRx
---
Check out our video review with Jon Finger from Dragon!
---
Dragon NFXS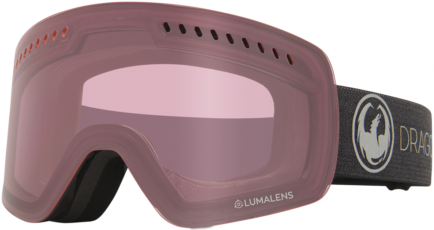 Dragon NFXS in Echo with Photochromic Light Rose
Frame Technology
The NFXS has Dragon's patented frameless tech design. This is an original Dragon design that's now a standard across all brands. This gives the goggle a cool aesthetic but doesn't stop it from performing just as well. A frameless goggle allows for a little bit more peripheral vision so you can see more of the trail and keep an eye on it all. This goggle also has armored venting at the top of the frame in case you take a fall on the mountain. You can easily wipe the snow off the rim and clear your face of the cold, which also helps keep fogging to a minimum.
NFXS also has a 3-layer foam on the inside with antimicrobial fleece that holds to your face and allows for a moisture-wicking feature. This is a great way to stay comfy all day long.
It's compatible with all different helmets, regardless of the brand's fit. And with a silicone bead on the inside it's also great to wear in a hat or beanie without sliding around on your face. It's best for a small to medium fit.
---
Lens Technology
This goggle comes with 2 lenses. It also has Dragon's patented Lumalens Technology, which is available to get in your prescription, too. So don't worry about saying no to your friends any longer, go see the white snow and shred it down the mountain this season.
Ride good, see good, be good. And hopefully, smell good, too!
---
Prescription Snow Goggles at SportRx
Need prescription snow goggles? Done. When you shop with us, you'll find video guides and tooltips throughout the build process as you customize the perfect pair. An answer to all your questions is at your fingertips, and if you want to chat with an expert, Contact Us. We'll put you in touch with one of our friendly in-house opticians who can help you build your prescription snow goggles.
Ditch risky online shopping with the See Better Guarantee. Try your snow goggles for 45 days. If you're not satisfied, send them back. Get a full refund, exchange, or credit towards a better pair. And return shipping? Covered. Get your pair of prescription snow goggles at SportRx today!