Each day fishermen from around the world are leaving fishing nets in our oceans and polluting the waters. Fishermen have to pay fees by how much their boat weighs when they come into port, which is why some elect to toss their unwanted nets overboard. Approximately 640,000 tons of old fishing nets and gear are floating in our oceans. Costa teams up with Bureo to help untangle our oceans by recycling the fishing nets into amazing sunglasses. Learn more about how Costa is making a difference for our friends below the water.
The Untangled Process
Costa and Bureo are buying back old fishing nets from fishermen to encourage keeping the oceans pollution free. This message caught like wildfire, causing a chain reaction of communities joining the movement. Now fishermen are going out into the water looking for fishing nets to clean up our oceans. Once the nets are collected, they are cleaned and sent to Bureo's recycler in Santiago, Chile.
When the nets are at the recycler, they are broken down into little black pellets. These little black pellets are the same form as "virgin plastic", which most companies use for injection molding purposes on sunglasses. Costa then takes pellets and inject them into four different frames, better known as the Costa Untangled collection.
Costa Untangled Collection Overview
All four of the sunglasses in the Costa Untangled collection are 100% made of recycled fishing nets. Each frame in the Untangled collection has PLUSfoam recyclable nose and temple pads to ensure a snug fit. Also, the Costa logo detail is made from recycled aluminum. These frames feature texture patterns along the temples and frame face to provide an edgier look. The Untangled collection is only available in Costa's 580G glass lenses and certain lens tints. For non-Mirror options, you can get the Gray or Copper tints. If you want a mirror then your options are the Blue, Green, or Copper Silver. Check out the Costa Untangled collection below and see which frame is calling your name!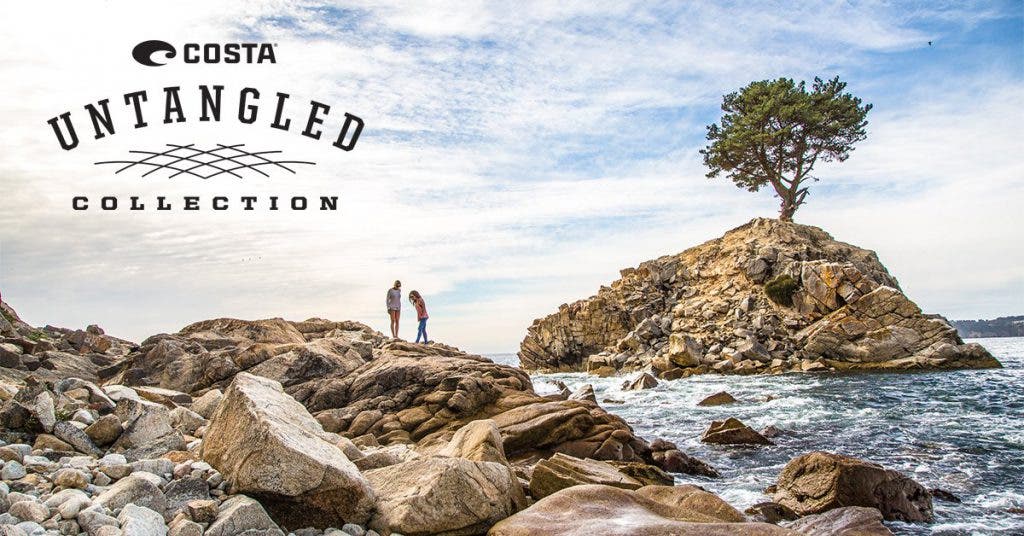 Size: L
Lens Shape: Square, Wayfarer
Rx Range: +3.00 to -3.00
For Him
Size: L-XL
Lens Shape: Round, Wayfarer
Rx Range: +3.00 to -3.00
For Him
Size: M
Lens Shape: Round, Wayfarer
Rx Range: +3.00 to -3.00
For Him or Her
Size: S
Lens Shape: Round
Rx Range: +3.00 to -3.00
For Her
Costa Untangled Eyeglasses
Untangled 100
Lens Height: 35.6mm
Lens Width: 52mm
DBL: 18mm
Temple Length: 140mm
Size: M
Untangled 110
Lens Height: 34.4mm
Lens Width: 52mm
DBL: 16mm
Temple Length: 135
Size: S
Shop Costa Untangled Prescription Sunglasses Collection online at SportRx
If you are looking to join the movement but need the Costa Untangled sunglasses to be in prescription, then contact our opticians today at SportRx! Our See Better guarantee allows you to shop worry free. You have 45 days after receiving the sunglasses to return them to us and place an exchange order or issue a full refund.