Every year, approximately 640,000 tons of old fishing nets pollute our oceans, destroying marine ecosystems in the process. Costa has teamed up with Bureo to save marine life and untangle the ocean. The two have committed to buying back old fishing nets from fishermen and repurposing them. So instead of ending up in the water, the nets are fashioned into sunglasses, including the frames in Costa's Untangled Collection. Every pair in the collection is 100% constructed of fishing nets and feature amazing 580 lens technologies. Look good and feel even better knowing you're doing your part in creating a more sustainable and eco-friendly future.
---
Table of Contents
A. Video Review
B. The Untangled Process
C. Costa Untangled Collection Overview
1. Costa Antille
2. Costa Pargo
3. Costa Santiago
4. Costa Caleta
D. Prescription Costa Sunglasses at SportRx
---
Video Review
Sunglass Rob and Casey from Costa discuss the updated Costa Untangled Collection! Watch the video below to see their thoughts or continue reading for all the details.
---
The Untangled Process
To encourage fishermen to recycle their old fishing nets instead of tossing them overboard, Costa and Bureo are buying them back. The positive message led to communities and fishermen going out on the water specifically to look for nets. Once collected, they're cleaned and sent to Bureo's recycler in Sanitago, Chile.
There the nets are broken down into little black pellets. Those pellets are the same form as "virgin plastic", which many companies use for injection molding purposes on sunglasses. Costa then takes those pellets and injects them into four different frames, creating the Costa Untangled Collection.
---
Costa Untangled Collection Overview
All four sunglasses in the Untangled Collection are made of 100% recycled fishing nets. Each pair features Costa 580 lens technology, which enhances color and contrast, reduces glare, and increases optical clarity. 580 lenses also filter out harmful blue light and block UVA/UVB/UVC light. A favorite among fishermen for the detail and durability.
Fun fact: the Costa logo on the side of the sunglasses is made from recycled aluminum.
Check out the Costa Untangled Collection below and see which frame floats your boat.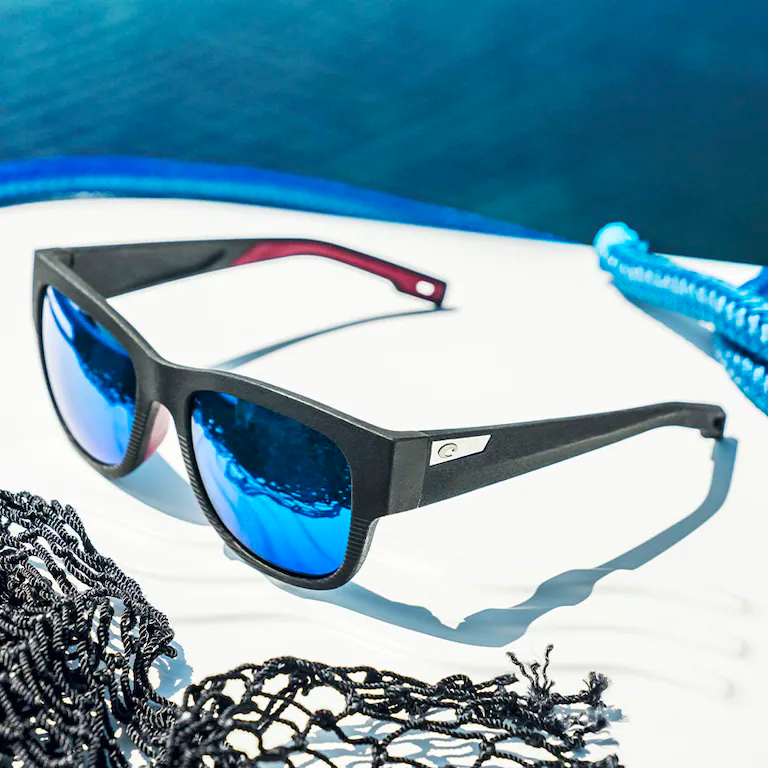 ---
Costa Antille
Set sail in Costa Antille sunglasses. With square-shaped frames, these sunglasses offer excellent coverage thanks to larger lenses. The vented nosepads minimize fogging potential while the micro top shields/hooding reduces light leak. Antilles is available in 580G lenses or prescription.
Costa Antille Key Features
---
Costa Pargo
A product with a purpose, the Costa Pargo continues the Untangled mission of sustainability. Hydrolite rubber grips on the nosepad and temples keep the sunglasses secure on your face, while the frame style will flatter all face shapes. The 580G lens technology is one of Pargo's best features, but you can also get these frames in prescription.
Costa Pargo Key Features
8 base frame
100% UV protection
SFW: 136 (Men's/Women's Large)
Note: The Costa Pargo frames are returning soon.
---
Costa Santiago
Hit the waters in style in a pair of Costa Santiago sunglasses. The vented nosepad prevents fogging and the wrap-around design provides optimal coverage and eye protection. The temples easily fit underneath a hat and are equipped with rubberized grips that ensure a secure hold. The unique in-mold finish has a dual shiny and matte finish textured look, making these sunglasses stand out.
Costa Santiago Key Features
8 base frame
Equipped with 580G lenses and also available in prescription
SFW: 136 (Men's/Women's Large)
---
Costa Caleta
Effortlessly stylish, the Costa Caleta sunglasses are perfect for on and off the water. The cat-eye frames feature rubber temples and nosepad, ensuring these sunglasses stay in place. The tall lenses offer superb coverage and eye protection. While the Caleta comes with 580G lenses, they are also available in prescription.
Costa Caleta Key Features
6 base frame
Sweat management
SFW: 141 (Men's/Women's Erta Large)
---
Get Prescription Costa Sunglasses at SportRx
If you support Costa's message and would like to be a part of their movement but need the Untangled sunglasses to be in prescription, Contact Us to chat with an expert. We'll put you in touch with one of our friendly in-house opticians, who can help you build your prescription Costa Untangled sunglasses.
Ditch risky online shopping with the See Better Guarantee. Try your sunglasses for 45 days. If you're not satisfied, send them back. Get a full refund, exchange, or credit towards a better pair. And return shipping? Covered. Get your pair of prescription Costa Untangled sunglasses at SportRx today!