When you need a little close-up correction to tie that fly, Costa C-Mates Readers Sunglasses have got you covered! Costa Del Mar is a leader in polarized sunglasses made specifically for watermen by watermen. From fighter pilots to fishermen, sailing teams to Tom Selleck, word is out that Costa has the clearest lenses on the planet. And now they offer many of their iconic frame styles in ready-to-wear Costa readers sunglasses in three power ranges: +1.50, +2.00 and +2.50! And the fact that these are readers is virtually undetectable, as there is no visible line separating the bifocal area. Check 'em out right here!
Howler Costa Readers
Howler monkeys do not take well to captivity … and we bet you don't either. That's why Costa has created sunglass readers out of their most popular styles. Constructed with lightweight TR-90 nylon and offering thicker peripheral protection, these Costa Howler Sunglass Readers sport 100% polarization and 100% UVA/UVB protection. So not only do you get crystal clear Costa clarity, you also shut out the glare and eyestrain you would normally have without a pair of Costa Howler Sunglass Readers on your person. Offered in Tortoise or Black.
The unisex Costa Ballast Sunglass Readers sport a rimless style and weigh a mere 16 grams. They may be a lightweight, but they pack a punch when it comes to comfort, durability and sun protection. In fact, these sunglass readers offer 100% UV protection from the harmful rays and 100% polarization - a Costa specialty. Reflected glare and eye strain are given the boot, allowing you to see clearly now, both near and far. Available in Shiny Black and Tortoise.
Fisch Costa Readers
The Costa Fisch Sunglass Readers are named for famous adventurer and lover of the ocean, Chris Fischer. Constructed of durable nylon with a no-slip Hydrolite lining, these sunglass readers have a three-hole venting system on the front to keep your face cool and view fog-free. The scratch resistant rectangular lenses with rounded edges will suit most face shapes and offer 100% UV protection and 100% polarization. In fact, Costa's state-of-the-art lens manufacturing processes put them in the top tier of specialty fishing sunglasses for both salt and fresh water. And now you can get the benefits of Costa Fisch Sunglass Readers, as well! With a name like Fisch, only the best will do! Choose from Tortoise or Matte Black.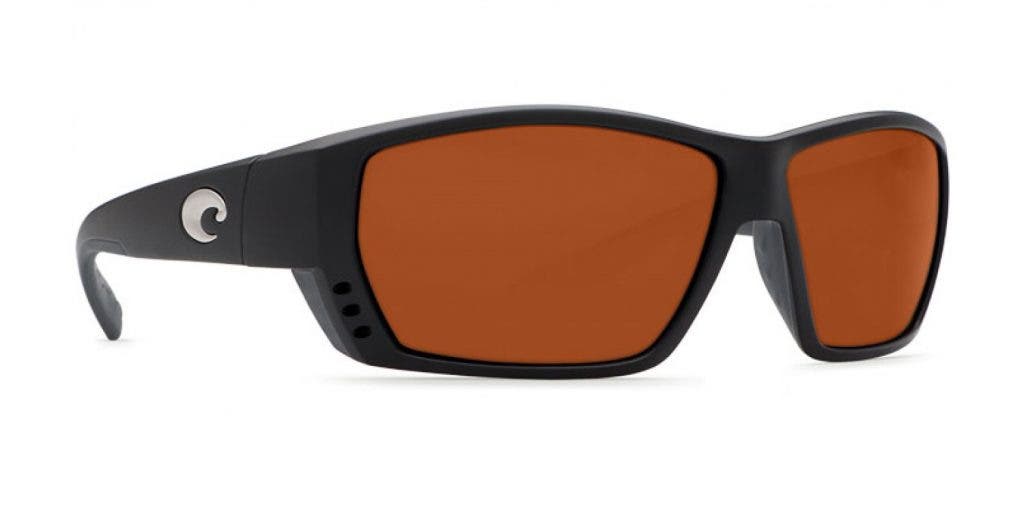 Named for one of the best dive sites in the Caribbean, these are the Costa Tuna Alley bifocal readers. This heavy-duty nylon frame features a patented vented system to allow cooling air flow and fog reduction. The square 580® lenses are flattering on most everyone and are the lightest and most durable lens material out there. They also have scratch and impact resistant technology for those who can't always be easy on their gear. Harmful sun rays will be banished with 100% UVA/UVB protection and glare will be spared with 100% Polarized lenses. Best yet, no nautical chart will read too small with your Costa Tuna Alley Sunglass Readers! Offered in Tortoise and Matte Black.
Brine Costa Readers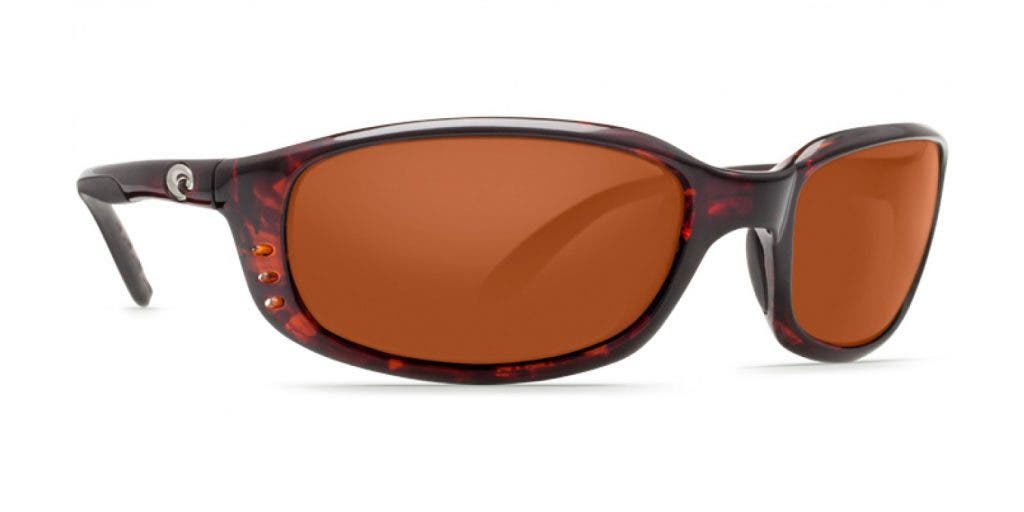 You certainly don't have to be an old salt to find that Costa Brine Sunglass Readers are exactly what you need to read that tide chart! This wraparound frame is built with Costa's co-injected bio-based nylon for durability and boasts rounded rectangular lenses. Speaking of, the Costa Brines have polarized Costa 580® lenses that eliminate harsh glare and yellow light, so color, contrast and clarity are the best they can be. So instead of fumbling for some cheaters while you are bobbing along in the water, make it easy on yourself and get a pair of Costa Brine C-Mate bifocals! Available in Tortoise and Black.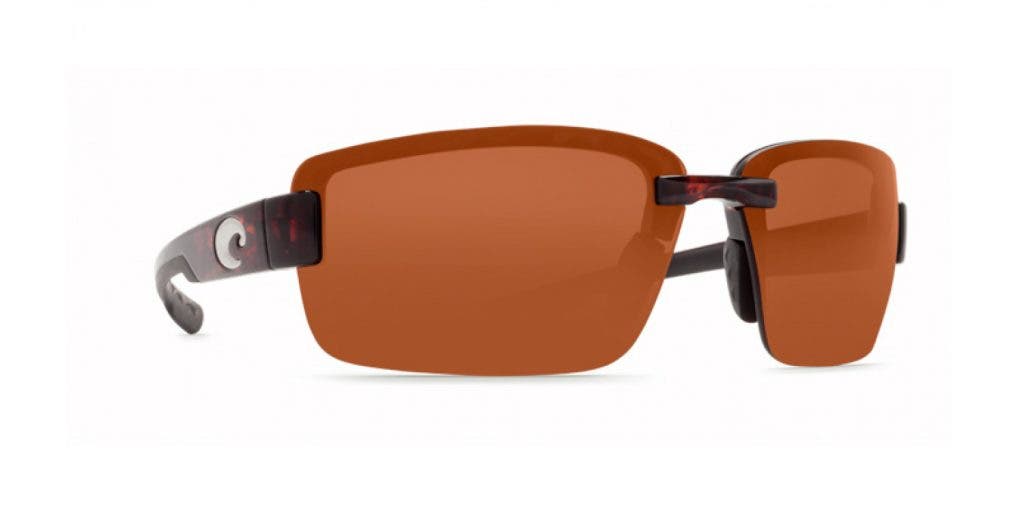 Just like their namesake, the Costa Galveston Sunglass Readers are up for adventure, sun and a whole lot of fun. A rimless nylon frame holds sporty rectangular lenses made up of Costa's 580® technology. These lenses are a standout for delivering superior contrast, color and clarity with 100% UV protection and polarization. And now you can have the best of all worlds with the incorporation of ready-to-wear Costa Galveston Sunglass Readers. Same great looks, and the view is even better! Choose from Tortoise or Shiny Black.
Inlet Costa Readers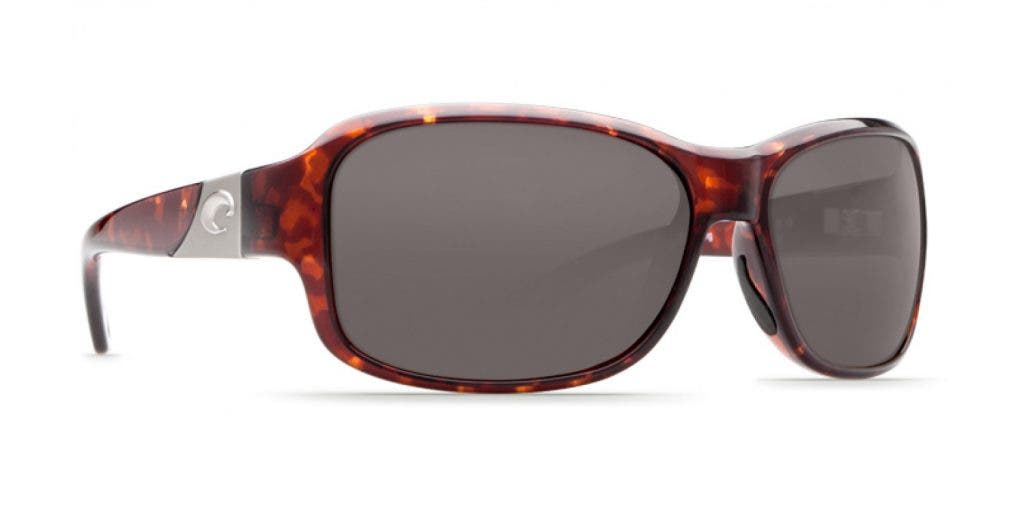 Whether fishing on the bay or reading the menu at a crab shack that afternoon, the Costa Inlet Sunglass Readers have got you covered. These lightweight nylon frames are just the statement piece you need, complete with the iconic Costa C logo on the temple. Designed for women, the rectangular style offers full protection from harmful UV rays and happen to flatter most every face. And since they are undetectable bifocals, you can be carefree and glare-free from sunup to sundown! Available in tortoise and black.
After our Costa readers review, are you ready to reel in your next pair of C-mates? Just contact one of our opticians here at SportRx and they will gladly help you custom-tailor your glasses. We want to make sure you can see clearly, especially out on the water!