The first thing to know about mountain biking, that nobody tells you - it's going to be addictive, highly addictive. Once you have conquered all your local trails, you will want more. More trails, more adventures, more difficulty, more everything! One way to get more is by finding new challenges with new trails. Where are they, you ask? Start packing your gear! Don't forget your favorite helmet, favorite sunglasses (you can always get a new pair here: SportRx ) and most importantly your bike! Keep reading to find out where the best mountain biking parks are, in North America!
Our Top 10 MTB Parks in North America
1. Alyeska, AK
2. Whistler Bike Park
3. Kicking Horse, BC
4. Northstar, CA
5. Mammoth, CA
6. Trestle (Winter Park), CO
7. Killington, VT
8. Keystone, CO
9. Angel Fire, NM
10. Mont Sainte-Anne, Quebec
11. Where Do I Go First?
Here's a list of 10 MTB parks we think are worth checking out:
Alyeska, AK
Located in Alaska, this may be one of the largest untapped biking zones in North America. High alpine biking with views of the ocean and the midnight sun make for an awesome ride. The terrain features a variety of downhill trails for all ability levels. Mix it up with a variety of road, single-track, and man-made features. Fun for everybody is guaranteed!
Whistler Bike Park
Whistler Bike Park is arguably the best bike park in North America. Now into its 21st year, Whistler Bike Park is nestled in the Coastal Mountains of British Colombia. If you are new to the sport you may not have heard of Whistler, but a quick youtube search can catch you up on what it's all about. Once you are there, you will realize that not only Whistler, but the surrounding area is a mecca for mountain biking. With long descents, tacky dirt, and some of the most amazing technical features known to trail construction interspersed through high alpine peaks and rain forest, this is a destination for every serious mountain biker.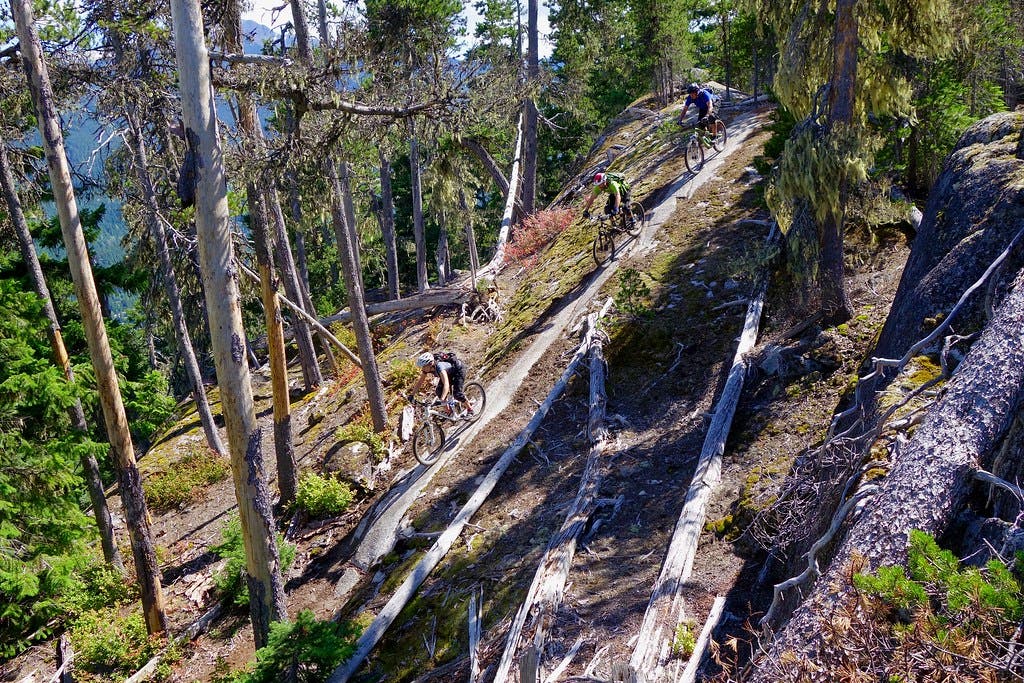 Kicking Horse, BC
If you are looking for some quiet riding, this is it. Seriously, it's like you have the entire bike park for yourself. Sounds great right? With long descents, sweeping views and even a bear refuge smack dab in the middle of the park, Kicking Horse is certainly a must hit.
Northstar, CA
This excellent MTB Park is in Lake Tahoe California. The trails range nicely from flowy mild terrain that can be fun for everyone, to technical downhill descents with drops, step downs and anything else you would imagine from an epic bike park. Not quite a pro, or bringing novice friends and family? You can find all the equipment, coaches, and advice to get you and your pack shredding on the mountain! So, when you feel ready, you can explore signature trails like Livewire and Boondocks. You're stoke level will be super high.
Another thing to keep in mind for exploring Northstar, is the incredibly large network of trails connecting to the park. Northstar offers the largest and most diverse selection of trails in Northern California allowing riders of all skill levels to take adventures out into the beautiful landscape when they finish hitting the slopes.
Mammoth, CA
When you feel like you've graduated from the most extreme trails near you, it's time to head west to Mammoth California. Mammoth is without a doubt the biggest bike park in the Eastern Sierra. It has over 80 miles of cross country and downhill trails. With some of the most radical terrain in the country. The epic expanse of single-track offers plenty of jumps, berms, and drops for those of you who really send it. Mammoth is arguably the biggest, baddest, and best bike park in the U.S. for those who like to go HUGE!
However, don't worry if the idea of going huge alarms you. There is a beginner-friendly section, dubbed the "Discovery Zone" for beginners. This is a great place to get your feet wet and hone some skills before hitting any trails. Additionally, trails are rated in order to let riders know how what they'll encounter. All you really need to know, is that the rugged geology of the Eastern Sierra combined with natural and man-made features – like step-ups, wall-rides and pavers – delivers the ultimate high-alpine riding experience.
Trestle (Winter Park), CO
Whenever someone claims to be the best, a contender starts forming. And that is exactly what is going on in the heart of Colorado's top adventure town. With an ongoing expansion of the trail system and it's features, Trestle is growing, giving us more AND MORE dirt to shred.
Hosts of the Freeride Festival each year, Trestle is making sure that downhill mountain biking, cross country cycling and freeride aka slopestyle gets more epic and exciting for the 800 international riders that participate every year. We can say for sure that Trestle is making a case for best bike park in the states.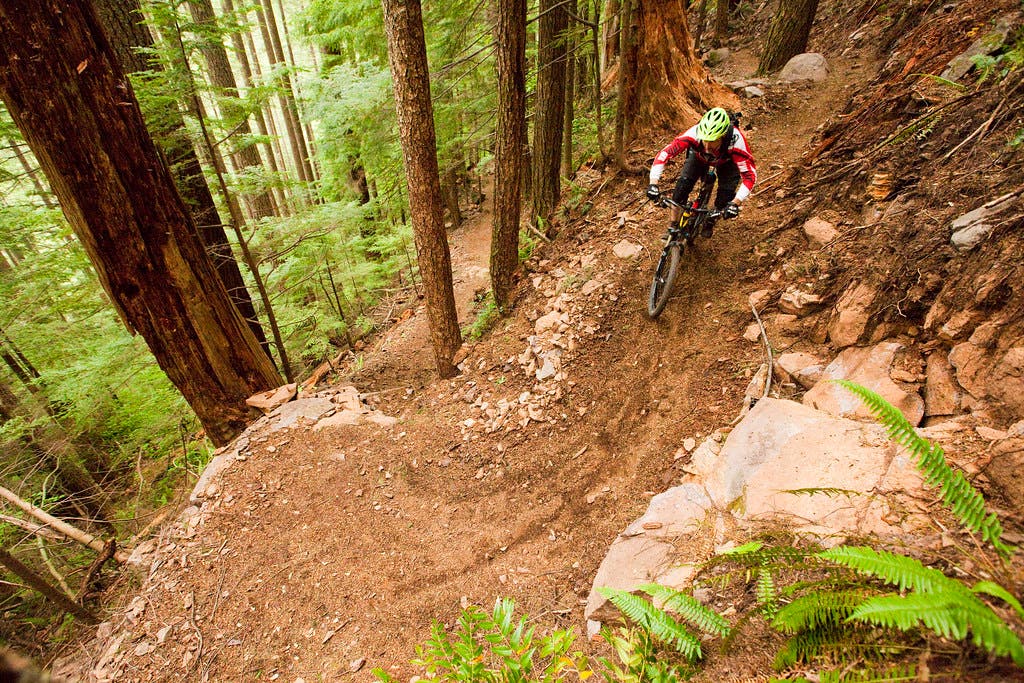 Killington, VT
Known as "The Beast of The East", Killington will take you over 45 miles of trail spread across five mountains. From beginner to expert, New England to Gravity Logic's signature flow trails, Killington Bike Park has terrain suitable for everyone.
Three unique mountain areas make up the gravity-inducing bike park.
Snowshed: Home of the beginner terrain with plenty of intermediate trails to keep you busy once you get the hang of some basic trail features.
Ramshead: Home of the signature freestyle trails - intermediate and advanced terrain for mountain bikers who've graduated from Snowshed.
Killington Peak: Home of the classic 25 year old New England trails which feature plenty of rock and roots, you'll find a bit of something for everyone here.
Keystone, CO
Go ahead, play in the mud! Get your adrenaline pumping with over 100 miles of single track and over 50 trails! Keystone delivers with an expanzive trail network. Jumps for all skill levels, ages, abilities, and some of the best downhill riding in all of Colorado can be found at Keystone. Located in Summit County about 2 hours outside of Denver, The Keystone Bike Park is professionally maintained and offers progression-focused terrain for all adventure seekers.
Angel Fire, NM
This desert-like environment in the high Rockies of New Mexico offers looser dirt and a very different geology that will put to test everything you know about mountain biking. Angel Fire Bike Park is the largest Bike Park in the Rocky Mountains, with 2,000+ vertical feet, 60+ miles of purpose built lift-served terrain featuring the best skinnies, jump lines, manicured flow and super chunk trails the area has to offer. Perhaps that's why it has been voted Best in the Southwest by MTBparks.com 5 years in a row! ­
Mont Sainte-Anne, Quebec
Over 25km of downhill trails and 120km of cross-country trails - yes, kilometers! Because, well, this one is in Quebec. So if you are ready to do the math, you'll see that kilometers are less scary than the miles you are used to. It sounds like bigger numbers when you are bragging to your cyclist buddies. Well done!
This world-class network of downhill trails has it all: from an adrenaline rush in the renowned technical trails like La Coupe Du Monde – The World Cup; to a break in nature and accessible banks for beginners and family trails like La Vietnam, thrill seekers will be satisfied, for sure!
Where Do I Go First
Well, we've given you a brief glimpse of our top ten MTB Parks in North America and now it's up to you! The truth is, any of these would make for an epic, scenic MTB escape. Taking the family? Don't worry, most of these destinations offer a little something for everyone, on and off the trails. Heading out with a family that doesn't ride bikes? No worries, escape for an early morning ride while they sleep in! Taking to the trails for a MTb trip with your best MTB friends? You'll be telling stories about this trip for years to come.
­­