Ever since traffic safety demonstrations in elementary school, we've known to wear helmets when riding a bike. Now instead of biking around the neighborhood and neatly-paved sidewalks, we have graduated to rocky terrain and steep slopes. Helmets protect the most important part of our body, keeping us protected during a lifetime of hitting the trails. Here is our list of the best mountain biking helmets of 2019.
1. Smith Optics Forefront
Our top choice goes to the Smith Optics Forefront MTB Helmet for two reasons: increased protection and lightweight versatility. The shell is made with the Koroyd Aerocore. Koroyd tubes are made of a copolymer that provides better protection for your noggin than the helmets with the expanded polystyrene (EPS) foam. Koroyd tubes form a hollow construction within the helmet that keeps it light and comfortable, not to mention the 4 point harness that keeps the helmet secure on the skull. The construction of the helmet also keeps the rider's head cool with optimal airflow throughout the helmet. The Smith Optics Forefront also comes with an adjustable visor, perfect for blocking the sunlight while allowing room for Smith's line of mountain biking goggles and glasses. If you are interested in filming your adventures on the trail, you're in luck. The Forefront can support a POV camera or light mount. Extra protection is available with Smith Optics MIPS Forefront Helmet.
2. Troy Lee Designs A2 Helmet
The A2 kept everything we loved about the A1, just with a few upgrades. The straight forward, yet effective, design improved the ventilation system with wider channels. The interior is highly adjustable to maximize the rider's comfort. The A2 provides protection wherever you need it. The EPS is good for impact absorption at high speeds while Expanded Polypropylene (EPP) is best for low-speed crashes. The polycarbonate shell is reinforced with MIPS, providing protection for all sides, especially the back of the head. This makes the helmet perfect for aggressive bikers and those who live for the tough climbs and rough descents.
3. Giro Montaro MIPS Bike Helmet
The Montaro is one of the best MTB helmets you can find under $200. This lightweight helmet is one of the most comfortable MTB helmets out there. The air vents keep the flow going, meaning your head will be cool and dry. Linings in the helmet come with anti-microbial pads that stop odor-causing bacteria from growing. Its wicking properties also absorbs the sweat. The shell is made with polycarbonate with MIPS and EPS foam for ultimate, scratch and dent resistant protection. The big visor in the front protects your eyes from the sun and adjust to make room for your mountain biking sunglasses. The helmet also has a built-in camera mount if you want to film your outdoor excursions.
4. Giro Chronicle MIPS
Another solid MTB helmet from Giro. It is similar to the Montaro, earning the title of being one of the best MTB helmets under $100. This helmet provides safety, comfort, and enhanced performance, all at a great price. The inside has padding-a-plenty and decent ventilation, not to mention the MIPS liner. The large visor works to shield eyes but can also accommodate any lenses you wear.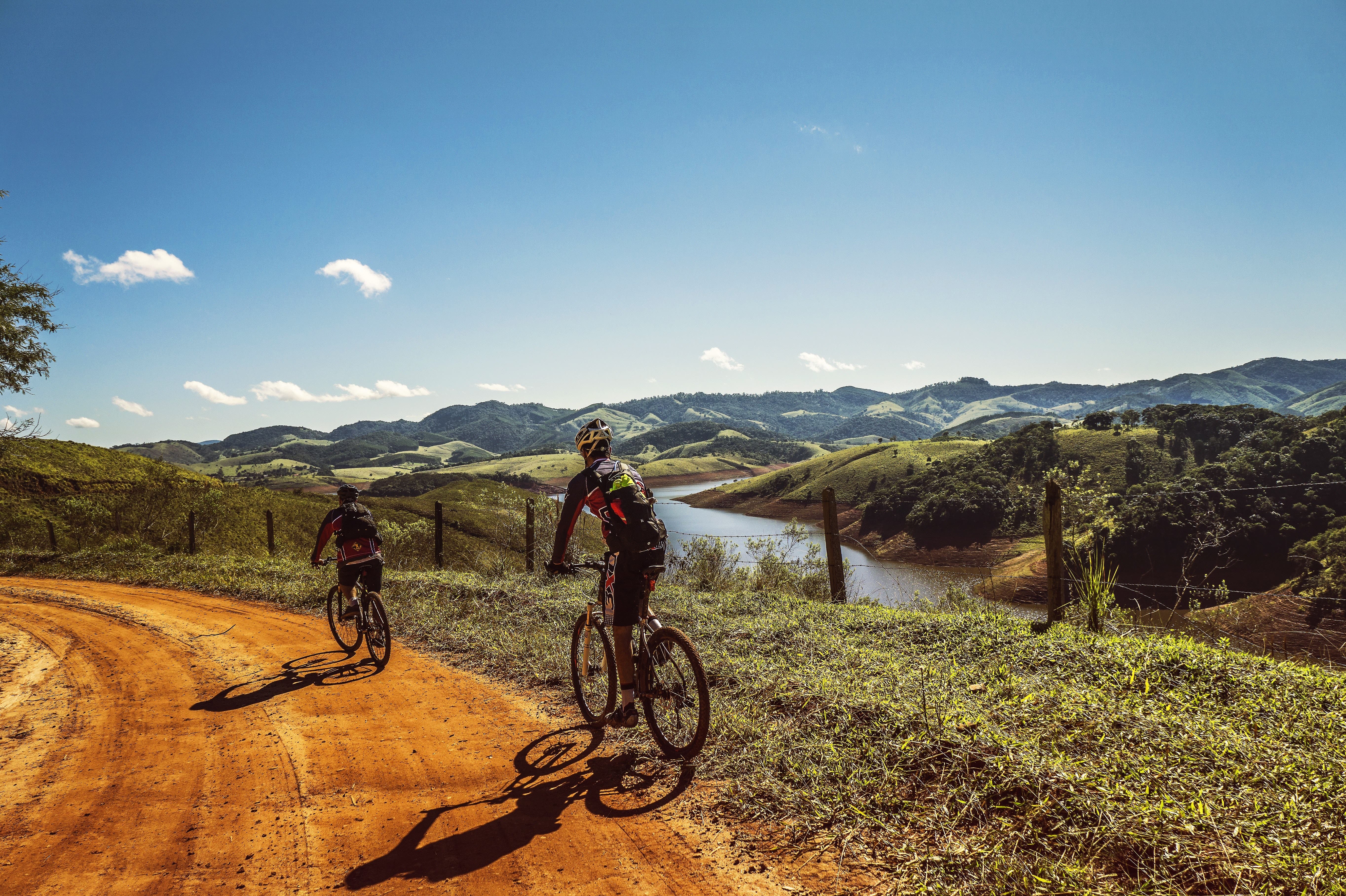 5. POC Tectal MTB Helmet
The POC Tectal Helmet comes with a unique Aramid grid that can absorb and spread the impact, which helps reduce the overall force applied to your head. The optimal size and placement of the large vents create the right amount of airflow to keep you cool and dry. This comes with an adjustable visor to provide protection from the sun and room for goggles. Overall, the POC Tectal MTB Helmet gives serious protection for your head, making it perfect for rougher trails out on your bike.
6. Ride 100% Status
This is our top pick for downhill mountain biking. The construction of this full-face helmet is top-notch. It comes with a fiberglass lid, which makes it lighter than the lids of other helmet brands. When it comes to comfort, the Ride 100% Status has supportive padding that cushions your head. In terms of style, this helmet has a sleek, modern look and comes in a variety of colors.
7. Bell 4Forty MIPS
The 4Forty is perfect for mid-range, all-mountain riding. It comes with a simple ventilation system that will get the job done. The MIPS Liner provides good protection for your head, which makes it perfect for aggressive riding. While there is no camera or light mount, it does come with an adjustable visor. And for those who really like to get their sweat on, the 4Forty comes with padding that peaks just under the brim to soak up the sweat, keeping it from dripping into your eyes while you ride.
8. Bell Super 3R MIPS Adult MTB Helmet
This helmet is great for both the recreational ride and rough trail riding. It is well ventilated while also providing full coverage, including a removable chin guard. The Super 3R has a wheel adjustment system that can give you the custom fit you need. It also comes with a handy camera mount on top. Even with all these features, there is still a wide visual field to help you out on the trail. This helmet does tend to run a bit small, so if you are debating between two sizes, we would recommend the larger size.
Get Mountain Biking Glasses at SportRx
Want a pair of glasses or goggles to go with your new mountain biking helmet? Check out all of what SportRx has to offer. An answer to all your questions is at your fingertips, and if you want to chat with an expert, Contact Us. We'll put you in touch with one of our friendly in-house opticians who can help you find your perfect pair of mountain biking sunglasses.
Ditch risky online shopping with the See Better Guarantee. Try your prescription sunglasses and goggles for 45 days. If you're not satisfied, send them back. Get a full refund, exchange, or credit towards a better pair. And return shipping? Covered. Get your pair of prescription MTB sunglasses and goggles at SportRx today!