Whether you're new to gravel biking or just want to hear about our top picks, we're here to tell you about the best gravel bikes of 2019. Before we start, we want to make sure you know exactly what to look for when purchasing your very own gravel bike. Then, we'll tell you a little bit about our top three high end and top three economic gravel bikes. Keep reading and you'll be fully prepared to hit the road...or should we say gravel!
Best of Gravel Bikes of 2020
What to Look for in a Gravel Bike
Top 3 High End Gravel Bikes of 2020
1. 3T Exploro
2. Pinarello Grevil Force 1
3. Specialized Diverge Comp
Top 3 Economic Gravel Bikes of 2020
1. Canyon Grail AL 7.0
2. Giant Revolt Advanced 2
3. Specialized Sequoia Elite
What Now?
What to Look for in a Gravel Bike
To start, you might have seen a gravel bike before and thought to yourself, "Hey, that kinda looks like every other bike out there". That's true, it does. However, there are subtle differences that make gravel bikes suitable for modest terrain, gravel paths, and pavement.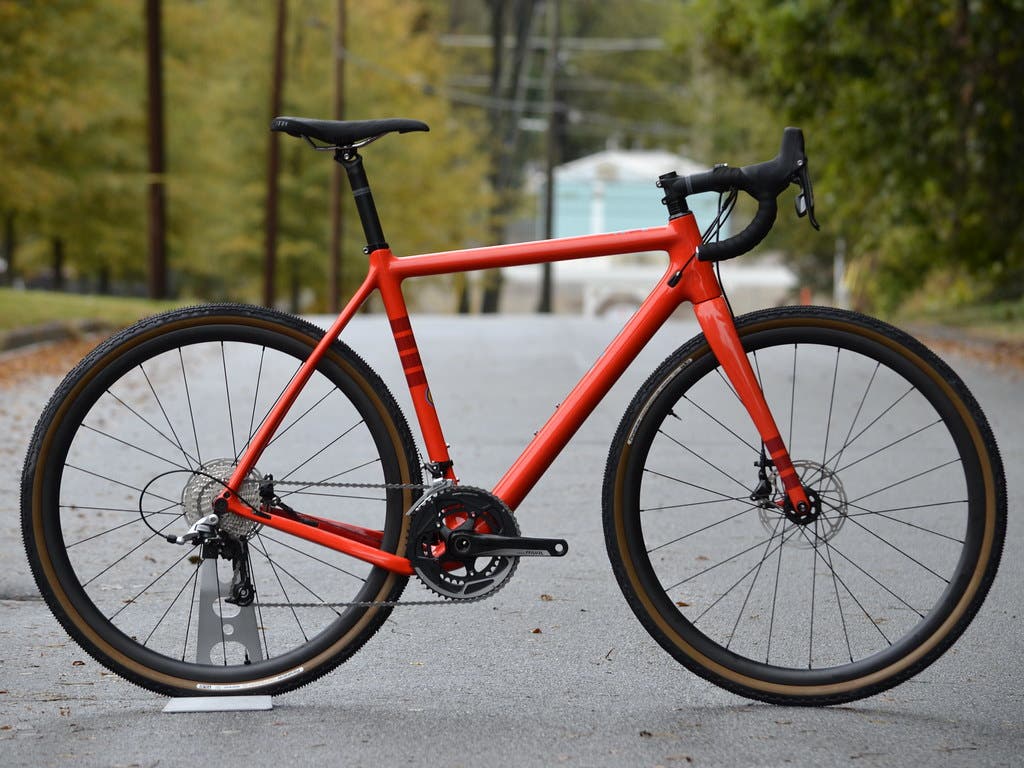 Gravel bikes are meant to be light and go fast while also being able to handle some pretty tough terrain. In order to do this, the features and geometry of gravel bikes need to meet somewhere between mountain and road. By aesthetic, gravel bikes often look like road machines, but a closer inspection illuminates some important differences. First, it has a longer wheelbase and lower bottom bracket. This makes the bike more stable over questionable terrain when riding at high speeds. A slick head angle and taller head tube also allow for more relaxed steering. Next, the wheels are wrapped in bigger tires which lets the rider have a better grip. And last, you'll most definitely see disc brakes on gravel bikes. These brakes use calipers to create friction, which either reduces speed or keeps your bike stationary.
Once you've narrowed down your gravel bike options, go test riding on them (if possible) to see how they feel in terms of comfortability and fit. After all, you want a bike that's perfect for YOU. This means your size, performance, and style.
---
Top 3 High End Gravel Bikes of 2020
To break this down, we'll start by listing the high end bikes that we think are the best of the bunch.
Note: Listed prices are an estimate.
---
1. 3T Exploro
The 3T Exploro is the world's first aero adventure bike. They say it's basically three bikes in one. What more could you want than that? Frame sizes are offered in small, medium, large, and extra large. With it's aerodynamic capabilities, the Exploro offers 54 mm tire clearance and achieves high strength and stiffness with the combination of square and aero tube shapes. The Exploro also has compact geometry to ensure acceleration and grip even on loose gravel and descents.
Price: $3,500
---
2. Pinarello Grevil Force 1
The Pinarello Grevil is for serious gravel riders and racers. To ensure speed over gravel and road sections, the Grevil relies on aero tube shapes. In addition, the clean internal cable routing on the Grevil keeps the frame tidy. Other features include flat-mount disc brakes and stiff 12 mm thru-axles front and rear. Overall, expect to be feeling comfortable and looking stylish on this aero efficient gravel bike.
Price: $5,200
---
3. Specialized Diverge Comp
Whether you're riding to your favorite coffee shop or completely demolishing a dirt climb, the Diverge Comp does it all. This bike is equipped with lightweight FACT carbon frame, front/rear thru-axles, and Open Road Geometry. This means the Diverge Comp is a lightweight and precisely shifting bike made specifically for the road and dirt. And don't forget, there are also three water bottle mounts, along with mounts for racks and fenders. What a plus!
Price: $3,750
---
Top 3 Economic Gravel Bikes of 2020
Now that you've had a look at the top high-end bikes, let's move over to our top three affordable picks. After all, some of us are just trying to get into the sport or enjoy a new genre of cycling. These bikes can tackle all the same terrain as the ones listed above, but for a much nicer price tag.
---
1. Canyon Grail AL 7.0
First up is the Canyon Grail AL 7.0. Talk about a great price for a quality bike! Sizes on this bike actually go as small as XS and XXS, so no one gets left out of the fun. This aluminum version of the equally awesome Grail CL is outfitted with a gravel-specific DT-Swiss wheelset, and balances weight, durability, and stiffness perfectly. The stock tires are Schwalbe G-One Bite 40 mm, which combine low rolling resistance and traction on loose surfaces. Talk about the best for mixed terrain riding!
Price: $1,800
---
2. Giant Revolt Advanced 2
Available in Deep Gray, Metallic Red, and Silver, the Revolt Advanced 2 is a performance gravel bike so versatile that it can tackle paved roads and dirt with the best of them. It has a lightweight, Advanced Composite frameset and endurance geometry. This means you'll be able to take long, hard rides while limiting fatigue. One of the key performance factors of the Revolt Advanced 2 is its tuned compliance: the handlebar and seatpost work together to absorb shock without sacrificing the stiffness needed for aggressive road performance. How awesome!
Price: $2,100
---
3. Specialized Sequoia Elite
The Sequoia Elite combines the "traditional" road bike with an epic adventure rig, producing a versatile bike. Something unique to this bike is the specific construction of the top and down tubes in relation to the size of the bike. This ensures that every rider gets the exact same compliance and comfort from any frame size. The Adventure Geometry of the Sequoia Elite includes a substantial wheelbase and low bottom bracket for control, which allows you to relax on your ride knowing you can travel efficiently and quickly.
Price: $2,000
---
What Now?
Now that we've taken you through some of our top choices for high-end and economic gravel bikes, it's your turn to choose which one you think is the best fit for you. Remember, it comes down to personal preference and what type of riding you're into. We hope that we've narrowed it down for you, and we wish you much success on your buyer's journey!
Want some recommendations on where to plan an epic gravel adventure or a guide to check out the best sunglasses for hitting the groad? Check out our other blogs on the world of gravel.