For when fast just isn't fast enough, 100% developed their Speed collection. Nick from 100% and Sunglass Rob from SportRX go over the five sunglasses in the collection in detail, highlighting what makes each one unique.
Table of Contents
1. Speedcraft
2. Speedcraft SL
3. Speedcraft AIR
4. Speedtrap
5. Speedcoupe
Speedcraft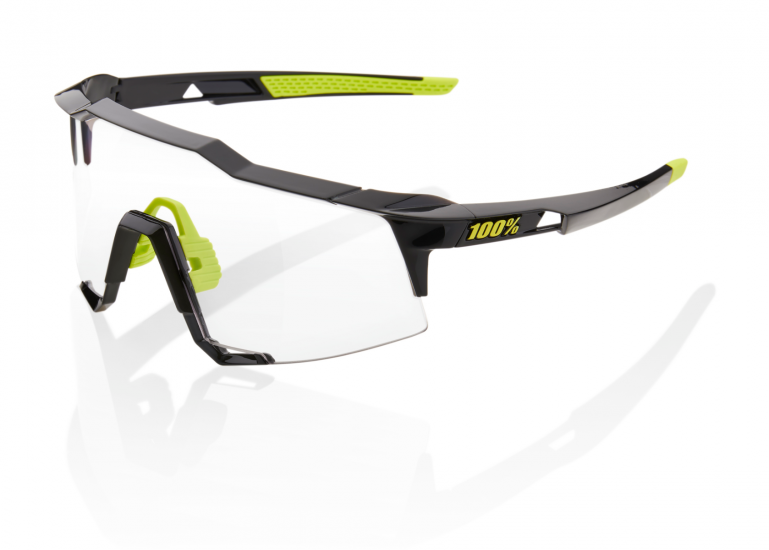 100% Speedcraft in Black with Photochromic Lens
Packed with 100%'s most advanced sports performance technology, Speedcraft is inspired by the design and aesthetic of their motocross goggle. Known for being world champion cyclist Peter Sagan's eyewear choice, Speedcraft is the pinnacle of a sport frame.
Lens Technology
The five-base, high-impact resistant, polycarbonate cylindrical shield lens enables an expansive peripheral view and added protection. They offer 360 degree visibility, are scratch resistant, and are treated with HYDROILO to rebuff water, dirt, and oil.
100% Speedcrafts's interchangeable, UV-protected lenses have lower air scoops to boost ventilation and simultaneously reduce moisture on the lens.
Frame Technology
100% Speedcraft's Grilamid TR90 frame is shatterproof and lightweight. It has temple arm scoops for moisture-control, and they're prepared for anything with ultra-grip rubber nose pads and temple tips to keep you comfortable and protected.
Speedcraft SL
100% Speedcraft SL in Soft Tact Gamma Ray with Smoke Lens
100% Speedcraft SL (short lens) is a scaled-down version of the Speedcraft. Constructed with lightweight, shatterproof Grilamid TR90 and equipped with ultra-grip rubber nose pads and temple tips, it maintains the same high performance features of its predecessor, with the exception of the lens air scoops.
With a shorter lens profile and more compact nose bridge, Speedcraft SL is specifically designed for smaller faces.
Speedcraft AIR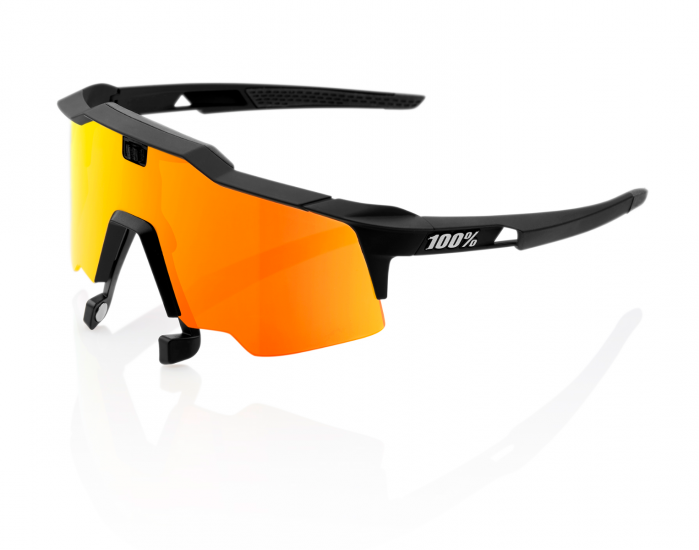 100% Speedcraft AIR in Soft Tact Black with HiPer Red Multi-layer Mirror Lens
100% debuted their revolutionary breathing technology in the Speedcraft AIR. The only cycling eyewear in the world to feature this patented technology, they're the ultimate performance sunglasses.
Lens Technology
The single-lens shield offers an incredible 360 degree unobstructed field of vision and increased space between the lens and the face enhances airflow and prevents fogging. It has a scratch resistant HYDROILO coating to rebuff oil, dirt, and water. 100% Speedcraft AIR is available in a HiPER lens for optimal color, contrast, and depth perception.
Frame Technology
The strong and lightweight TR90 frames, protective high-wrap design, and moisture-managing temple arm scoops are only the beginning for 100% Speedcraft AIR. They're equipped with AC Systems built-in nasal dilator to balance the correct ratio of gasses entering your lungs and regulate your breathing. This revolutionary, race-tested system is secured by magnetic nose stickers and is easily adjusted as you ride by rotating a small dial in the center of the lens.
100% Speedcraft AIR has ultra-grip rubber temple tips to keep your sunglasses comfortably and firmly in place no matter how bumpy the ride or how much you sweat.
Speedtrap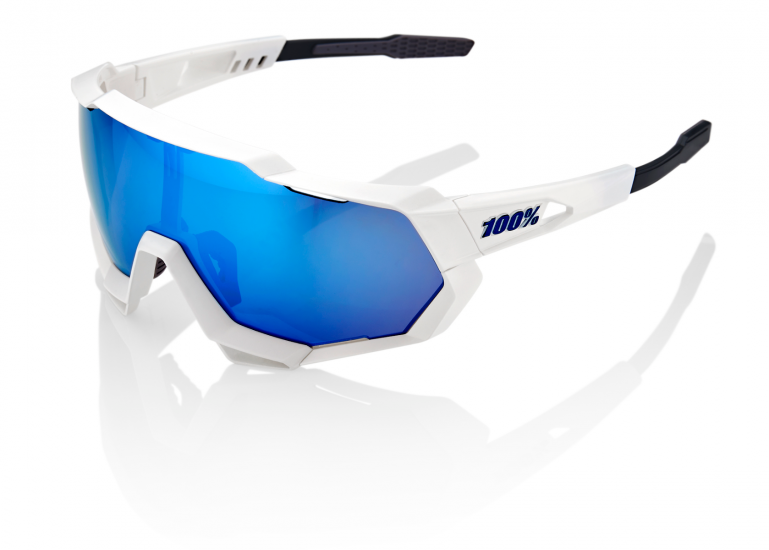 100% Speedtrap in Matte White with HiPER Iceberg Blue Mirror Lens
For enhanced peripheral vision and protection, 100% developed a six-base single lens shield for the Speedtrap. A standout for its futuristic style, these ultimate performance sunglasses are designed to follow the natural contour of your eye for unparalleled clarity.
Lens Technology
The lightweight, high-impact, polycarbonate six-base lens features a spherical shield. They're 100% UV protected and are loaded with a scratch resistant coating and HYDROILO treatment to repel dirt, water, and oil. 100% Speedtrap has a quick release lens system so the lenses can be quickly and easily swapped out.
Frame Technology
Constructed for a full coverage custom fit, 100% Speedcraft has a Grilamid TR90 frame molded for added strength and three-way adjustable temple tips for guaranteed comfort and security. For even more lasting comfort, these performance sunglasses have thermoplastic nose pads and temple tips and cooling vents.

Speedcoupe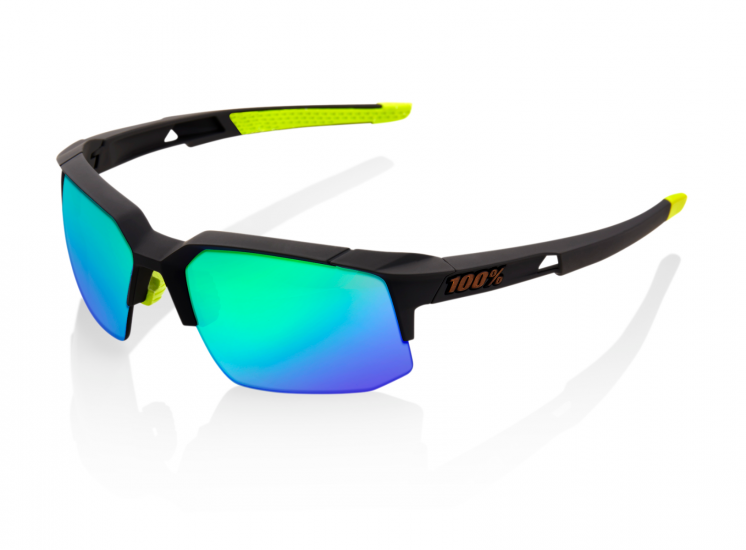 100% Speedcoupe with Soft Tact Cool Grey Frames & Green Multi-layer Mirror Lens
Built to endure challenging conditions, 100% Speedcoupe are high performance sport sunglasses fit for an athlete. They're brimming with custom features, advanced frame and lens technologies, and they come in a variety of vibrant colorways.
Lens Technology
100% Speedcoupe has decentered eight-base spherical polycarbonate lenses. High-impact resistant and lightweight, they're equipped with a HYDROILO lens treatment to rebuff water, dirt, and oil. The interchangeable lenses are scratch resistant, 100% UV protected, and available in 100%'s high performance HiPER lens.
Speedcoupe's dual, semi-rimless lenses are vented for an expansive view with increased coverage and moisture control.
Frame Technology
100% Speedcoupe frames are made of shatterproof, lightweight Grilamid TR90. The wrap-around frame holds your sunglasses in place and protects your eyes from harsh wind and debris that attempts to enter through the sides. They have scoops in the temple arms to manage moisture, as well as ultra-grip TPE rubber nose pads and temple tips for all-day comfort and added stability.
Get 100% Prescription Sport Sunglasses at SportRx
Need prescription sports sunglasses? Done. When you shop with us, you'll find video guides and tooltips throughout the build process as you customize the perfect pair. An answer to all your questions is at your fingertips, and if you want to chat with an expert, Contact Us. We'll put you in touch with one of our friendly in-house opticians who can help you build your prescription sports sunglasses.
Ditch risky online shopping with the See Better Guarantee. Try your sports sunglasses for 45 days. If you're not satisfied, send them back. Get a full refund, exchange, or credit towards a better pair. And return shipping? Covered. Get your pair of prescription sports sunglasses at SportRx today!