For casually styled sunglasses that can handle all-day wear, 100% gives you Slent, a time-honored rounded lens that suits your active lifestyle. Inspired by glacier glasses, they have a medium fit with bolder peripheral lens frames to combat glare. Here to give you the inside scoop we bring you Sunglass Rob and Nick from 100%.
100% Slent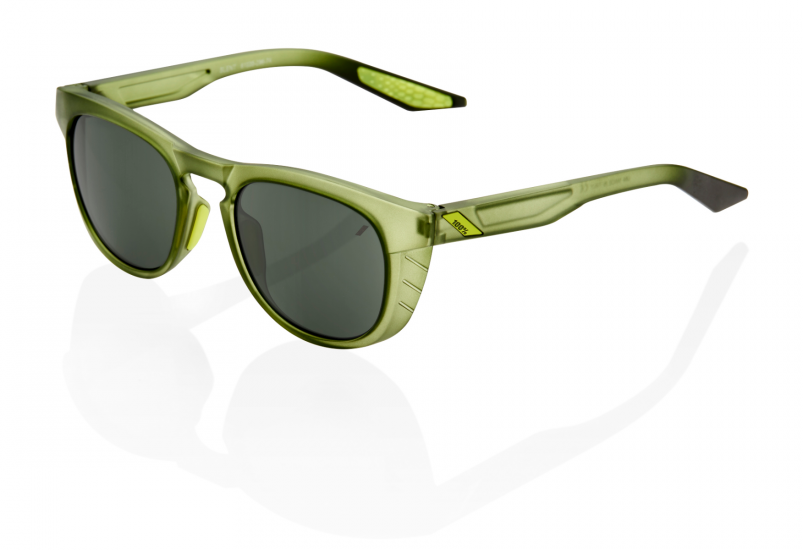 100% Slent with Olive Slate Frames & Grey Green Lens
100% Slent incorporates active lifestyle features into a modernized classic style. Ultra HD polycarbonate lenses make their home in a glossy six-base frame that has louvered edges for extra wind protection. They're shatter, impact, and scratch resistant and have a lens treatment to rebuff water, dirt, and oil.
Their durable, flexible, and lightweight TR90 frame has ultra-grip rubber nose pads and temple tips for both a luxurious feel and anchored fit. 100% Slent builds sport features into a vintage keyhole nose bridge for a casual, cool look that accommodates an active lifestyle.
GET PRESCRIPTION SPORTS SUNGLASSES AT SPORTRX TODAY
Need prescription sports sunglasses? Done. When you shop with us, you'll find video guides and tooltips throughout the build process as you customize the perfect pair. An answer to all your questions is at your fingertips, and if you want to chat with an expert, Contact Us. We'll put you in touch with one of our friendly in-house opticians who can help you build your prescription sports sunglasses.
Ditch risky online shopping with the See Better Guarantee. Try your sports sunglasses for 45 days. If you're not satisfied, send them back. Get a full refund, exchange, or credit towards a better pair. And return shipping? Covered. Get your pair of prescription sports sunglasses at SportRx today!