10 of Oakley Women's Sunglasses to Look out for:
Looking to turn your dreams into a reality? Crush your current personal record? Conquer your goals? Oakley Women's Glasses are here to assist you. Oakley Women's line brings fashion forward trends into sports. All Oakley sunglasses are equipped with High Definition Optics to reach ultimate optical clarity, visual fidelity, and impact-resistance. With Oakley's frame and lens technology, all of their sunglasses will bring a top-notch experience you will love.
We know it's tough trying to decide which sunglasses to buy, so we want to help you see what the best pick is for you!

You can never go wrong with a timeless classic! The Oakley Holbrook keeps a classic look, while incorporating Oakley's new technology. The Plutonite Lenses offer top UV Ray protection and will keep your eyes safe from all harmful rays. Holbrook's O-Matter frame make these sunglasses extremely lightweight and durable. The three-point fit will keep them in place during all activities. The Oakley Holbrook is available in over twenty different options, so you can create your own personal favorite classic look!
---

Oakley Reverie Sunglasses will provide you with eye protection from sunrise to sunset. These sunglasses built and design allow you to go straight from relaxing with your friends to your workout! Three-Point fit will keep the lenses in optical alignment and will also eliminate pressure points. Having Unobtainium nosepads, the sunglasses will provide you ultimate comfort and durability. Reverie's shape is constructed to fit a wide variety and faces and will look great on anyone.
---

Oakley Frogskins will keep you hop-py all day! Stand out in this extraordinary design. The Plutonite Lenses provide top UV Protection from all harmful rays. Frogskins are crafted with an O Matter stress resistant frame and stainless steel hinges making them extremely lightweight and durable for any activity. The Three-Point fit will keep the lenses in alignment and even remove pressure points. Jump away from the norm and find your unique skin!
---

Introducing the first everyday sunglasses that were designed for the active women! Oakley Feedback sunglasses create a fashion forward teardrop frame without compromising Oakley's sport technology. The Feedback wrap around feature allows the sunglasses to stay in place during all movements. The lightweight frames and snag-free adjustable nose pads will provide every day comfort in all of life's activities. Look great, perform great!
---

Oakley Pulse
These sunglasses will have your heart pulsing with love! The Oakley Pulse has a full frame that looks great on just about any face shape! The rubber temples and nosepads will keep the sunglasses in place and provide all day comfort. The Pulse polarized lenses offer eye protection and a clear optical vision. The stylish Pulse is a pair you can wear anywhere.
---

These glasses put the fun in functional! The Oakley Moonlighter combines an 80's vibe with the up to date newest technology. The Moonlighter frame looks great on a petite face shape. These sunglasses provide 100% UVA/B/C protection and will reduce any glares. The Patented hydrophilic Unobtanium nosepads create a secure fit that will stay in place. The Moonlighter is built with lightweight stress-resistant O Matter frames bringing you all day comfort and durability.
---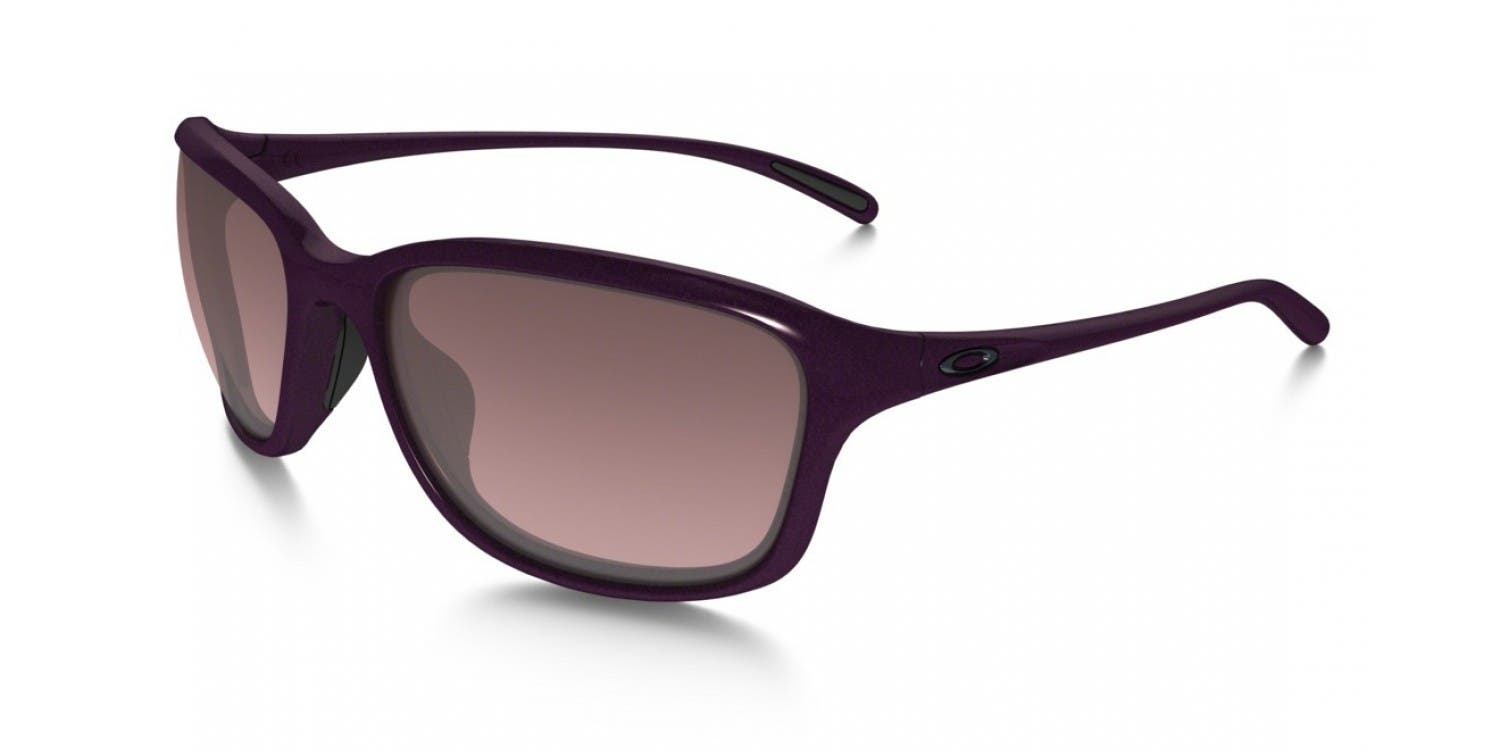 Oakley She's Unstoppable
Go Girl! Nothing will be able to stop you from bridging the gap between style and performance! The Oakley She's Unstoppable glasses emerged from the success of the previous model, Unstoppable. She's Unstoppable has unbelievably lightweight features, allowing nothing to weigh you down. The frame shape is looks great on a medium sized face. The 100% UV ray protected lenses will keep your eyes safe and reduce glares. She's Unstoppable nose and stem pad's will keep the glasses secure and in place. Don't let anything stop you from trying out Oakley's She's Unstoppable.
---

Have you been wanting to searching for the perfect pair of aviators, but none of them seem to fit right? Oakley created the Sanctuary to deliver a flattering fit to a variety of face shapes. The Oakley Sanctuary is the iconic aviator, but with a more square frame shape. Three-point fit and no-snag nosepads will provide you a secure fit and consistent optical alignment. Sanctuary's lightweight c-5 Frame to bring you all day durability and comfort. These sunglasses are perfect for everyday wear!
---

The Oakley Half Jacket allows you to be prepared for any lighting condition. The interchangeable lenses will let you adjust with your environment and keep up with the competition. The Half Jacket 2.0's features will vive you all day protection and comfort! These glasses are made with an O-Matter frame making them extremely lightweight and durable. The Unobtanium ear socks will allow a better grip when you start to sweat. These glasses are built for training, however still work great for everyday us. The Half Jacket 2.0 is also available in an XL size with larger lenses providing more coverage.
---

Looking for glasses built for not just performance…but style also? Oakley RPM Squared glasses will allow you to play hard and look great while doing it. The lightweight and resistant O-Matter won't weigh you down and will provide you with all day comfort. RPM Squared semi rimless frame and thin double bridge designs will bring offer you a clear vision, in both straight and peripheral views. The interchangeable lenses feature will optimize your vision in any lighting condition. The RPM is ready for 100% Performance and 100% style!
Find Prescription Oakley Women's Sunglasses Online at Sport Rx!
Ready to turn those dreams into reality with one of Oakley Women's Sunglasses. We hope you can see more clearly now which pair is right for you. If not, maybe try adding prescription to the sunglasses to help! All of Oakley Women's Sunglasses can be made to fit your personal prescription. If you have any questions, an expert optician at Sport Rx will gladly help you 7 days a week!