With racquetball becoming increasingly popular, you need to be prepared to accept an invitation to play at a moment's notice. Like other racket sports, dress code matters. It's easy to make a fashion faux pas, and there are some pieces of gear you simply can't leave behind. Continue on to discover what to wear to play racquetball and no one will ever suspect you as a newbie.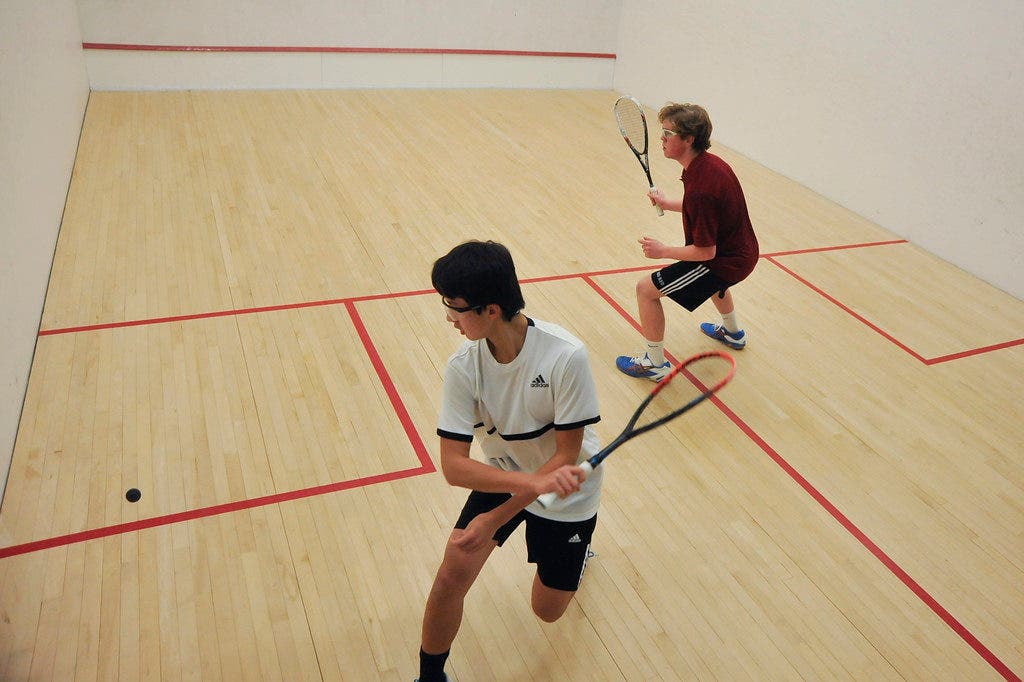 Table of Contents
1. Dress Code
2. Glove
3. Eye Protection
4. Accessories
Dress Code
To play racquetball you want to dress in athletic clothes. It's a fast-paced game and you'll undoubtedly work up a sweat. People most commonly wear a short-sleeved shirt and shorts made of a breathable material, like cotton or rayon. As for shoes, a racquetball court can be slippery, especially as the sweat starts dripping. Choose shoes with excellent traction to accommodate sharp, quick movements and rubber soles that can grip the floor.
If you're playing at your local gym, chances are you can wear anything you like. However if you're headed to a country or racquetball club, it's wise to look up the dress code ahead of time. Athletic clubs can be particular about the details—even down to the color of your racquetball attire.
---
Glove
If you've never seen a glove sold as a single rather than as part of a pair, you will in the racquetball world. It's important to wear a glove on the hand that holds the racquet so it remains sturdy when you swing it. Your glove also protects you from blisters.
---
Eye Protection
Any serious racquetball player will tell you never to play without eyewear, and even to avoid playing against someone not wearing eyewear. The ball can reach speeds over 100 mph! You must have strong, durable eye protection. Some features to look for in racquetball glasses or goggles are anti-reflective lens coatings, ventilation holes, and thick frames and temples to cover your entire eye sockets.
Check out The Best Racquetball Goggles & Glasses or sneak a peak at the examples below.
Wiley X SG-1
Get your game on without any worry! Wiley X SG-1 is safety-rated and comes with an attachable strap to seamlessly convert to goggles.
Oakley Half Jacket 2.0
Crush the competition in Oakley Half Jacket 2.0. Loaded with sports features, these glasses are durable, lightweight, and grip more and more as you sweat.
---
Accessories
Although you want to keep accessories to a minimum, they can boost your performance. A headband and 2-3 wristbands work hard to keep sweat out of your eyes, and off of your hands. A cheap way to make a big impact, sweatbands are a great idea.
For even more on gear, head to What Equipment Do You Need to Play Racquetball?
---
Prescription Racquetball Glasses at SportRx
Need prescription racquetball glasses or goggles? Done. When you shop with us, you'll find video guides and tooltips throughout the build process as you customize the perfect pair. An answer to all your questions is at your fingertips, and if you want to chat with an expert, Contact Us. We'll put you in touch with one of our friendly in-house opticians who can help you build your prescription racquetball glasses.
Ditch risky online shopping with the See Better Guarantee. Try your glasses for 45 days. If you're not satisfied, send them back. Get a full refund, exchange, or credit towards a better pair. And return shipping? Covered. Get your pair of prescription racquetball glasses at SportRx today!