When ordering with us, we'll ask for your pupillary distance after you upload your prescription. Pupillary distance, or PD as it can be written, may already be on your prescription, or you might have to measure it yourself. If you need help measuring your PD, check out our blog post and accompanying video here. All you need is a ruler.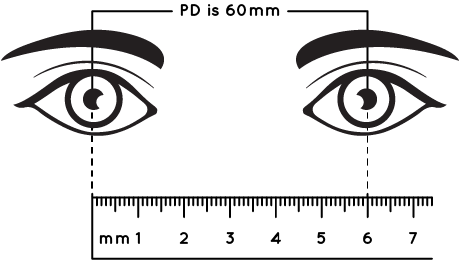 What it is
In the simplest terms, pupillary distance is the distance between your pupils in millimeters.
Why You Need it
All prescription lenses have something called the ocular center, which is the part of the lens directly over your pupils. It's also the part of the lens you will be looking through the most. If your lenses aren't centered properly, you risk eye strain and headaches. So be sure your measurement is as accurate as possible for a proper fit, and avoid generalizing based on your age or gender. Besides, it takes about as long to look up an average PD as it does to simply measure it yourself.
Note: Your PD doesn't change with the frames you wear. You can put any size of glasses on your face, but since your PD is based on the size of your face rather than the size of your glasses, it won't change between frames.
If you're an adult, you can use a PD measurement that is several years old—unlike your prescription, it tends to stay the same once your body is done growing. However, if you're ordering kids' glasses, the more recent the measurement the better. Our opticians prefer a PD no older than a year for kids, but if you've got a few minutes to spare it can't hurt to check again.
Got your PD handy?
Great! Once you've gotten that and your prescription squared away, you're ready to order your new prescription lenses. When you shop with us, you'll find video guides and tooltips throughout the build process as you customize the perfect glasses or sunglasses. An answer to all your questions is at your fingertips, and if you want to chat with an expert, Contact Us. We'll put you in touch with one of our friendly in-house opticians.
Ditch risky online shopping with the See Better Guarantee. Try your glasses for 45 days. If you're not satisfied, send them back. Get a full refund, exchange, or credit towards a better pair. And return shipping? Covered. Get your pair of prescription glasses or sunglasses at SportRx today!