The Ray-Ban Wayfarer Collection includes the original Wayfarer sunglasses, and three additional versions of them. With similar names and styles, it's helpful to know the details that set each pair apart. Sunglass Rob and Alana from Ray-Ban compare the New Wayfarer and the Wayfarer II to point out some key differences.
Table of Contents
1. Ray-Ban Wayfarer II
2. Ray-Ban New Wayfarer
3. Similarities & Differences
Ray-Ban Wayfarer II
Ray-Ban RB2185 Wayfarer II with Havana Frames & Green Lenses
The fourth Wayfarer in the collection, Ray-Ban RB2185 Wayfarer II, has durable, lightweight acetate frames. This latest version explores a modern take on the original Wayfarer by incorporating rounder lenses and thinner temples, and uplifting the corners of the frames.
While it maintains the classic Wayfarer vibe, Ray-Ban Wayfarer II strays the farthest from the shape of the first model. It's a great option for those who have sported the original Wayfarers for years and fancy a change. These sunglasses put a modern twist on a timeless look.
They're available in 52 and 55 eyesizes to accommodate a small and large fit and the lenses can be exchanged for clear eyeglass lenses.
Ray-Ban New Wayfarer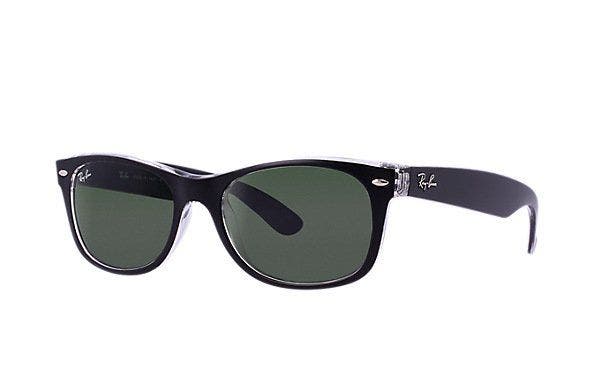 Ray-Ban RB2132 New Wayfarer with Top Black on Transparent Frames & Green Lenses
Ray-Ban RB2132 New Wayfarer is the second variation in the collection. The rectangular acetate frames are strong, lightweight, and slightly smaller than the original Wayfarers. They're characterized by a softer eye shape and a flatter base curve to eliminate some of the discomfort the first version's lens tilt causes. For the iconic look of the best-selling classics with an updated fit, Ray-Ban New Wayfarer is distinctly designed for those who are wild about Wayfarers.
It's available in three sizes and can be transformed from sunglasses to eyeglasses with a swap of the lens.
Similarities
Acetate frames, barrel hinges, glass lenses
Comfortable
Optical versions
Differences
Shape/style
Time of release
Size options
Get Prescription Ray-Ban Wayfarer Sunglasses at SportRx
Need prescription Ray-Ban sunglasses? Done. When you shop with us, you'll find video guides and tooltips throughout the build process as you customize the perfect pair. An answer to all your questions is at your fingertips, and if you want to chat with an expert, Contact Us. We'll put you in touch with one of our friendly in-house opticians who can help you build your prescription Ray-Ban sunglasses.
Ditch risky online shopping with the See Better Guarantee. Try your Ray-Ban sunglasses for 45 days. If you're not satisfied, send them back. Get a full refund, exchange, or credit towards a better pair. And return shipping? Covered. Get your pair of prescription Ray-Ban sunglasses at SportRx today!