As expected from the frontrunners of the athletic world, Nike makes high-quality golf sunglasses designed to bring out the best in you on the green. We've compiled a list of the features you need to keep in mind while shopping for your next pair of Nike golf sunglasses. Read on to learn more!
Table of Contents
1. What to Look for in Nike Golf Sunglasses
1.1. Frame Technology
1.2. Lens Technology
2. Featured Nike Golf Sunglasses
3. Get Prescription Nike Golf Sunglasses Online at SportRx
---
What to Look for in Nike Golf Sunglasses
The two key factors in any good pair of sunglasses are frame and lens technology. We delve deeper into each aspect below.
Frame Technology
Coverage
For golf, you'll likely want a wraparound, semi-rimless frame. This serves the dual purpose of protecting your eyes from the sun from all angles as well as reducing the annoyance of a frame obstructing your line of sight when looking down at the ball. With a full-frame design, the bottom portion of the frame can affect your depth perception by getting in the way of where your eyes are looking and interrupting your focus. Make sure the lenses extend to your cheeks but don't touch, and that they don't interfere when you look down.
Frame Materials
As with most sports, lightweight is the way to go. Many golfers complain about the weight of sunglasses on their faces, especially with high prescription strength, as they have a tendency to slide off the face when looking down at the ball. Nike's sport sunglasses are made out of lightweight, injection-molded plastic to be comfortable and secure during all-day wear. Most models have hat-compatible (thin and straight) temples too, to alleviate the pressure on the sides of the wearer's head that is sometimes experienced when a frame is worn with a hat.
Another important feature is grip on the nose and temples, usually rubber. Golf involves a lot of looking down and to the sides, and your sunglasses slipping down your face can mess up your swing. If the sunglasses don't have grip, make sure they have an adjustable nose pad so they stay in place regardless. Sweat shouldn't be an issue if your sunglasses are of good quality.
Fit
Naturally, you need to make sure your sunglasses fit properly. This is hard to determine when shopping online, so we suggest looking on the inside temples of your current glasses or sunglasses for the sizing. You'll usually notice a set of numbers that look like 54-19-145.
The first number is the lens width and how we typically determine frame size. If your current glasses fit you well, look for sunglasses with similar measurements. However, note that a wrapped frame will have a wider lens with more volume than what you may currently have in your everyday pair of glasses. For example, if you wear a frame that is a 54mm eye size in your everyday pair, then you'll likely look for something in the range of a 62mm eye size for a wraparound pair.
Overall, you want your golf sunglasses to fit snugly against your face, but not so tight that they cause you pain. Remember, the goal here is that you hardly feel them on your face and don't think about them. If you're not sure about what size you need, give us a call and one of our certified opticians can assist.
Lens Technology
The most important lens feature to consider is contrast. With better contrast, you'll be able to read the lay of the green and follow the ball even against cloudy skies. Some examples of contrast-enhancing lens tints for golf are brown, rose copper, or amber. For a more in-depth look at each of these, check out Best Lens Color for Golf.
If you get your Nike golf sunglasses non-prescription, they come with Nike Max Optics lenses. Nike Course Tint is the color specific to golf, but the whole Nike Vision line is designed to enhance depth perception and contrast to help you read the greens without the annoyance of sun glare and eye strain.
However, you can't get Nike Max Optics in prescription. Our favorite SportRx brand lenses for golf are All-In-One, Birdie, and Day and Night Contrast. All-In-One and Day and Night Contrast are both photochromic lenses, meaning they change tint from lighter to darker depending on the amount of UV light present. Meanwhile, Birdie comes with a subtle blue mirror and a rose copper tint.
---
Featured Nike Golf Sunglasses
Nike Cross Trainer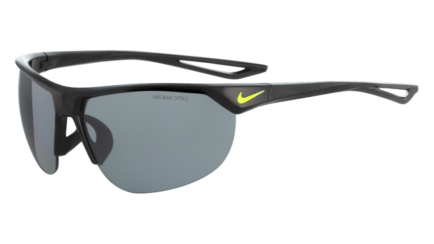 The Nike Cross Trainer is an all-around great pair of sports sunglasses but really performs well for golf. A lightweight, fully wrapped frame with a ventilated nose bridge and hat-compatible temples are all designed to keep you comfortable. Look down, around, and to the sky without your sunglasses slipping off.
For a couple of other Nike frames, we love for golf, check out the Top 3 Nike Golf Sunglasses 0f 2020.
---
Get Prescription Nike Golf Sunglasses Online at SportRx
Need prescription Nike golf sunglasses? Done. When you shop with us, you'll find video guides and tooltips throughout the build process as you customize the perfect pair. An answer to all your questions is at your fingertips, and if you want to chat with an expert, Contact Us. We'll put you in touch with one of our friendly in-house opticians who can help you build your prescription Nike golf sunglasses.
Ditch risky online shopping with the See Better Guarantee. Try your sunglasses for 45 days. If you're not satisfied, send them back. Get a full refund, exchange, or credit towards a better pair. And return shipping? Covered. Get your pair of prescription Nike golf sunglasses at SportRx today!