If you're in need of new Oakley glasses, you've come to the right place. A new year means a new Oakley release. Whether you're looking for eyeglasses with sport performance enhancements or glasses for long days on the computer, the Oakley 2022 new release has the perfect set of eyeglasses for you.
*Looking for new Oakley sunglass models? You can find those, here!
---
Table of Contents
A. What to Look for in New Oakley Glasses
B. New Oakley Glasses of 2022
C. Shop New Oakley Glasses
---
What to Look for in New Oakley Glasses
Lens Technology
Oakley 1.59 Clear - Lightweight and impact-resistant so your eyes are protected whenever life throws something at you, literally.
Oakley 1.59 PRIZM Gaming - Contains added blue light blocking technology for long days staring at screens.
Oakley 1.59 Transitions - Available in grey and brown photochromic lenses, eliminating the need to buy and carry around a separate pair of sunglasses.
Oakley High Index (1.67 & 1.74) - Suggested for strong prescriptions. Up to 30% thinner than the standard 1.59 lens to reduce weight so you can enjoy wearing your new look all day.
SportRx Custom Lenses - Customizable so you can show off your style and personalize your lenses based on your individual vision needs.
Frame Technology
O Matter - Lightweight, durable, and impact-resistant frame material.
NanO-Matter - 67% thinner and 3x stronger than acetate frame material.
Titanium - Incredibly strong, extremely lightweight, and corrosion resistant frame material.
Unobtainium - Oakley's proprietary grip material that gets stickier and tackier the more you sweat.
---
New Oakley Glasses of 2022
Oakley Futurity
For sport performance optics in an everyday frame, look no further than the Oakley Futurity. The temples, inspired by the Oakley Sutro, are encased in Unobtainium grip. This grip can also be found on the TruBridge nosepad, making these glasses great for a variety of indoor sports and stay in place even when you're reacting to a deep volley on the squash court.
Key Features
---
Oakley Admission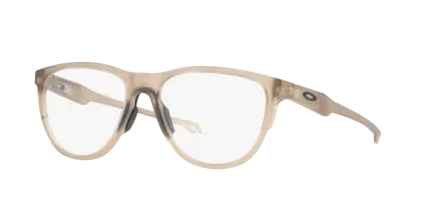 Welcome the newest member of Oakley's First-Class Collection, the Oakley Admission. Specifically made for gamers, this frame helps minimize gaming interference and allows you to game for hours with zero discomfort. The ace-fit temples are adjustable for a customized fit, and thin for headset compatibility. No need to fuss with situating your glasses and headset comfortably!
Key Features
---
Oakley Metal Plate TI
Oakley's popular Metal Plate is now available in a premium version. This style evolution is modernized with a thicker brow architecture for a familiar composition that is built to last. The Oakley ellipse logo on each temple is not raised and glaring like the original Metal Plate, making it perfect for those who want a distinguishably elevated design.
Key Features
---
Oakley Socket TI
Next up is an upgrade to the Oakley Socket 5.0, the Oakley Socket TI. This updated design is made of lightweight, yet durable and corrosion-resistant titanium for premium eyewear built with longevity in mind. The temples feature modern upgrades with a contemporary industrial look that is sure to bring out your confidence while taking leadership at the job site.
Key Features
---
Oakley Dehaven
The Dehaven is named after a small beach town in Northern California, and was influenced by the art and craftsmanship of surfboard shaping. It comes with a NanO-Matter frame front, accompanied by ultra-thin stainless steel temples. The temples feature a cross-hatch pattern to echo the way longboarders wax their boards, making it perfect for those who appreciate an artisan-inspired look.
Key Features
---
Oakley Exchange
The Oakley Exchange brings a modern twist to the Oakley best-seller, Currency. This mixed material frame features an O-Matter frame front and stainless steel temples. These temples are encased by B1B-textured Unobtainium earsocks for a look that is sure to showcase your ankle-breaking agility when stepping onto the basketball court.
Key Features
---
Shop New Oakley Glasses at SportRx
When you shop for new Oakley glasses at SportRx, we give you the option of getting Oakley Authentic Lenses or SportRx Custom Lenses. Oakley Authentic Lenses come with the ellipse logo etched on the left-wearing lens for proof of authenticity and are available in a handful of eyeglass options. SportRx lenses are available in digital and non-digital options, as well as several transitioning color options. Don't know which eyeglass lenses are right for you? Give SportRx a call! We have ABO-certified opticians available 7 days a week to help you pick out the perfect lenses for your individual lifestyle.
Ditch risky online shopping with SportRx's See Better Guarantee. Try your Oakley glasses for 45 days. If you're not 100% satisfied, send them back for a full refund, exchange, or credit towards a better pair. Return shipping? Covered. Get your new Oakley eyeglasses at SportRx today!