Kaenon engineers their sunglasses for outdoor living so you can see every moment in every element. A company born from an overseas adventure in 2001, Kaenon's innovation is inspired by the water to build clearer, lighter, and stronger lenses. They offer combinations of tints, mirrors, and lenses to specifically tune your vision for any weather, time of day, or activity. This guide will walk you through Kaenon's frame and lens technologies, what constitutes a proper fit, and which lens tints best suit your environment.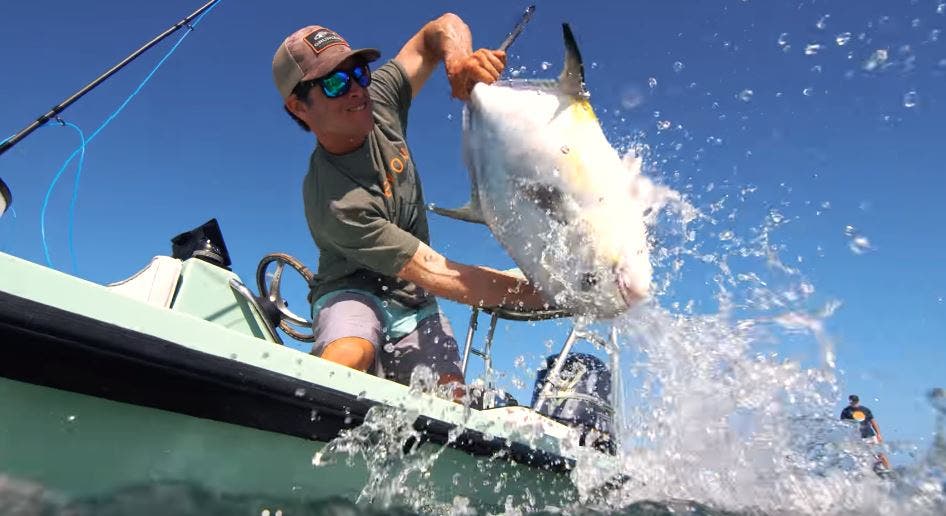 Table of Contents
1. What to Look for in Kaenon Fishing Sunglasses
1.1. Frame Technology
- Coverage
- Frame Materials
- Fit
1.2. Lens Technology
- Polarization
- Lens Materials
- Color Enhancement
3. Our Picks for Fishing - Kaenon Arcata & Arcata SR
What to Look for in Kaenon Fishing Sunglasses
Fishing is an extreme sport that requires extreme engineering for all of its equipment- sunglasses being one of the most essential. Created for the outsider, all of Kaenon's lenses are polarized and frames built to endure every climate. Let's take a closer look at what that actually means.
Frame Technology
As you shop, there are several things you want to pay attention to in your frame: coverage, materials, and fit. These features work together to keep your eyes protected and your lenses securely in place.
Coverage
Kaenon's fishing sunglasses feature an 8 base curve with a full-wrap for ultimate coverage and security. The thick temples shield your eyes from sunlight, water, and other particles that impair your vision as you're propelling over the waves. The full-wrap style with an over-sized lens gives you the sensation that you're not even wearing sunglasses, allowing you to pursue your catch with confidence rather than worrying about them sliding off. Whether the sun is extra bright or the weather is unpredictable, you won't regret choosing sunglasses built for protection.
Frame Materials
Where there is water, there is rust. Fishing environments are tough on materials and that's why Kaenon created their injection-molded TR-90 frames. They're extremely strong, lightweight, and capable of maintaining their shape in a multitude of climates. These features indicate a frame that is specifically designed for an active, outdoor lifestyle. You don't want to select metal frames for a fishing trip because they corrode the fastest, have minimum coverage, and bend in the heat. Acetate bends easily as well, which is why most fishing sunglasses will be made from a Nylon blend that can withstand extreme climates.
Fit
You've anticipated this day for weeks, you've prepped for days, and now you're finally out on the water. But the sun is strong, and the discomfort of your sunglasses is stronger. Don't ruin your trip by underestimating how important a comfortable pair of sunglasses is. Kaenon ensures you'll keep your sunglasses on and keep the glare out by fitting them with Variflex nose pads and rubber temple tips. The removable nose pads stop your sunglasses from sliding when you sweat and the temple tips stop them from digging into the sides of your head, which often causes a headache. You want your sunglasses to be snug, but not tight. The elements are more intense near and out on the water. Choose sunglasses specifically designed to help you perform your best while you're fishing.
Lens Technology
Small but mighty, lenses are a crucial part of your fishing gear. You want your lens to be polarized, scratch and solvent resistant, and tinted to best suit your environment. An incredible amount of technology is invested in optimizing lenses for the fishing experience.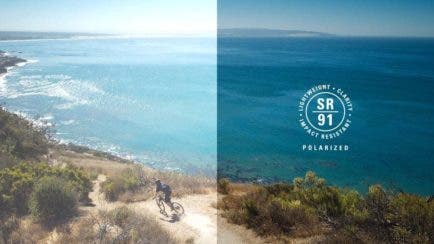 Polarization
Kaenon spent years researching and testing their revolutionary SR-91 polarized lens. Engineered to take on the outdoors, this lens serves up glass-like clarity and unparalleled glare reduction. Fishing is a sport you definitely need a polarized lens for because it filters the sun's wavelengths to help us see more clearly. To achieve the ultimate visual experience, the lens is also equipped with invisible layers to increase scratch resistance and repel oil, dirt, and water.

Lens Materials
The SR-91 lens is manufactured to have all of the positive aspects of polycarbonate and glass lenses, but none of the negatives. It's lighter, clearer, and extremely impact resistant so you're protected in any environment. Kaenon took the best of both worlds to create the ultimate outdoor lens, capable of performing in any climate while maintaining optical clarity.
Color Enhancement
In order to provide more depth and detail than ever before, Kaenon took SR-91 to the next level and created SR-91 ULTRA. This lens has greater color separation and sharper contrast so that even the smallest details don't go unnoticed. Geared toward helping you fully experience the world around you, SR-91 ULTRA light up vivid landscapes with intense color separation. This is vital when you're trying to distinguish between different shades beneath the surface.
Best Lenses for Your Environment
To optimize your fishing experience, choose your lens color according to if you'll be off-shore or in-shore. In-shore is considered to be 30 meters deep or less, often surrounded by trees and plants, and has more shade and colors. Lighter lenses boost the contrast in-shore. Off-shore, glare is stronger, sunlight is direct, and there are many shades of blue to filter through. Darker lenses keep you more protected and allow you to see past the surface.
Our Picks for Fishing - Kaenon Arcata & Arcata SR
Kaenon Arcata in Matte Black with Copper Polarized Lens
You can find Arcata in Kaenon's Cross Sport Collection. Built to protect, they feature a full-wrap for extreme coverage and Variflex nose pads and temple tips for a secure, comfortable fit that won't have you distracted by slippage. Arcata frames are made with lightweight, flexible TR-90 material specifically designed for the outdoors, so you can wear them whether the sun is blaring or the clouds come rolling in with a storm. The SR-91 polarized lens sharpens color and detail to help you better spot and track fish beneath the surface, and enjoy more vivid surroundings instead of washed out glare. These high-performance fishing sunglasses are light and clear so you won't even know they're there... and they're impact resistant for when you drop them.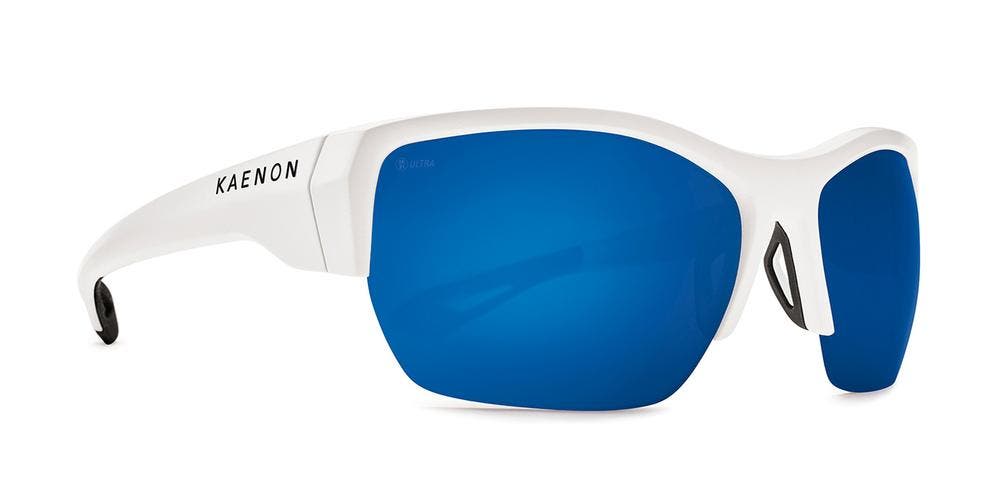 Kaenon Arcata SR in Matte White with Ultra Pacific Blue Polarized Lens
The Cross Sport Collection also features Arcata SR Polarized sunglasses. These differ from their counterpart in style. Although they maintain full coverage at the temples, they are semi-rimless for expanded downward vision. This design also enables flex near the ears for a better fit and added comfort.
Get Kaenon Prescription Fishing Sunglasses Online at SportRx
Need prescription Fishing Sunglasses? Done. When you shop with us, you'll find video guides and tooltips throughout the build process as you customize the perfect pair. An answer to all your questions is at your fingertips, and if you want to chat with an expert, Contact Us. We'll put you in touch with one of our friendly in-house opticians who can help you build your prescription Fishing Sunglasses.
Ditch risky online shopping with the See Better Guarantee. Try your sunglasses for 45 days. If you're not satisfied, send them back. Get a full refund, exchange, or credit towards a better pair. And return shipping? Covered. Get your pair of prescription Fishing Sunglasses at SportRx today!