It's not only fun for children to try different sports - it's good for them! Kids learn to build connections, gain confidence, and follow rules when they join a sport. Golf is a great option because it has the added benefits of crisp, fresh air and of being challenging without a high risk of injury. Ready to try something new? Keep reading and we'll go over our recommended tips for getting your kid into golf!
Help Your Kid Have Fun Playing Golf!
With any sport your kid decides to try, the most important thing is to make sure they have fun! This is the golden rule and after all, we just want our kids to learn, grow, and enjoy what they're doing. Here's a few tips and tricks to help you along the way:
If your child is not interested in golf yet, take him/her with you to watch you play. Let them ask questions!

Teach simple etiquette, such as not being too disruptive on the course, but let kids be kids!

Be encouraging! Taking up a new sport can be hard, so always remind your child they are doing great.

Don't force anything. Don't be too hard on your child when they don't feel like practicing. Take it easy and let them practice at their own pace.
---
Equipment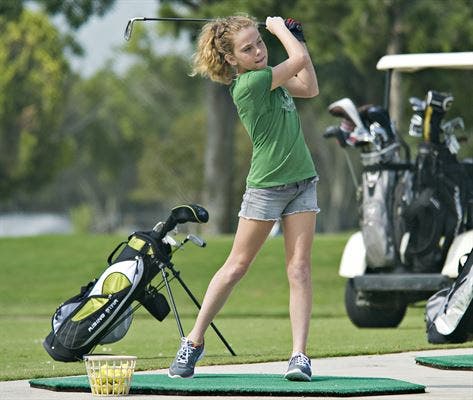 Depending on their age, kids don't need a whole lot of equipment to get started. There is a lot of selection when it comes to golf clubs and more, but it might be smart to start out with only a couple clubs. Once they take more interest in the game, you may want to look into purchasing more. There are lots of different recommendations and suggestions out there, but as a parent, it is ultimately up to you in regards to what equipment you want to purchase.
---
Youth Golf Tournaments
There are actually lots of junior golf tournaments out there! Kids ages 5-18 are able to compete against one another in a variety of tournaments. Before you think about signing your kid up, it's important to assess their skill level and make sure they are ready! With a little research, you can land your kid at the perfect tournament!
---
Is There a Right Time to Start Taking my Kid to Play Golf?
Many parents want to get their kids into sports, but may not know if it's the right time. If this sounds like something you're struggling with, you're not alone! When your kid expresses interest in golf, encourage them to give it a shot! And, most importantly, never forget the golden rule - make sure they're having fun!
---
Prescription Golf Sunglasses for Kids at SportRx
Interested in prescription golf sunglasses for your child? We've got you covered. When you shop with us, you'll find video guides and tooltips throughout the build process as you customize the perfect pair. An answer to all your questions is at your fingertips, and if you want to chat with an expert, Contact Us. We'll put you in touch with one of our friendly in-house opticians who can help you build your prescription golf sunglasses.
Ditch risky online shopping with the See Better Guarantee. Try your sunglasses for 45 days. If you're not satisfied, send them back. Get a full refund, exchange, or credit towards a better pair. And return shipping? Covered. Get your pair of prescription golf sunglasses at SportRx today!