The game of pickleball has taken the world by storm. This fast-growing sport has captivated casual to competitive athletes alike and encouraged people to get out and play. What most people may not know is that pickleball has been around since the 1960's and has a fun background and origin story. Join SportRx as we breakdown the history of pickleball and lay out what to look for in eyewear perfect for pickleball play.
---
Table of Contents
A. What Is Pickleball?
B. Who Invented Pickleball and Where Did Pickleball Originate?
C. Why Is It Called Pickleball?
D. How to Play Pickleball
E. What to Look for in Pickleball Eyewear
F. Shop Pickleball Sunglasses & Glasses at SportRx
---
What Is Pickleball?
Pickleball is a low-impact paddle sport that takes place on a similar court, but smaller, to tennis. Incorporating elements of tennis, badminton, and ping-pong, pickleball requires little equipment — just a couple of paddles, a ball, and a net!
It has become a popular sport, due to its inclusive nature. All ages and experience levels can enjoy this activity. The ability to play pickleball indoors or outdoors also means that no matter the weather conditions, you can participate in an intense or leisurely match.
If you want to know even more about this rising sport, visit our blog that highlights the game of pickleball.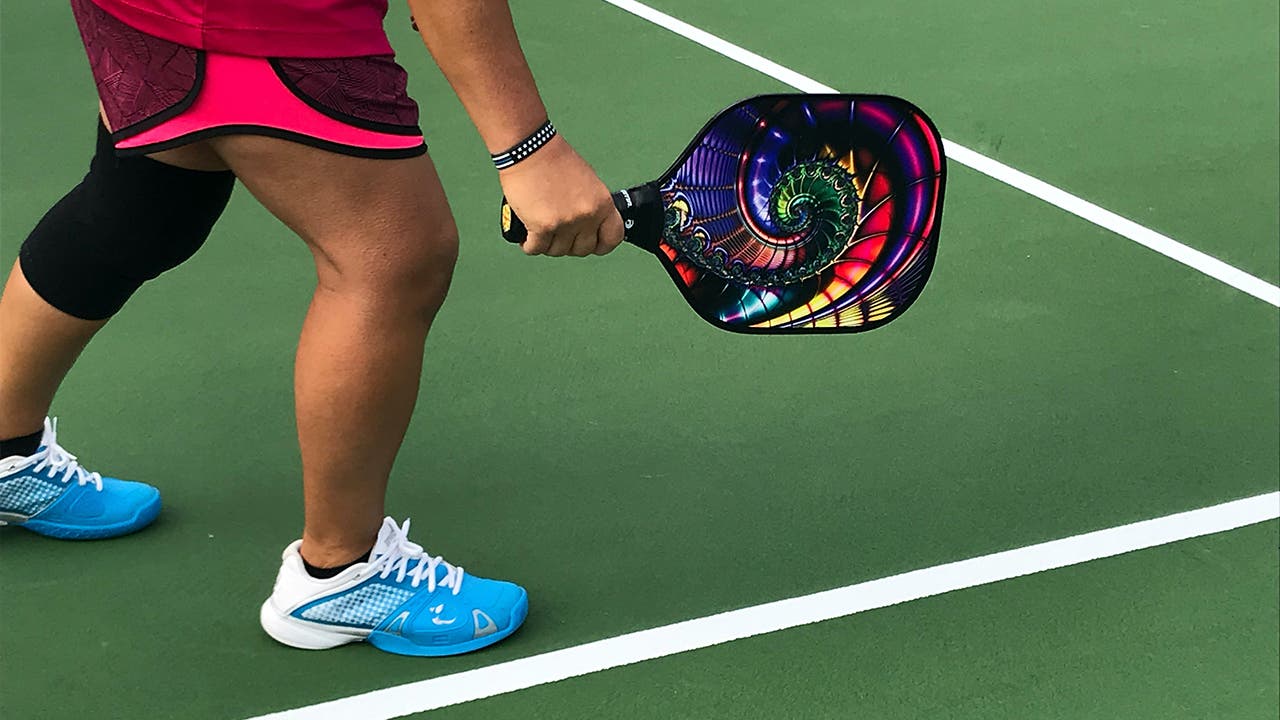 ---
Who Invented Pickleball and Where Did Pickleball Originate?
Pickleball history dates back many decades. In the summer of 1965, on Bainbridge Island in Washington, friends Joel Pritchard and Bill Bell returned from a golf outing to their bored families. Together, in the spirit of improvisation, the two of them collected a badminton net, ping-pong paddles, and a plastic wiffle ball. This hodge podge of equipment resulted in the first pickleball match and the origin of pickleball. The following weekend, their friend, Barney McCallum was introduced to the game, and the three men started creating rules.
Their game quickly spread to the greater community — public courts, school gym classes, retirement homes, recreational centers, backyards — and the rest of the country. Two years after their initial match, the first pickleball court was constructed in Pritchard's neighbor's backyard. Then, in 1972, McCallum founded Pickle-Ball, Inc., which is currently run by his son. In 1976, the first pickleball tournament was held, and by the '90s, the sport was being played in all 50 states.
Today, players throughout the nation call pickleball their favorite sport. In the past few years, thousands of new pickleball courts have popped up across North and South America. National US tournaments include the US Pickleball National Championships, the US Open Pickleball Championship, and Major League Pickleball. With a humble background, this sport is steadily becoming an international sensation.
---
Why is it Called Pickleball?
Depending on who you ask, the story behind the name pickleball will vary. The most popular story about where pickleball got its name starts with Pritchard's wife, Joan. She said the mixture of different elements in one sport reminded her of the rowing term "pickle boat", where any available rowers come together to form a mixed crew. Others believe the name refers to the random elements of the game itself, rather than the players. Still, other sources say that it was the Pritchards' family dog, Pickles, that inspired the game's name. However, this final hypothesis has since been debunked due to the dog being named after the game's invention.
---
How to Play Pickleball
The rules for pickleball are quite simple and easy to follow. You can play either doubles or singles. Play occurs on a pickleball court between the inbound lines. Serves must happen from the baseline and can't initially land in the no-volley zone, also known as the kitchen. The ball must bounce at least once on each side of the court, and the game can either end at 11, 15, or 21 points.
For a more detailed breakdown of each rule, visit our blog about the 5 Rules of Pickleball.
---
What to Look for in Pickleball Eyewear
We wouldn't be SportRx without highlighting pickleball eyewear and what to look for in the ideal frame!
Whether your match takes place indoors or outdoors, a quality pair of sunglasses and glasses will protect your eyes and ensure optical clarity. Coverage is key and can be achieved with a wrap around frame design and larger lens dimensions. A comfortable, proper fit also guarantees your eyewear will remain in place. Finally, impact-resistant and lightweight materials give you confidence knowing you'll have durable and easy-to-wear frames.
When it comes to lenses, impact-resistant and safety-rated lenses mean they'll stand up if a wayward paddle comes your way or your shoelaces trip you up. From the moment you step onto the court, you'll know that your frames and lenses won't get in the way of you winning the match.
Our Pickleball Eyewear Buyer's Guide and Pickleball Lens Guide both feature details about picking the perfect pair of sunglasses for you, frame and lens technology, and finding the right lens color for your style of play. Additionally, our Best Prescription Safety Glasses for Pickleball and Best Prescription Pickleball Sunglasses blogs provide frame recommendations.
---
Shop Pickleball Sunglasses & Glasses at SportRx
Ready to try your hand at the game and in need of pickleball sunglasses or glasses? Done! When you shop with us, you'll find video guides and tool tips throughout the build process as you customize the perfect pair. An answer to all your pickleball and eyewear questions is at your fingertips, and if you want to chat with an expert, give us a call! We'll put you in touch with one of our friendly Sports Opticians and fellow pickleball enthusiasts, who can help you build your pickleball and prescription pickleball sunglasses and glasses.
Ditch risky online shopping with our See Better Guarantee™. Try your pickleball sunglasses and pickleball glasses for 45 days and if you're not satisfied, send them back. Get a full refund, exchange, or credit towards a better pair. And return shipping? We've got you covered! Get your pair of pickleball and prescription pickleball eyewear at SportRx today!