Since 2012, Detroit Bikes has been crafting 100% American-made bikes. I know what you're thinking... "American-made" doesn't mean that everything or anything was actually made in America, but in this case that's not true. Everything from the cutting of the American metal all the way to the packaging is done in Motor City!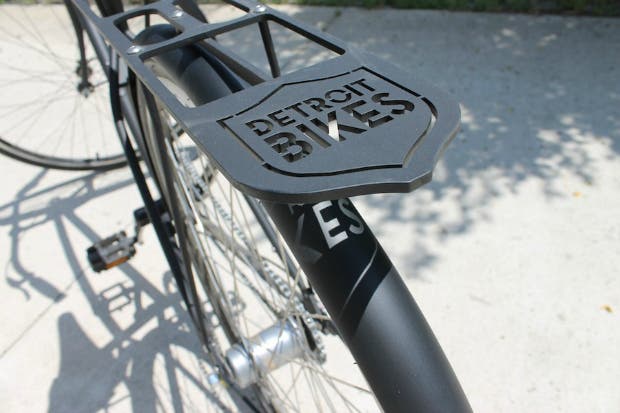 In their west Detroit factory, Detroit Bikes can mass product up to 100 bikes per day. Detroit Bikes only has two types of Bikes available for purchase. The A-Type, which is their first model produced, comes with a matte black finish and has a traditional men's bike frame, which has a horizontal crossbar. The B-Type is their newer edition bike, comes in a glossy white color and has a step-through frame, originally designed for women's bikes. However, times have changed and Detroit Bikes makes a statement by not classifying their bike's by gender but solely by the bike features.
The A-Type Detroit Bike featured at SportRx
At SportRx HQ we have the A-Type bike to play with, and we have to say, this is an exceptional bike. It's simplistic, sleek, and durable. At first glance, the bike looks super heavy, but don't let the powerful appearance fool you... when you pick it up or take it for a spin, you notice it's lightweight build.
Although Detroit Bikes likes to keep things as simple as possible, there are a lot of extra goodies that you can add-on. We got the 'Woodward Throwbacks Detroit Bikes Large Crate' which is attached to rear cargo rack (which can hold up to 35 lbs). Woodward Throwbacks is another Detroit-based company that gets its wood by biking around Detroit and collecting materials from illegal dumping sites. They help clean up the city, use recycled material and at the same time make beautiful handmade products-- a true win-win(-win).
If you're in the market for a well-made, quality, men's or women's bike with a lifetime warranty on the frame, your search ends at Detroit Bikes. SportRx gives it our stamp of approval! Watch the following video for more on Detroit Bikes!