Hiking a large one will never be the same for your big head when you try on any frame in this round-up. This list of the best hiking sunglasses for big heads was curated so your mountain climb will be enjoyable and fuss-free. Test your limits, but don't question your sunglass choice with the best hiking sunglasses for big heads below.
---
Table of Contents
A. The Best Hiking Sunglasses for Big Heads
1. Costa Rincon
2. Kaenon Burnet XL
3. Wiley X Boss
4. Oakley Mainlink XL
5. SMITH Lowdown XL 2
B. Shop Prescription Hiking Sunglasses at SportRx
---
Best Hiking Sunglasses for Big Heads
To familiarize yourself with the best hiking sunglasses features, check out our Hiking Sunglasses Buyer's Guide.
---
Costa Rincon
Escape the city but don't lose sight of the water by taking a hike near the coast in a pair of Costa Rincon sunglasses. A favorite sports frame by us, SportRxers, Rincon is meant to tackle any adventure you take on. And with its Costa 580P lenses, your view from the top will be unlike any other your eyes have ever seen.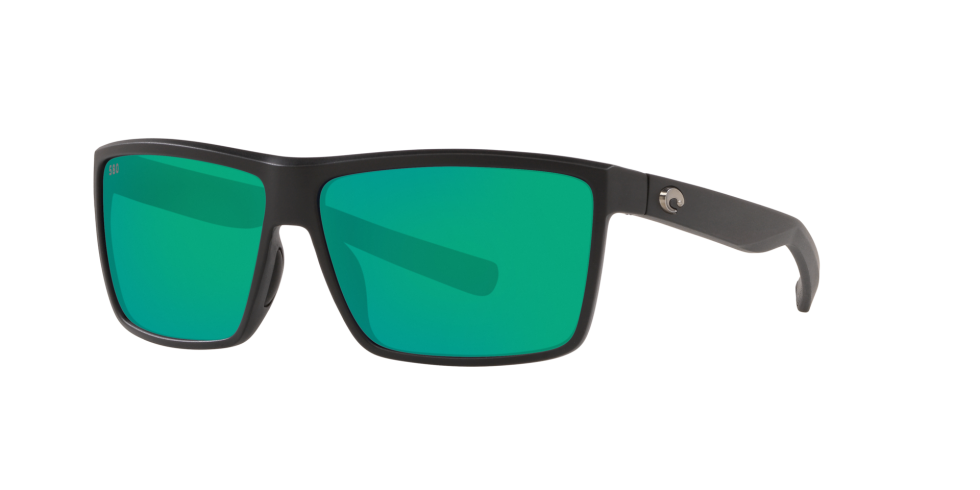 Costa Rinconcito in Matte Black with Green Mirror 580G lens
Costa Rincon Key Features:
Rubber temple tips

Bio-based resin frame material

Costa 580P lenses

SFW: 137 (Large fit)
---
Kaenon Burnet XL
Bold in style and performance, Kaenon Burnet XL amps up elevation. Equipped with Variflex nose pads that are hypoallergenic and super comfortable, Burnet XL is comfortable to wear all the way up the mountain.
Kaenon Burnet XL Key Features:
TR-90 frame material

Hypoallergenic recessed Variflex nose pads

Kaenon SR-91 Polarized lens

SFW: 139 (Large fit)
---
Wiley X Boss
Be the leader of all your adventures in the Wiley X Boss hiking sunglasses. These frames are equipped with a removable facial cavity seal that prevents dust & debris from hitting your eyes. With its shatterproof lenses, Boss is the head of the pack and sure to be safe wear for any weather conditions you face on your hike.
Wiley X Boss Key Features:
Removable Facial Cavity Seal

T-Peg elastic strap available

Shatterproof Selenite polycarbonate lenses

SFW: 140 (Large fit)
---
Oakley Mainlink XL
The Oakley Mainlink XL an ideal hiking frame. These sunglasses feature Oakley's O Matter™ frame material, Unobtainium™ earsocks and nose pads, and Three-Point-Fit system for a securely comfortable and durable fit. Summiting a mountain will never feel as good as when you're viewing the top with Oakley Mainlink Xl PRIZM™ lenses.
Oakley Mainlink XL Key Features:
O Matter™ | Unobtainium™ | Three-Point-Fit

Straight temples - comfortable - seamless with hat

PRIZM™ lens technology

SFW: 142 (Unisex: XL)
---
Smith Lowdown XL 2
Getting the 411 on all things hiking sunglasses for big heads: Smith Lowdown XL 2 has everything you need to know. From SMITH's Evolve Collection, Lowdown 2 XL is an eco-friendly, lightweight frame with megol nosepads for extra grip and security while you're on the mountain. No matter how thrilling or relaxing your hike gets, Lowdowns AutoLock hinges will be there for an easy on/off, one-hand switch.
Smith Lowdown XL 2 Key Features:
Eco-friendly TR-90 Nylon | durable & lightweight | resistant to extreme temperatures

Megol nose pads provide extra grip & comfort

AutoLock hinges = easy on and off w/ one hand

ChromaPop™ make details pop by enhancing color & contrast, and cutting glare

SFW: 144 (Men: L-XL, Women: L-XL)
---
Get Prescription Hiking Sunglasses at SportRx
Need prescription hiking sunglasses? Done. When you shop with us, you'll find video guides and tooltips throughout the build process as you customize the perfect pair. An answer to all your questions is at your fingertips, and if you want to chat with an expert, Contact Us. We'll put you in touch with one of our friendly in-house opticians who can help you build your prescription hiking sunglasses.
Ditch risky online shopping with the See Better Guarantee. Try your sunglasses for 45 days. If you're not satisfied, send them back. Get a full refund, exchange, or credit towards a better pair. And return shipping? Covered. Get your pair of prescription hiking sunglasses at SportRx today!