The game of golf is scored differently than most others. Usually, the higher the score, the closer you are to the win. However, in golf, it is exactly the opposite. In golf scoring, success is determined by the lower score or the fewest number of shots taken on the hole or in the round. Continue on to become an expert on the ins and outs of golf scoring.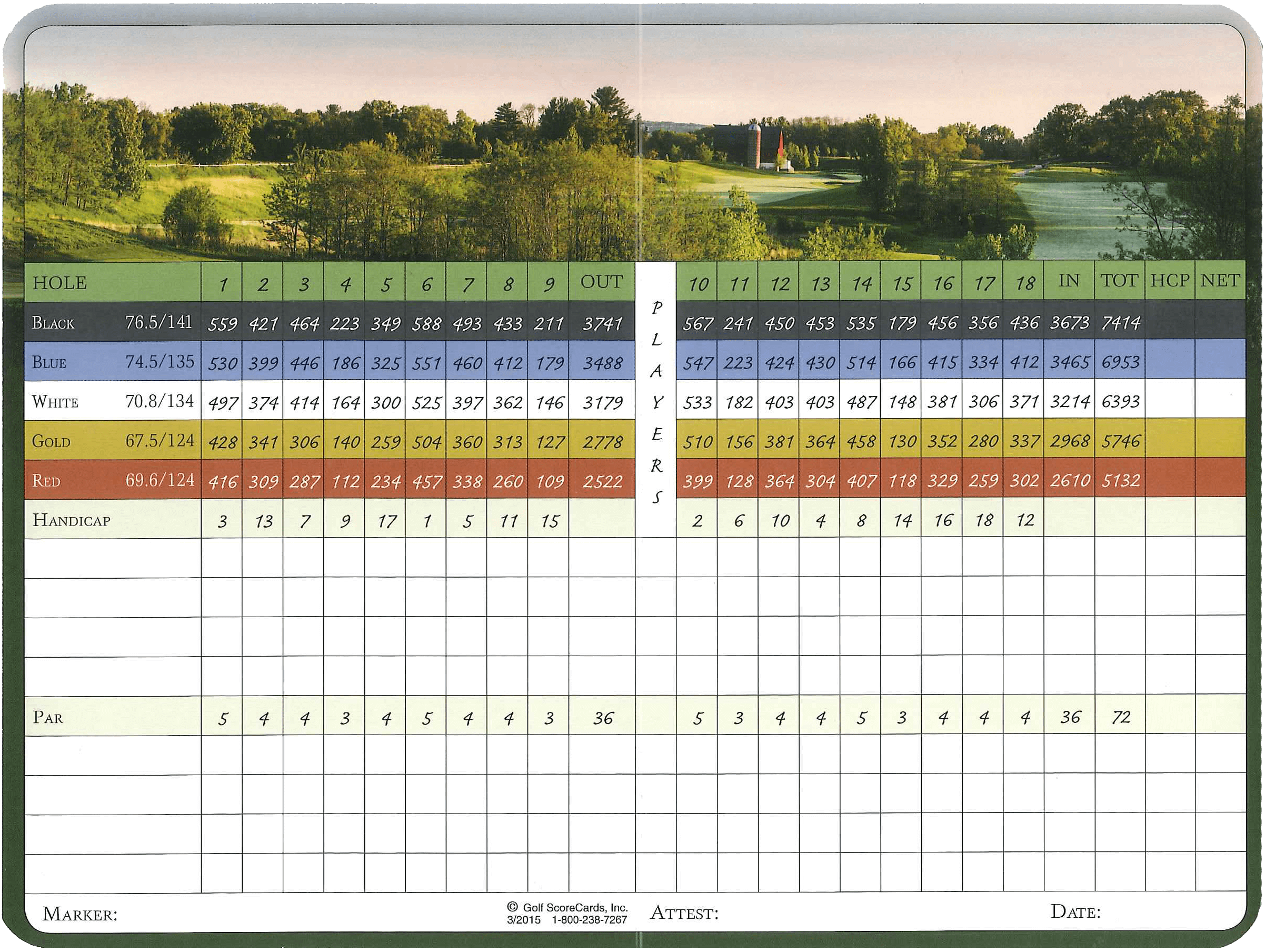 Ins and Outs of Golf Scoring
Each course has a designated number, known as par, that represents the score a skillful golfer would shoot. Furthermore, each hole on a course, typically 9 holes or 18 holes, has its own par score. A course's par score is the sum of the par scores for each of the holes.
Par is the number of shots considered an even score. For example, a par-5 hole requires the golfer to hit 5 shots from the tee box to the cup in order to obtain a par score. The par score for most 18-hole golf courses ranges from 70 to 72, and typically includes a majority of par-4 holes. The remaining holes are par-3 or par-5 holes. Scoring in golf tournaments typically is based on stroke play, in which every shot counts as one stroke. A player's score is often expressed in terms of the number of strokes under, even with, or over the par score.
Golf Scoring Terms
Par
A par is attained when a golfer completes a hole in the number of strokes listed on the course scorecard. For example, a par-4 hole requires a golfer to finish the hole in 4 shots to attain par.
Birdie
A birdie is a score one stroke less than par. Birdies can be achieved on any hole, but often are made on par-4 and par-5 holes. A par-3 hole provides a tougher test because it requires the golfer to get the ball into the hole in 2 shots.
Eagle
An eagle is a score in which a golfer completes a hole in 2 fewer shots than par. In most cases, eagles occur on par-4 and par-5 holes.
Double Eagle
A double eagle, or albatross, is when a golfer completes a par-5 hole in 2 shots. A golfer would have to drive the ball from the tee and on the second shot hit the ball into the hole. An albatross is a rare achievement in golf.
Hole-in-One
A hole-in-one occurs when a golfer holes the ball on the tee shot. The hole-in-one happens most often on par-3 holes, as the distance from tee to green may be manageable for many golfers. A hole-in-one is considered official when a witness can verify the score.
Bogey
A bogey is a term used to express a score of one shot over par. Accordingly, a score of 2 shots over par is a double bogey, 3 over par is a triple bogey, and 4 over par is a quadruple bogey.
With all of the scoring understood, one of the most satisfying things about the sport of golf is seeing your ball go into the cup.
Become a Pro at Golf Scoring
Now that we've taught you the ins and outs of golf scoring, get out on the golf course and get to it! You now have all the tools you need to be a successful golf scorer. Have fun!
Prescription Golf Sunglasses at SportRx
Need prescription golf sunglasses? Done. Shop with us and you'll find video guides and tooltips throughout the build process as you customize the perfect pair. An answer to all your questions is at your fingertips, and if you want to chat with an expert, Contact Us. We'll put you in touch with one of our friendly in-house opticians who can help you build your prescription golf sunglasses.
Ditch risky online shopping with the See Better Guarantee. Try your sunglasses for 45 days. If you're not satisfied, send them back. Get a full refund, exchange, or credit towards a better pair. And return shipping? Covered. Get your pair of prescription golf sunglasses at SportRx today!