The 100% brand crafts some of the most dynamic sports sunglasses out there. With similar functions and features, it's helpful to know what's unique about each frame. Sunglass Rob and Nick from 100% compare the Speedcoupe to the Sportcoupe to highlight what makes them different.
100% Speedcoupe

100% Speedcoupe with Soft Tact Cool Grey Frames & Green Multi-layer Mirror Lens
100% Speedcoupe has a larger fit and although it works on various head sizes, it has an over-sized look and accommodates even the biggest head size.
It has decentered 8-base spherical dual lenses that are semi-rimless and vented. Striving for an unobstructed view and optimum moisture control, 100% Speedcoupe has temple scoops and a wrap frame made from shatterproof Grilamid TR90. Their high-impact polycarbonate lenses are interchangeable and equipped with scratch resistant and HYDROILO lens treatments to protect them from water, dirt, and oil.
100% Sportcoupe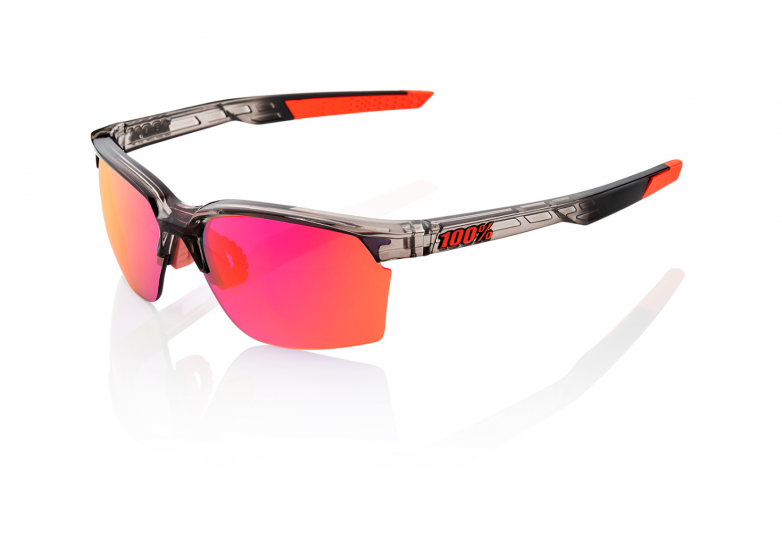 100% Sportcoupe with Shiny Translucent Crystal Smoke Frames & Purple Multi-layer Mirror Lens
The main feature that differentiates the Sportcoupe from the Speedcoupe is its smaller fit. With a more refined brow and narrow temple tips, it fits more comfortably on a smaller head.
It carries on the Speedcoupe's traditions, with a slightly different look and feel. 100% Sportcoupe has decentered 8-base spherical dual lenses, temple scoops, and ultra-grip rubber nose pads and temple tips. With a high wrap and HYDROILO lens treatment, these sunglasses are limitless when it comes to sport performance.
GET PRESCRIPTION SPORTS SUNGLASSES AT SPORTRX TODAY
Need prescription sports sunglasses? Done. When you shop with us, you'll find video guides and tool tips throughout the building process as you customize the perfect pair. An answer to all your questions is at your fingertips, and if you want to chat with an expert, you can Contact Us here. We'll put you in touch with one of our friendly in-house opticians who can help you build your prescription sports sunglasses.
Ditch risky online shopping with the See Better Guarantee. Try your sports sunglasses for 45 days. If you're not satisfied, send them back. Get a full refund, exchange, or credit towards a better pair. And return shipping? Covered. Get your pair of prescription sports sunglasses at SportRx today!