From the iconic Speedcraft, 100% introduces the S3, sport performance sunglasses that pull favorite features from their best frames to create the ultimate combo. 100% designed a frame in which power and a subtle softness not only coexist, but complement each other. Sunglass Rob and Nick from 100% give us all the details on the hottest Speedcraft model, 100% S3.
100% S3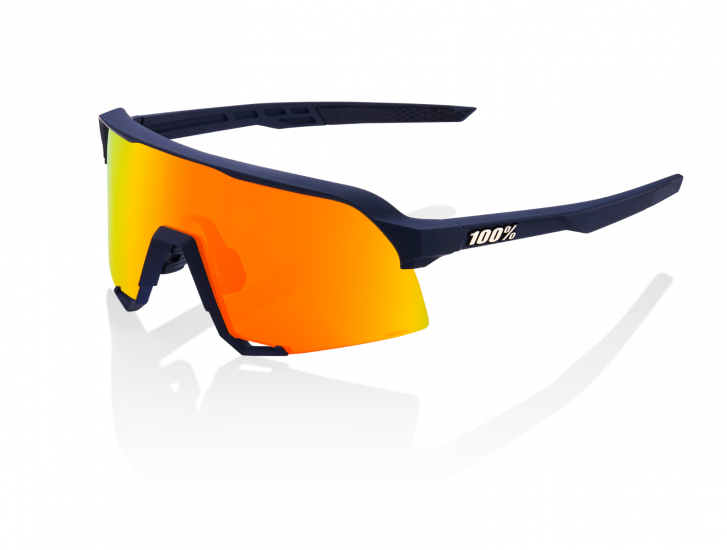 100% S3 with Soft Tact Flume Frames & HiPER Red Multi-layer Mirror Lens
Lens Technology
100% S3 has a 5.5-base cylindrical shield lens for an expansive peripheral view and abundant protection. The hard-coated, polycarbonate lenses are shatter, impact, and scratch resistant as well as 100% UV protected. The S3 has a lens treatment that repels water, oil, and dirt, and is ventilated to prevent fogging. These sunglasses are designed with an interchangeable lens system and are available with the contrast-enhancing HiPER lens and photochromic options.
Frame Technology
The TR90 frames fulfill the incredible task of being lightweight, flexible, and durable. They're equipped with ultra-grip rubber nose pads and temple tips for all-day comfort and a secure fit that won't let up, even in the roughest conditions. The softer angles of the 100% S2 live on in the S3 for an understated brow line that contrasts the definitively powerful look of these sport performance sunglasses.
Price Points
$155- standard lens
$175- multi-layered mirrored lens
$195- HiPer lens
GET PRESCRIPTION CYCLING SUNGLASSES AT SPORTRX TODAY
Need prescription cycling sunglasses? Done. When you shop with us, you'll find video guides and tooltips throughout the build process as you customize the perfect pair. An answer to all your questions is at your fingertips, and if you want to chat with an expert, Contact Us. We'll put you in touch with one of our friendly in-house opticians who can help you build your prescription cycling sunglasses.
Ditch risky online shopping with the See Better Guarantee. Try your cycling sunglasses for 45 days. If you're not satisfied, send them back. Get a full refund, exchange, or credit towards a better pair. And return shipping? Covered. Get your pair of prescription cycling sunglasses at SportRx today!