With the Tour de France just a few days away, Slovak rider, Peter Sagan is ready to redeem another victory. As a legend in the cycling world Sagan's won the 'Maillot Vert' points in the Tour de France, six times. On July 6th, for the 115th edition of this race, Sagan will be riding again for a win. Sagan has teamed up with 100% to create the Peter Sagan Limited Edition Collection of sunglasses. But this new collection is unlike all the rest. With the race on the horizon, 100% and Sagan designed this epic sunglasses collection to look a bit flashier than usual. This collection is revolutionizing the frame game and taking Sagan to the finish line.
Peter Sagan and 100%
The 100% brand is continually inspired by new generations of riders that are revolutionizing the racing world. Driven by 100% effort, whether in a race or in everyday life, this brand grew a strong relationship to "give it your all cyclist" Peter Sagan.
The Slovak rider has won the UCI World Championship three years in a row, has 112 professional wins and is famous for his incredible bike handling skills and strengths. There's no doubt these Sagan and 100% make a great team. This collection of sunglasses only emphasizes the true passions and beliefs these two make together.
The original limited edition collection was inspired by Sagan's first grab at a green jersey at the Tour de France which brought on the Speedcraft. Shortly after dominating for his third consecutive title, the Speedtrap model was presented and became 100%'s first full frame model. When Sagan won the Paris-Roubaix in 2018, the S2 model was released. Then, shortly after he spent time in Glendale, the S3 became the epic finish to the entire collection. While this limited edition collection is already unique, like anything else Sagan does, that wasn't enough.
Peter Sagan LE Collection (Limited Edition)
Designed to the emphasize the uniqueness of color and contrast, Sagan and 100% present this innovative tone-on-tone collection that features an exclusive metallic blue topaz that is as bold as Sagan himself. This special finish, more often seen in auto racing, helps accentuate design lines and racing colors by defining shadows with the matte metallic finish. To emphasize the shared racing DNA between Sagan and 100%, this particular metallic luster is a not-so-subtle reminder to always give it your all and tell your own story.
The frame coloration is complemented with a new Blue Topaz Multilayer Mirror Lens which offers added protection while blending seamlessly with the metallic blue frame color. These sunglasses are the perfect representation of Sagan's racing style; bold, vibrant and unique.
100% Peter Sagan Limited Edition Collection
100% Speedtrap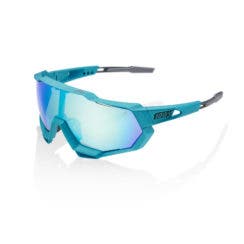 100% Peter Sagan Limited Edition Speedtrap
Pushing limits, Speedtrap sunglasses are made with a TR90 Grilamid frame which offers a custom molded fit and makes them extremely durable. With quick release lens system, scratch resistant coating, HYDROILO treatment, and 100% UV protection these sunglasses will take you to the finish line.
100% Speedcraft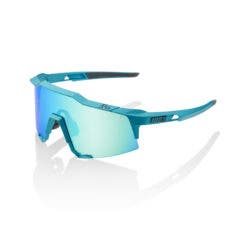 100% Peter Sagan Limited Edition Speedcraft
A new design built for optimal performance and unlimited chances, the Speedcraft increases vision with its expansive single shield lens. Their pristine lightweight frames make them as sleek as your ride
100% S3
100% Peter Sagan Limited Edition S3
With the S3's larger lens they provide optimal vision protection. No matter the way you ride these sunglasses will cover you all the way to the finish.
100% S2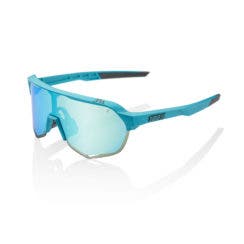 100% Peter Sagan Limited Edition S2
The S2 has rimless cylindrical shield lens that provides you with a clear view for 360-degree visibility. With ultra grip nose and temple pads, these sunglasses aren't going anywhere as you go down the road.
Shop Peter Sagan LE Collection at SportRx
Contact Us to get your Limited Edition Peter Sagan LE Collection sunglasses at SportRx today! With our See Better Guarantee, you have 45 days to try on your sunglasses and return them with a full refund or get credit towards a new pair. All purchases and returns come with Free Shipping! Shop LE Collection today.