Confused about which lens material to get for your next pair of glasses? We explain the differences between Trivex and polycarbonate lenses. Read on to learn more!
Table of Contents
1. Pros & Cons of Polycarbonate Lenses
2. Pros & Cons of Trivex Lenses
3. Which is Better?
Prescription Glasses & Sunglasses at SportRx
---
Eyeglass Tyler goes over the pros and cons of each lens material and answers the question of which one you should get.
---
Pros & Cons of Polycarbonate Lenses
Polycarbonate lenses (often abbreviated as PC), are the most common lens type and considered the industry standard. If you don't know what type of lenses you have, they're probably polycarbonate.
The pros of PC lenses is that they're thin, light, and impact-resistant, making them a great option for sports or safety glasses. Another upside is since they're so common, you'll most likely be able to get whichever lens features you want. Polarized, progressives, whatever you may need, there should be no trouble with a polycarbonate lens.
Polycarbonate is also relatively inexpensive. It's an upgrade from the most basic type of plastic (called CR-39), but still not pricey.
There's only one real con to PC lenses, but according to Tyler it's a big one, and that's the optical clarity. To measure the clarity of various lens materials, we use something called the Abbe value. The higher the number, the clearer the lens.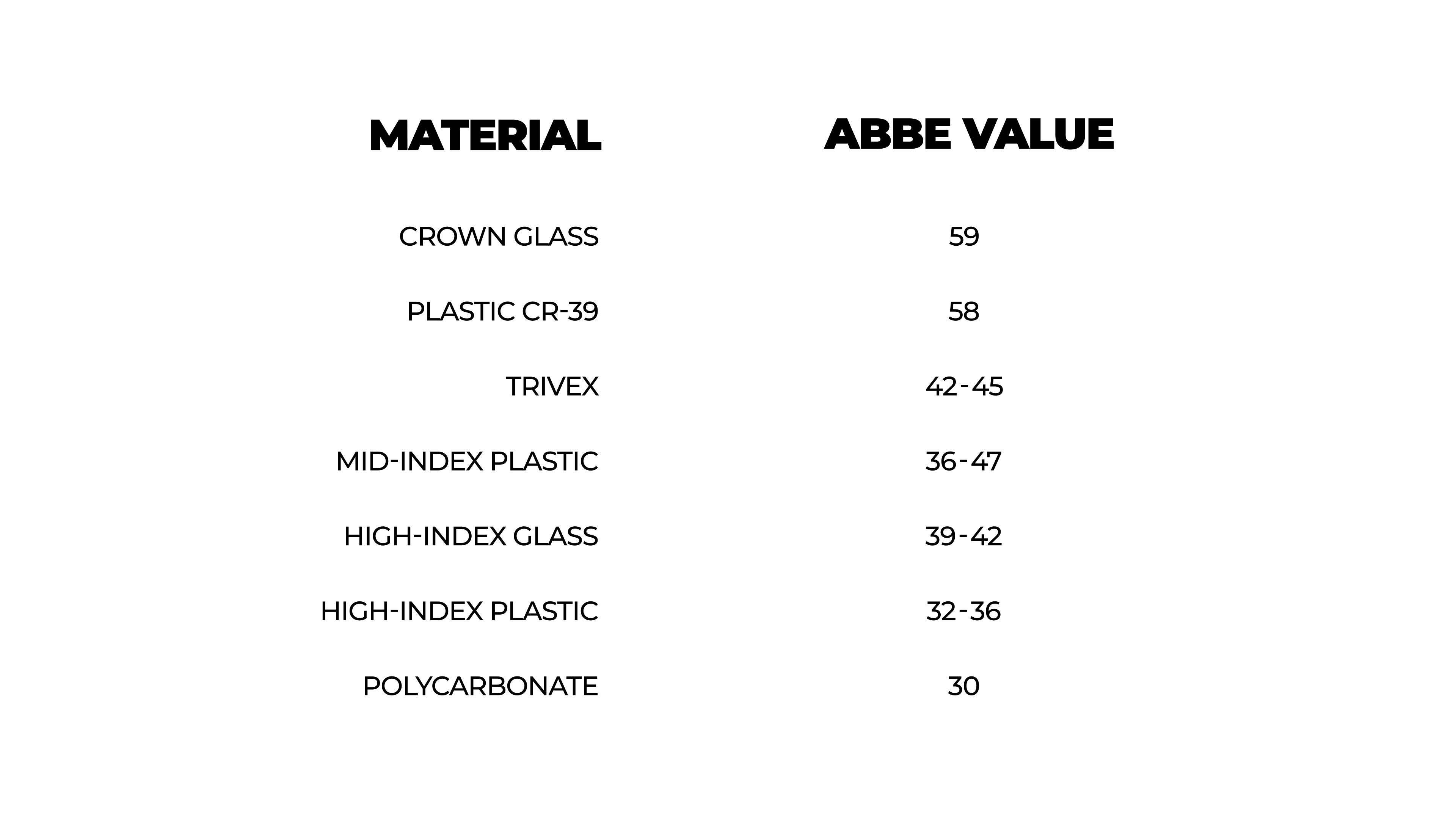 As you can see, polycarbonate is at the bottom of this list, meaning it has the lowest optical clarity compared to other lens materials. So though this is the only downside, it's an important one.
---
Pros & Cons of Trivex Lenses
Trivex is a great alternative to polycarbonate lenses. Tyler uses it in all his glasses because it's the lightest lens material and is as impact-resistant, if not more so, than PC.
Trivex also has a higher tensile strength. This makes it a good choice for rimless glasses, because drilling holes into the lenses won't create hairline cracks like with polycarbonate. So if you've got your eye on that style, we strongly recommend Trivex.
The biggest pro compared to polycarbonate is Trivex's Abbe value. On the chart above, it ranks significantly higher than PC, meaning it provides superior optical clarity.
This brings us to the cons. Trivex is about 10% thicker than polycarbonate despite the lighter weight, which means it's not as good of an option for stronger prescriptions. This is mostly up to your personal preference and the frame you're getting, however.
Another con is that Trivex is slightly pricier. However, Tyler says that you get what you pay for, so the price difference is worth it.
---
Which is Better?
The answer to this question is one we give a lot—it depends. For Tyler, optical clarity is extremely important so he's a big fan of Trivex. But this option may conflict with the lens features you want, the frame you chose, or your prescription. We invite you to reach out to our expert opticians and figure out which lens material is best for you.
---
Prescription Glasses & Sunglasses at SportRx
Need prescription glasses or sunglasses? Done. When you shop with us, you'll find video guides and tooltips throughout the build process as you customize the perfect pair. An answer to all your questions is at your fingertips, and if you want to chat with an expert, Contact Us. We'll put you in touch with one of our friendly in-house opticians who can help you build your prescription glasses or sunglasses.
Ditch risky online shopping with the See Better Guarantee. Try your glasses or sunglasses for 45 days. If you're not satisfied, send them back. Get a full refund, exchange, or credit towards a better pair. And return shipping? Covered. Get your pair of prescription glasses or sunglasses at SportRx today!