You Call it le Tour de France, we like to call it le Tour de Frames
From July 4th to July 26th cycling fanatics around the world rejoice! Why? Because it means le Tour de France (a.k.a.the most prestigious race in the history of the sport) has arrived and is here to stay throughout July! Some of the world's greatest athletes gather in France to face the 3,360 kilometer (or for us Americans, 2,087 miles), 23 day, 21 stage bike race through 6 cities, and race to the finish line in Paris Champs-Élysées! As the end of July approaches, and apprehensiveness rises, us cycling fanatics look to the few races in course right now to try to get a glimpse at what may be immediately approaching at the end of la Tour de France.
Now, there's plenty of articles out there already recapping the race winners so far, and who looks strong, and comparing individual strengths to the certainly bizarre course ASO has designed, but, alas, we're here to bring you the article that really matters. An article not predicting and focussing on the impalpable, but rather on the tangible and physical future. We're not here to say who's going to stand on top of the Champs-Elysees late July, there's enough of that. We're here to show you the favorite cycling sunglasses perched on the favorite's faces! These cyclists face multiple stages in multiple terrains and need the most cutting edge equipment to help them do it. The result? An international showing of the hottest cycling sunglasses this year! Here are some of the sunglasses we noticed on the rock stars of cycling this year in the 2015 Tour de France.
Many cyclists of le Tour de France are proud supporters of Oakley Cycling Sunglasses. To name a few, the Oakley Radarlock Path and the Oakley Jawbreaker were some favorites amongst the riders.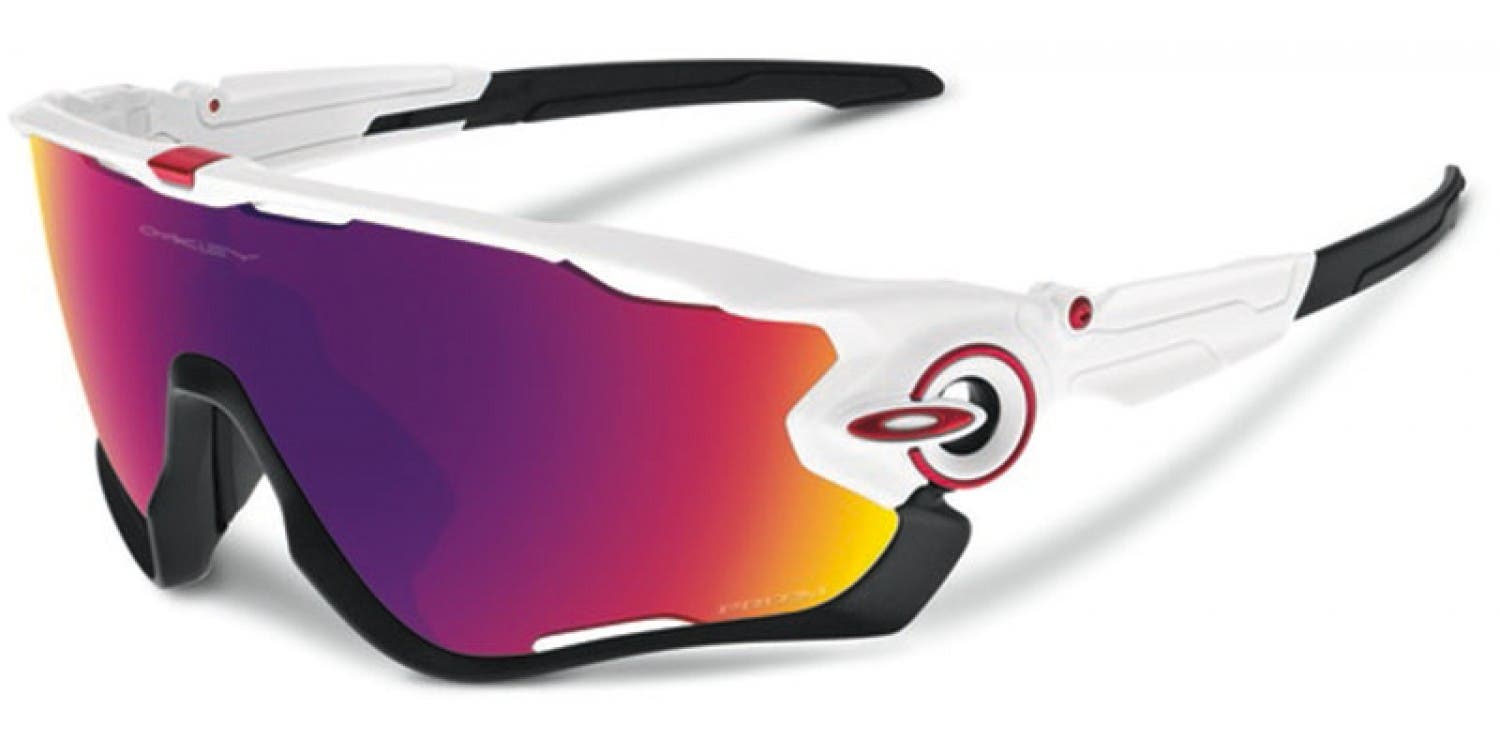 Answering the demands of world-class athletes around the world, Oakley has come out with their revolutionary new glasses just in time for le Tour de France, the Oakley Jawbreaker! The Jawbreaker is the ultimate sport design and is offered in a special Tour de France edition. With shield lenses to offer extensive protection and a wide peripheral view, it's no wonder that these bad-boys are top of the line and some of the best cycling sunglasses this year.
With Unobtanium ear socks and nose pads to prevent slippage despite perspiration, Switchlock interchangeable lens technology, patented high definition optics that provide superior clarity and razor-sharp vision, and shield lenses to offer extensive protection and a wide peripheral view, the Oakley Jawbreaker is optimal for cyclists. With all these amazing features thrown into the Oakley Tour de France Jawbreaker sunglasses, its no wonder these bad boys are top of the line and one of the most featured sunglasses in the 2015 Tour de France.
The brilliant minds at Oakley have hit a new milestone of performance with their revolutionary new design of the Oakley Radarlock Path. With the Radarlock, the lenses are taller to extend the upper field of view for cyclists, making it a must have in le Tour de France this year. Not to mention Oakley's trademark O-Matter frame that offers comfort and protection for its users, the Radarlock Path has Unobtanium grip components to keep the glasses in place. This premium design builds on the legacy that is Radar innovation and style.
The 2015 Tour de France was ruled by riders wearing Oakley Sunglasses. Chris Froome, Alberto Contador and Vincenzo Nibali are cyclists in the competition who are always sporting the latest and greatest Oakley technology throughout the race to the finish line.
Chris Froome
When not looking at his stem, or spreading his elbows wide enough to take flight, Chris Froome is dropping fools faster than a sack of rocks. His typical sunglass choice rotates between the Oakley Racing Jacket or the Oakley Radar EV Path, the frames being showcased on his face below.
Oakley Radar EV Path
The Radar EV Path is as excellent as all Oakley sunglasses, but has increased standards in the world of cycling sunglasses with better frame clearance in drops. Froomes chances are looking up for this years Tour, as long as he can keep it rubber side down this year. Despite this years course featuring a scary low amount of time trials, he showed great climbing form at this years Criterium de Dauphine, Team Sky's favorite Tour tune-up race.
Alberto Contador
Contador regularly returns to his favorite shades, the Oakley Radarlock. His are always custom, an award reserved for the king of climbing, but despite being able to choose from a plethora of Oakley offerings, he continues to keep it old school with the undeniable leader of cycling sunglasses.
Vincenzo Nibali
Being a designated Oakley Athlete, Vincenzo Nibali has the choice of several amazing cycling specific glasses, but always returns to the Oakley Radarlock, (are you starting to see a pattern?)
The Radarlock features a great field of vision, it's comfortable, yet stable, and most importantly to these chiseled athletes, they're light.
While Oakley sunglasses were featured on the faces of many, let's not forget the other, ever so innovative and technologically advanced cycling sunglasses that other riders sported. Next up, the Bolle 6th Sense:
When racing at high speeds, visual clarity and stable fit are critical in ensuring optimal performance. Professional bikers know that these two factors are key to optimal performance, as did the manufacturers of the Bolle 6th Sense. The B-Max technology combines frames that are ergonomically shaped with adjusting frames, made to perfectly fit into your ideal racing position.
Ideal for racers looking to gain an edge in the 2015 Tour de France, its no surprise these stylish frames have been seen out there on the racing route. While being designed for comfort, these lenses have an extended field of vision and protection towards the top of the face, giving its user a real competitive advantage, allowing racers to take in the scenes and the competition when it really matters.
On to the next favorite cycling sunglass favorite, some new Rudy Project Cycling Sunglasses -- in fact, they're so new even our expert opticians don't know about them. One thing we do know, is that Rudy Project makes a quality cycling frame that is durable enough to withstand the intensity of a race like le Tour de France.
Rudy Project has taken cycling sunglasses to the next level! These ultra-technical glasses have been made to be ideal for any biking occasion, from cycling, triathlons and mountain biking, these glasses were made for any bike enthusiast. Rudy Project has used their leading-edge technology to offer athletes the ability to fully customize their frames to ensure complete comfort and performance, along with a stylish look. Rudy Project sunglasses offer absolute customizability and excellent visual performance with their exclusive shatterproof and photochromic lenses. With the high quality and personal attention to fit, its no surprise these stylish frames were being sported at this years Tour de France.
Wanna be like the big-shots participating in the Tour de France this year? Want to rock the latest lens technology? We got you covered here at SportRx! We have the Jawbreaker, we have the Road Radar EV, we have the Bolle 6th Sense, we have the Radarlock, we have it all and more! A wide variety of cycling sunglasses, including the models featured in this years Tour de France are offered here at SportRx. Our friendly team of opticians is available to answer any of your questions and fit you with the perfect pair of cycling sunglasses that will allow you to rival any biker in la Tour de France! Need a little extra help in the seeing department? No problem, we understand and got you covered! Luckily for you not only do we carry the best cycling sunglasses; we also specialize in transforming the best cycling sunglasses into the best prescription cycling sunglasses out there. Just give us a call or go online to have all your prescription sports sunglasses dreams come true!