Are you an adrenaline junkie by nature and skydiving is the next thing you want to cross of your bucket list? We get it! There is an incomparable exhilaration that comes from the free fall. Before you decide to conquer that fear of heights and jump into the unknown, you should know what gear is essential for you to land safely. Check out the list below to prepare yourself for your skydiving adventure!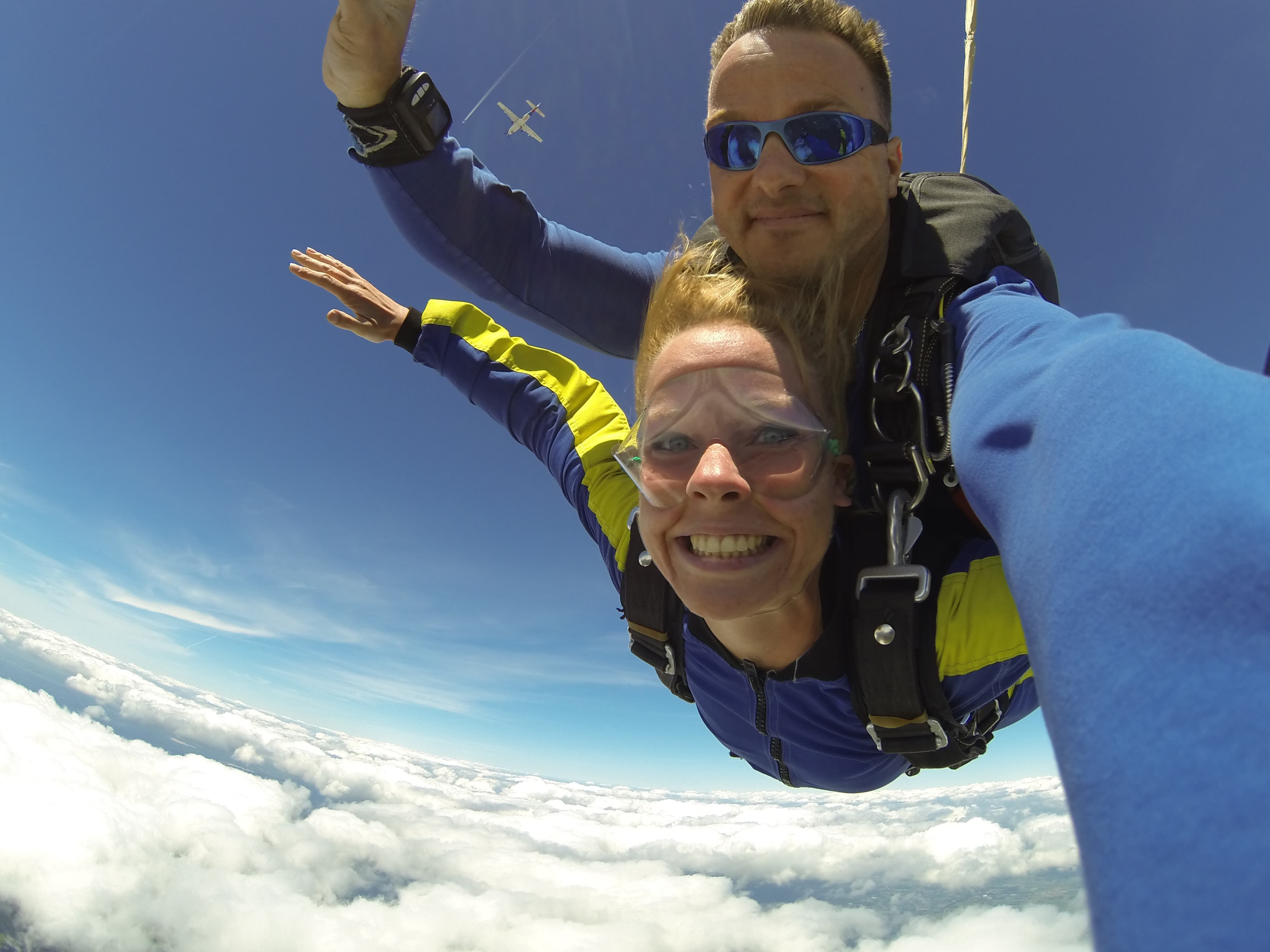 Essential Skydiving Gear:
Parachute System
If you don't wanna fall 13,000 feet to your death, a parachute is a good idea! This is the first and most important piece of equipment you will need, as it is what helps you float in the air. It consists of a container, main canopy, reverse canopy, and emergency handles. The container is a backpack which holds the whole parachute system. Reverse canopy is there in case the main one doesn't open or has any other issues. There are also pull strings for both canopies which are labeled with colored tabs so you know which one to pull. Your instructor will go over the container contents with you before any jumps are made.
Helmet
Wearing a helmet is not required, but is recommended. However, if you are jumping in tandem with your instructor, a hard helmet probably should not be worn because there's a possibility of hitting your instructor in the face - and you don't want that to happen! However if you are jumping alone, a helmet is always a good idea. It protects you during exit and free fall, in case either is not smooth. You can choose between a soft helmet and a hard helmet, just make sure it is snug and the chin clasp is easy to use. Also, if you have long hair, helmets are perfect for keeping those locks contained and out of your face!
Goggles
What's the point of going skydiving if you can't see anything? Hence, you need a good pair of goggles to be able to watch the spectacular view as you're free falling. Goggles protect you from the wind that is hitting your face and from any debris that can get into your eyes. You can choose to go with clear goggles or tinted ones, and if you plan on becoming a dedicated skydiver and you have a prescription, make sure to get prescription goggles! If you need help choosing the right googles check out our Skydiving Goggles Buyer's Guide.
Jumpsuit
A skydiving jumpsuit is necessary to prevent any cuts and bruises when landing. It also protects your body from the wind while you are free falling. A jumpsuit is not just great for protection, it also enables you to control your fall! You will be able to use the grippers and progress faster.
Automatic Activation Device (AAD)
The AAD automatically deploys your reserve parachute at a set altitude in case the main canopy hasn't opened for any reason. These are most often triggered in case you become unconscious during free fall or you lose track of your jump. The AAD ensures you are safe in any scenario!
Altimeter
The final piece of skydiving gear you need is an altimeter. Altimeters tell you what altitude you're at during your dive. This information helps you know when the appropriate time is to deploy the parachute. It is also helpful when landing because it tells you where your landing pattern is. There are numerous altimeter kinds, from wrist-mounted altimeters worn like watches, to audible ones that are placed inside your helmet. Choose what is most comfortable for you!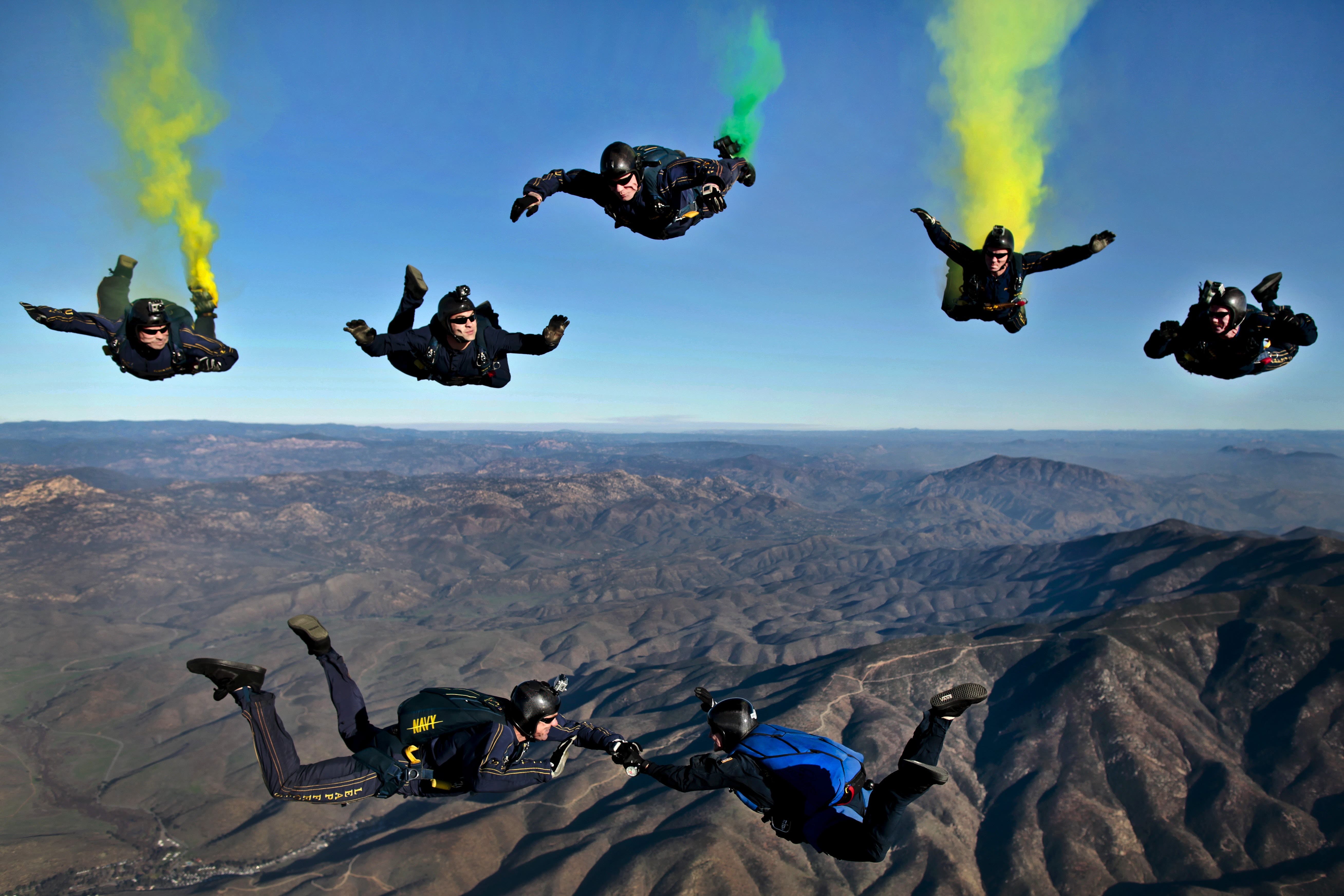 Now that you know all the essential skydiving gear you will need, it is time to head to the plane! If you are a beginner skydiver, it is probably best to rent out all your equipment until you know what is right for you and what your preferences are. Once you become a pro and get your license, you will probably want to get your own stuff! And don't forget your GoPro so all your friends can see that beautiful wind face!
If you are still having doubts, check out our Beginner's Blog on everything you need to know before you go skydiving!
Get Prescription Skydiving Goggles at SportRx
Need prescription Skydiving Goggles? Done. When you shop with us, you'll find video guides and tooltips throughout the build process as you customize the perfect pair. An answer to all your questions is at your fingertips, and if you want to chat with an expert, Contact Us. We'll put you in touch with one of our friendly in-house opticians who can help you build your prescription Skydiving Goggles.
Ditch risky online shopping with the See Better Guarantee. Try your Skydiving Goggles for 45 days. If you're not satisfied, send them back. Get a full refund, exchange, or credit towards a better pair. And return shipping? Covered. Get your pair of prescription Skydiving Goggles at SportRx today!