Mountain biking goggles are essential when you're out on the trails. Not only are they for your safety, but they are also necessary to keep you on your game when you're battling the terrain. With so many pairs of goggles out there, it can be hard to know where to begin your search. Fear not! This guide is here to teach you what to look for. In case you're still debating between MTB sunglasses and goggles, check out our blog on the key differences between MTB sunglasses and goggles.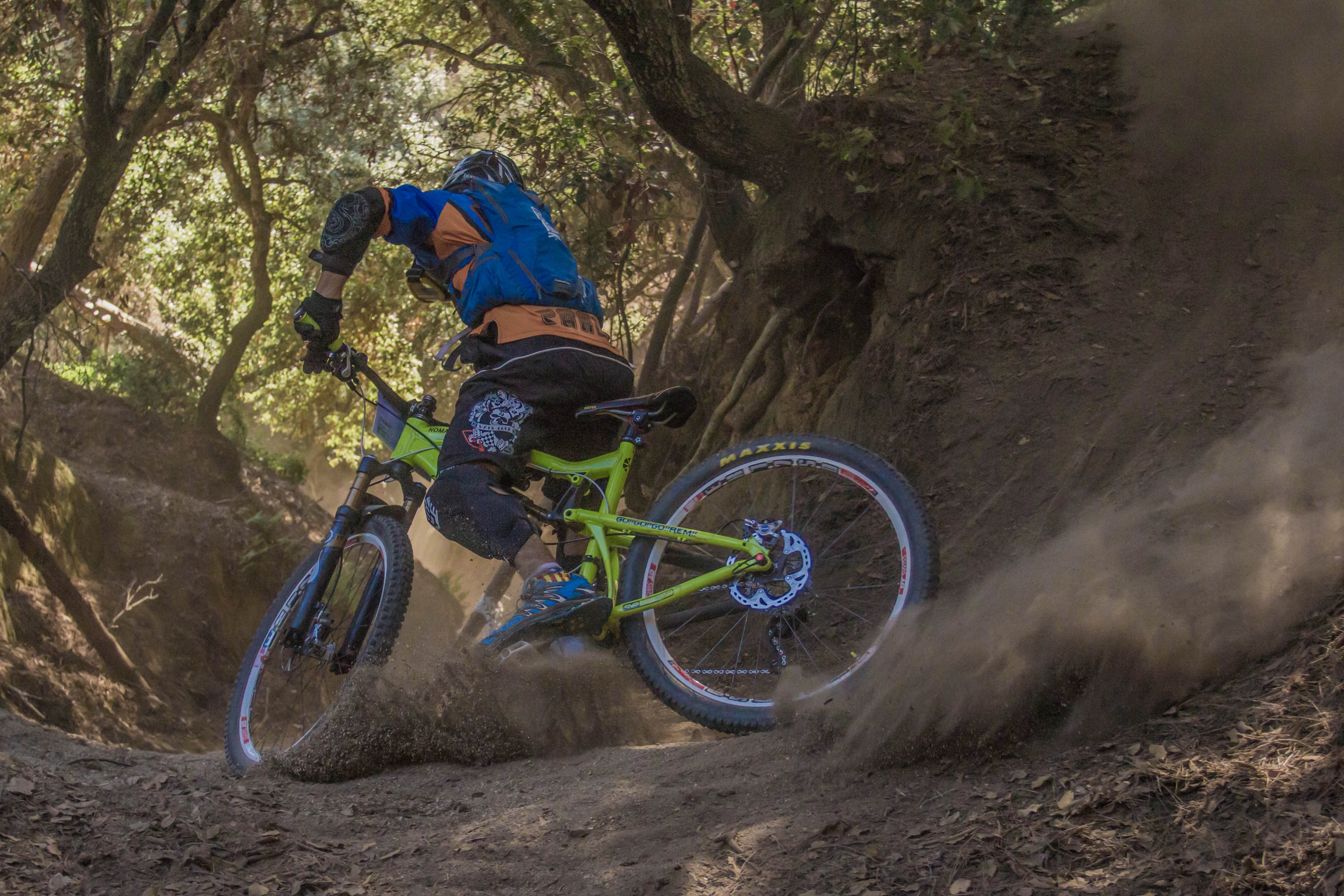 What to Look for in Mountain Biking Goggles
Fit
The goggles must be secure so they don't fall off or become crooked when you are riding on bumpy trails or hills. Since they are goggles, they can press into your face and apply pressure on your nose and cheekbones in a way that sunglasses do not. However, with the right tech, you can wear goggles for a long period of time without any uncomfortable pressure. The straps of the goggles go over your helmet. Wider outriggers and straps help hold the goggles in place.
Coverage
An advantage that goggles have over sunglasses is the way they protect your eyes from the elements. Goggles have the ability to deflect obstructions and debris from all direction. They can seal your eyes away from the environment, which is especially important when riding in dry, dusty, and cold weather.
Field of View
You need a wide field of view in order to access your terrain and perform your best. Look for goggles that provide a wide periphery. Clunkier frames can get in the way of your vision while narrower frames block your sight from the beginning. Look for a happy medium that lets you see most of your environment without having extra features on the frame that can be seen in your peripheral vision.
Lens
The kind of lens you pick is one of the more important choices you will make when purchasing goggles. You want a lens with a curvature that fits your face, but has minimal distortion so you do not get dizzy. Lenses should be scratch resistant so that they last longer. The goggles should also have replaceable lenses available to make changing them out easier for you. When it comes to what you see through the lens, it depends on your environment. Do you need glare prevention? Try a polarized lens. Clear lenses are good for darker days or places with more shade. If you are looking for clarity in brighter conditions, try lenses like Smith Chromapop, which will reduce the strongest rays. These high contrast lenses will illuminate your environment while also helping you to find the best line on every trail.
Frame
One issue with many MTB goggles is that they create a seal around your eyes. This traps in sweat and moisture that can create a fog on your lenses. To prevent this, look for goggles that have open vents on the frames. A catch 22 situation applies here. If the vents are too small, your goggles will still stay foggy. If the vents are too big, there is the possibility of debris getting in or a cold draft, which can dry out your eyes.
Comfort
The biggest concern for comfort boils down to two points; padding and nose space. The plush foam of the padding creates a cushion on your goggles to provide more comfort, which is important when you have something strapped to your face for long hours. A top consideration for goggles is the nose bridge. If it does not fit your nose properly, it will feel uncomfortable. It will apply either too much pressure to your nose or ride too high on your face, which can lead to it slipping out of place. Find goggles that fit a variety of noses or ones that fit your particular nose profile. Now it's time to take a look at some sunglasses!
Top Mountain Biking Goggles
Oakley Airbrake
The Airbrake is as solid as it can be. It provides protection and clarity while also being comfortable and convenient. Oakley lenses are always top quality, which helps you see every detail of your environment. The ventilation makes fogged lenses nonexistent, while the fit and comfort let you focus on the terrain. The durable and adjustable straps help fit any head and helmet. Pop-up latches at the sides of the frames, make changing lenses a cinch. This is clutch for getting back out on the trail if you need to swap lenses.
100% Racecraft
The clean and simple design of the Racecraft makes it one of our favorites. Not only does the lens provide crystal clear vision, but the triple-layer of foam controls moisture, provides stability, and protects your face on the trail. These goggles are perfect for those with slightly wider faces. The outrigger strap design can help reduce the pressure on the other edges of the goggles. Adjusting the straps and swapping the lenses are so easy with the Racecraft.
Get Prescription Mountain Biking Goggles Online at SportRx
Need a prescription to go along with your MTB goggles? Check out all SportRx has to offer with MTB goggles. We carry top brands such as Oakley, Nike, and 100%. When you shop with us, you'll find video guides and tooltips throughout the build process as you customize the perfect pair. An answer to all your questions is at your fingertips, and if you want to chat with an expert, Contact Us. We'll put you in touch with one of our friendly in-house opticians who can help you build your prescription MTB sunglasses and goggles.
Ditch risky online shopping with the See Better Guarantee. Try your prescription sunglasses and goggles for 45 days. If you're not satisfied, send them back. Get a full refund, exchange, or credit towards a better pair. And return shipping? Covered. Get your pair of prescription MTB sunglasses and goggles at SportRx today!