When you think of beach volleyball at the 2016 Olympics, two names come to mind. Kerri Walsh Jennings and April Ross. These two have been dominating beach volleyball together ever since they became partners following the 2012 London Olympics, after Kerri Walsh Jennings and her now-retired partner, Misty May-Treanor, defeated April Ross and her former partner in the Gold Medal Match. This year at Copacabana Beach in the Rio 2016 Olympics, Kerri is going for her fourth consecutive Olympic Gold, while April Ross is looking to get her first.
If you've been following Kerri Walsh Jennings and April Ross, then you've noticed their unique Oakley sunglasses. This year at the 2016 Rio Olympics, the Oakley Green Fade Collection is making a splash, and athletes in every discipline are wearing their sunglasses. April Ross has been rocking the Oakley Jawbreaker PRIZM Stadium Green Fade Edition sunglasses. It's a mouthful, we know, but they do the job. Kerri Walsh Jennings has also been wearing PRIZM Stadium sunglasses, but she prefers the Oakley EVZero Path frame.
Oakley PRIZM Stadium Lenses | An Inside Look at Those Purple Lenses on the Olympic Court
Oakley has created a new lens, specifically designed for and only available to the 2016 Rio Olympic athletes. PRIZM Stadium lenses are built specifically for indoor and nighttime Olympic Sports. Since Kerri and April have been playing most of their games at night, these lenses work perfectly for them. The technology uses some of the Oakley PRIZM dyes to enhance contrast while cutting out a bit of the glare from the stadium lights. Inserted into your traditional Oakley frames, the PRIZM Stadiums will compromise neither the athletes' sight nor performance. Talk about the perfect lens.
Kerri and April received the PRIZM Stadium lenses only four days before their first match. And they were wearing them loud and proud. If Olympic athletes trust Oakley enough to wear these lenses with very little testing, then we know the PRIZM Stadium are great quality. Unfortunately, these lenses are not available to the public. Yet. With such a quality lens, we hope that one day they are.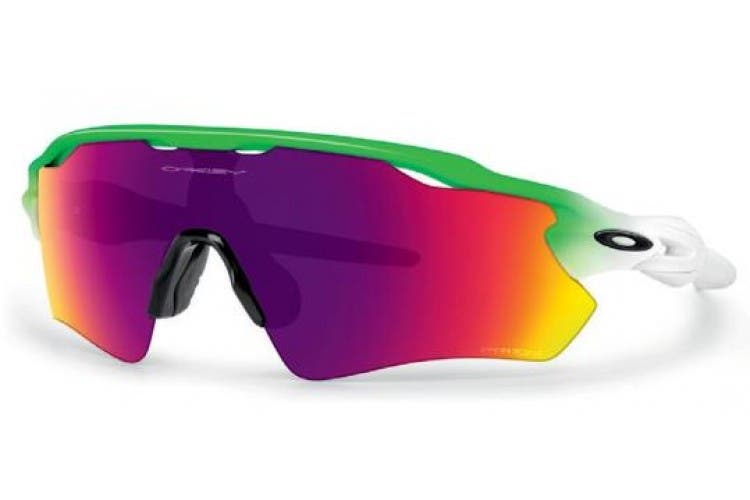 Wearing their Oakley PRIZM Stadium glasses, Kerri Walsh Jennings and April Ross started the Olympics off with a bang. Their first match against Australia ended after two sets, Kerri and April winning by 7 and 8. Easy stuff. The next match came just as easily. China was defeated by 5 and then by 12. Walsh Jennings/Ross then faced Switzerland, who put up a tough fight. After winning the first then losing the second set, Kerri and April pulled through in the final set to win it. These three matches completed pool play, and the two amazing athletes moved on to the Round of 16. Right on track for gold.