Are you a hiking enthusiast? Hiking is a good healthy distraction in a natural environment that allows people to disconnect from the world and go on a spiritual adventure. There are other people that see hiking as a challenge. Just the mere fact of completing the hike is the satisfaction that they are looking for. On top of that, hiking is for all ages and can last for a couple of hours. However, many of these hours are under the beating sun and its smart to protect yourself from the harmful rays. One thing we recommend is protecting your eyes with a cool pair of sunglasses! Follow along to find out more about this matter.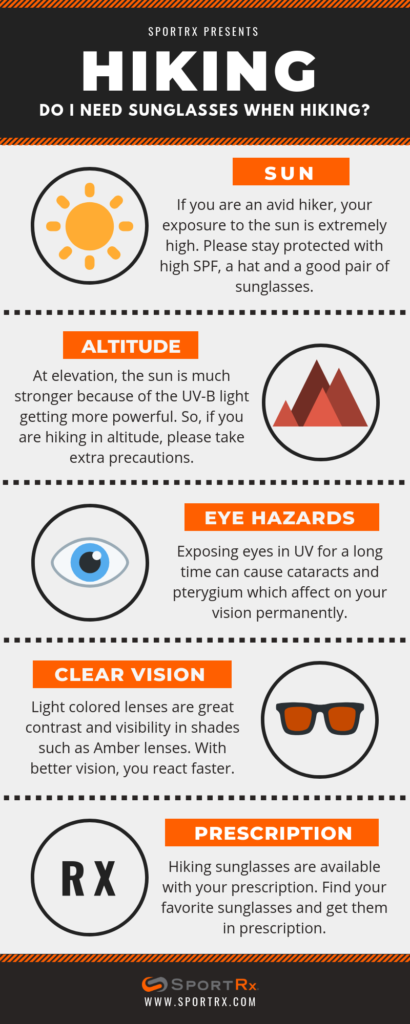 Why Do I Need Sunglasses?
Sunglasses in sunny climates are a must. If you consider yourself a hiker and spend a lot of your time under the sun, you need to protect yourself. Even if it's not very sunny, at elevation, the UV radiation is stronger and will still harm your skin and eyes.
We have found that if you do not wear sunglasses and hike frequently, you can contract pterygium and cataracts. They are two eye conditions that will hinder your vision permanently. Therefore, we highly recommend the use of sunscreen with strong SPF (especially if hiking on elevation), wear a hat to protect your face, and ,on top of that, wear a good pair of sunglasses for your long-term health.
What are the Best Sunglasses for Hiking?
Something we hear often from avid hikers is the problem they have with squinting constantly and how it wears them out. We recommend sunglasses with light colored lenses for great contrast and visibility in shades such as amber lenses. For better comfort during long hikes, rubber nose pads, and rubber temple pads will be of extreme help and will add to the pleasure of the hike. Having these features will prevent your sunglasses from slipping off your face when sweating. Learn more about How to Buy Hiking Sunglasses Guide for the best pair.
Shop Prescription Sunglasses at SportRx
If you are in need of prescription sunglasses, SportRx is here for you. At SportRx we have experienced friendly opticians available to help you choose Best Hiking Sunglasses for your own specific need. We stand by our See Better Guarantee which is if you are not happy with your pair of sunglasses, you can return them within 45 days and get a full refund or credit towards a new pair with shipping covered both ways! Shop your next pair of prescription sunglasses at SportRx.