Found a frame, but stuck with an indecision on the lens color? SportRx has you covered. Join us as we compare the two most popular lens colors for polarized sunglasses and provide guidance on the best option for your lifestyle. This is a complete review of brown vs gray polarized lenses!
Table of Contents
A. Video Overview
1. Brown Polarized Lenses
2. Gray Polarized Lenses
B. Brown VS Gray Polarized Lenses
1. For Sports
2. For Driving
3. For Bright Light
C. Prescription Polarized Sunglasses Online at SportRx
---
Video Overview
Check out Eyeglass Tyler's comparison overview of brown vs gray polarized lenses. Continue reading, for a detailed summary.
---
Brown Polarized Lenses
Brown polarized lenses are a runner-up in popularity; however, if you're looking for contrast-enhancement, these lenses beat the competition. This color excels at enhancing details, brightening colors, and providing overall greater contrast. It also makes the surroundings appear brighter, which further enhances this more saturated color experience.
---
Gray Polarized Lenses
Gray polarized lenses are one of the most common colors for sunglasses, and for good reason. They're available in a variety of tints, from very dark to a light gradient — each offering a different amount of visible-light transmission. Dark lenses offer a darker visual experience, since less light passes through. Gray lenses also deliver a natural, true-to-world color perception. There is no saturation enhancement or brightening of colors.
---
Brown VS Gray Polarized Lenses
Now that we've seen both lens colors, let's see which is best based on the activity or lighting conditions.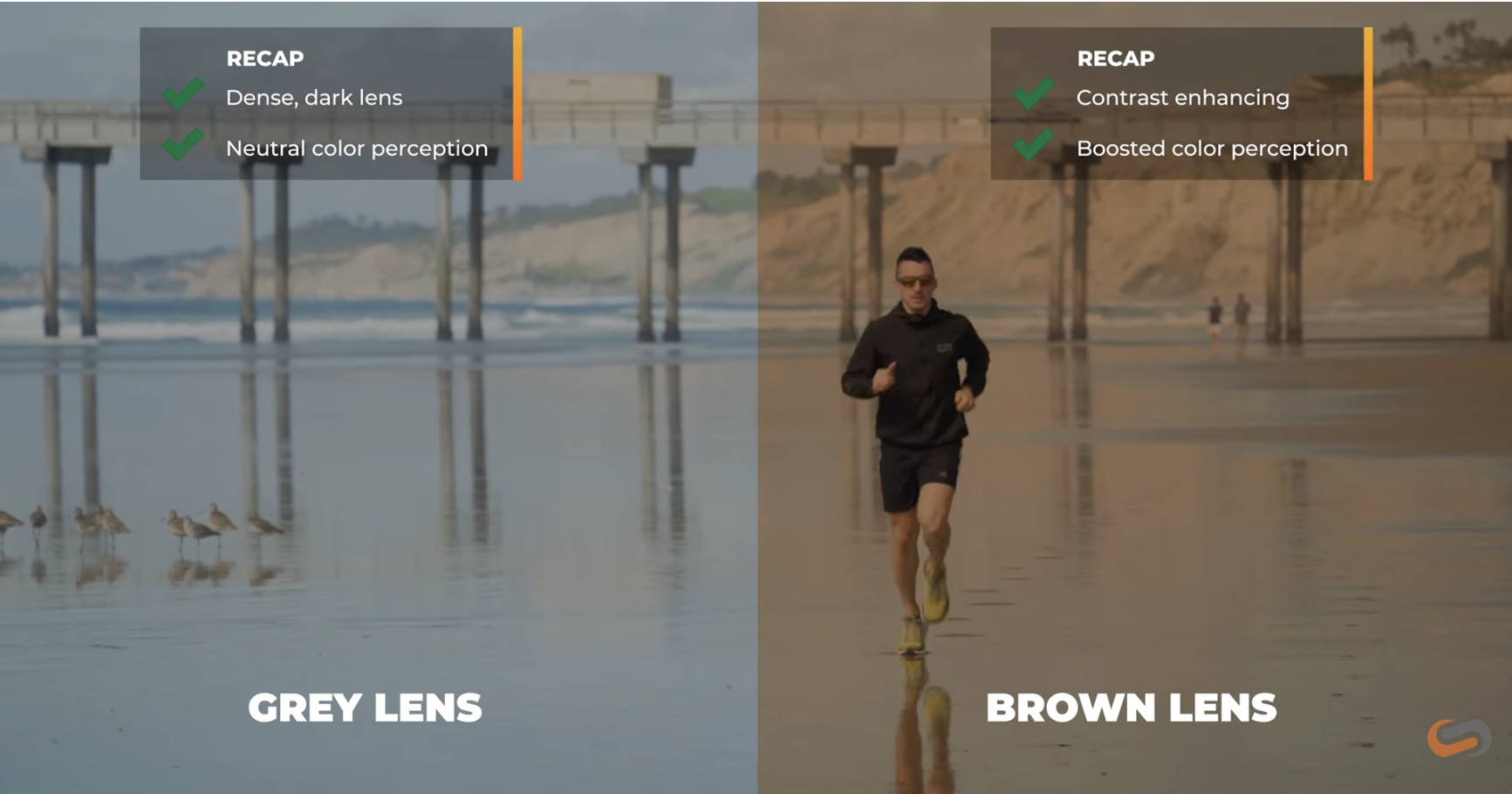 For Sports
Senior Optician Eyeglass Tyler advises that contrast-enhancing lenses are best for all sports.
Contrast-enhancement provides greater depth perception cues, boosts detail clarity, differentiates colors, and ultimately leads to an easier read of the terrain. As a result, brown lenses are the winner for sports.
Want a more specific lens recommendation for your sport? Follow the lens guides below.
For Driving
Both lenses provide the glare-reducing benefits of polarization, but the color ultimately depends on your personal preference. Gray is a popular choice for its true-to-world color experience and brown is ideal for contrast-enhancement. With greater contrast, details of the road appear clearer and your vision will feel more relaxed during your commutes.
For specific lens recommendations, visit our lens color guide for driving.
For Bright Light
When it comes to bright and sunny days, gray polarized lenses are the best choice. Gray is one of the most dense lens colors, and thus absorbs the most amount of light. By allowing less light through the lens, your vision will stay safe from eye fatigue and eye strain created by squinting.
Sometimes brown and gray polarized lenses can contain the same light transmission and, if you compare the two, brown lenses may appear brighter. This is simply due to the brown lenses' contrast enhancement, which naturally brightens some of your surroundings.
SportRx Insider Tip: Looking for the least amount of light transmission (aka darkest lens)? Add a mirror to your polarized lenses for maximum sun protection!
---
Prescription Polarized Sunglasses Online at SportRx
Need prescription polarized sunglasses? Done. When you shop with us, you'll find video guides and tool tips throughout the build process as you customize the perfect pair. An answer to all your questions is at your fingertips, and if you want to chat with an expert, contact us. We'll put you in touch with one of our friendly in-house opticians who can help you build your prescription polarized sunglasses.
Ditch risky online shopping with the See Better Guarantee. Try your sunglasses for 45 days. If you're not satisfied, send them back. Get a full refund, exchange, or credit towards a better pair. And return shipping? Covered. Get your pair of prescription polarized sunglasses at SportRx today!