Over the past several years, there have been major improvements in the field of optics. Recent research has indicated that high-energy visible radiation (HEV), otherwise known as blue light, is severely damaging to our eyes. "Blue light," or the shortest and highest-energy light ranging from 380nm-500nm within the visible spectrum, is essentially everywhere. Light travels from the sun through the atmosphere onto the Earth's surface. The shorter, high-energy blue wavelengths collide with the air molecules causing blue light to scatter everywhere. This is what makes the sky look blue (pretty cool, right?). Cool up until the point of affecting the future of our eyesight. That is why everyone needs blue light filter sunglasses.
Blue Light Filter Sunglasses: Save Your Eyes from Harmful Rays
1. BLUE LIGHT: THE GOOD AND THE BAD
2. BLUE LIGHT FILTER SUNGLASSES
3. SAVE YOUR EYES WITH BLUE LIGHT LENSES
---
Check out what Tyler and Sunglass Rob from SportRx are dishing about the types of blue light and how to block it.
---
Blue Light: The Good and the Bad
Different ranges of blue light have different effects on our bodies. Some good, some bad. Blue light in the 470nm-500nm range is generally considered beneficial and provides natural reflexes protecting our eyes against light overexposure. In its natural state, your body uses good blue light from the sun to regulate your natural sleep and wake cycles, memory and cognitive performance. Good blue light also helps boost alertness, improve reaction times, elevate moods, and increase the feeling of well-being.
On the other hand, bad blue light rays live in the range of 380nm-470nm, and this is the blue light we need to be concerned about. Lengthy exposure to this bad blue light may cause retinal damage and contribute to age-related macular degeneration, which can lead to an irreversible decrease in sharpness and clarity of vision.
So while some natural blue light is good for us, our eyes can't naturally filter out or protect us against the bad blue light rays from the sun. This is where blue light filter sunglasses come in to play.
Blue Light Filter Sunglasses
Blue light filter sunglasses will filter out high energy harmful blue light while letting beneficial blue light pass through. Some of your favorite brands live among the 1% of sunglass companies that have placed importance on developing blue light filter sunglasses. Save your eyes from the sun's harsh blue light ray's when you rely on brands like Costa, Oakley, Electric, SPY, or Maui Jim to provide you with blue light filter lenses that will give you coverage beyond just polarization.
All Costa sunglasses were engineered to enhance your visual experience and save your eyes from the harmful high-energy blue light. Costa's 580 lens technology goes beyond polarization to produce the clearest lenses on the planet and they offer 7 different mirror tints. These Costa 580 lenses filter out the harsh yellow and harmful Blue Light, making colors brighter and objects appear more defined. So no matter what you are doing under the sun, you'll see it in stunning detail, while saving your eyes from damage no one wants.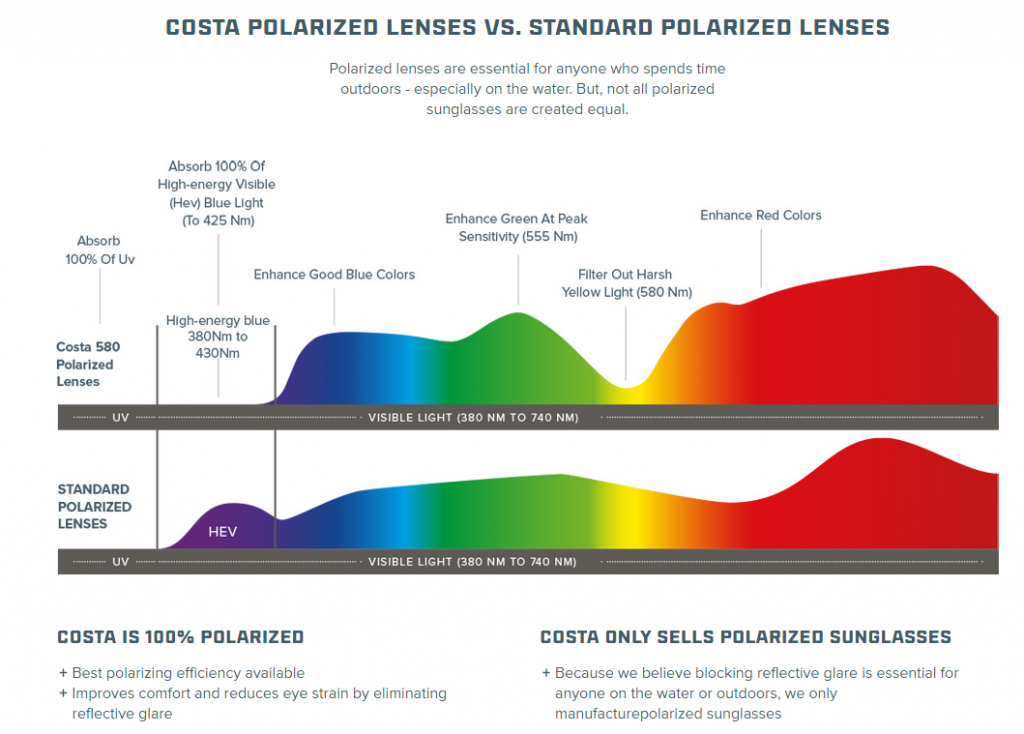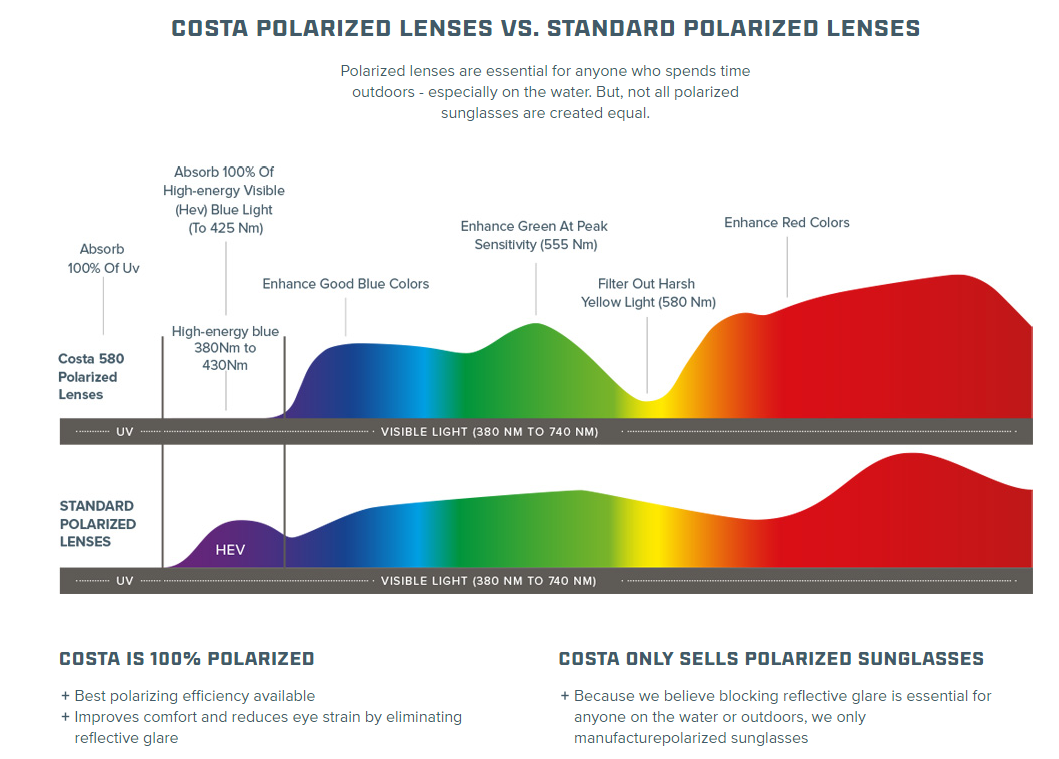 Oakley's Prizm High Definition Optics lens technology will help you see in great detail and enhance colors beyond their normal abilities. Prizm HDO lenses block 100% of UVA, UVB, and UC rays and harmful blue light up to 400 nm. By doing this, the lens delivers premium definition, higher natural color, and unsurpassed clarity to allow you to see in perfect clarity, for a lifetime.

PolarizedPlus2 is Maui Jim's lens technology that provides highly effective blue light reduction. In return, Maui Jim's lenses work to keep your eyes safe without removing the beautiful blues of the world. These lenses are engineered to eliminate 95% of bad blue light, protecting you from the sun's rays that would otherwise penetrate deeply into the eye and cause harmful damage.



Electric's OHM lenses are driven by their melanin infused lenses that block UV and serve as an HEV Blue Light filter, while still providing crisp and vivid vision. Melanin is a natural pigment found throughout the human body and its role is to protect the eye from Blue Light. It acts as an SPF 140 for your eye. This melanin infused feature allows the lenses naturally provide vibrant images with pure clarity, contrast, depth, and protection.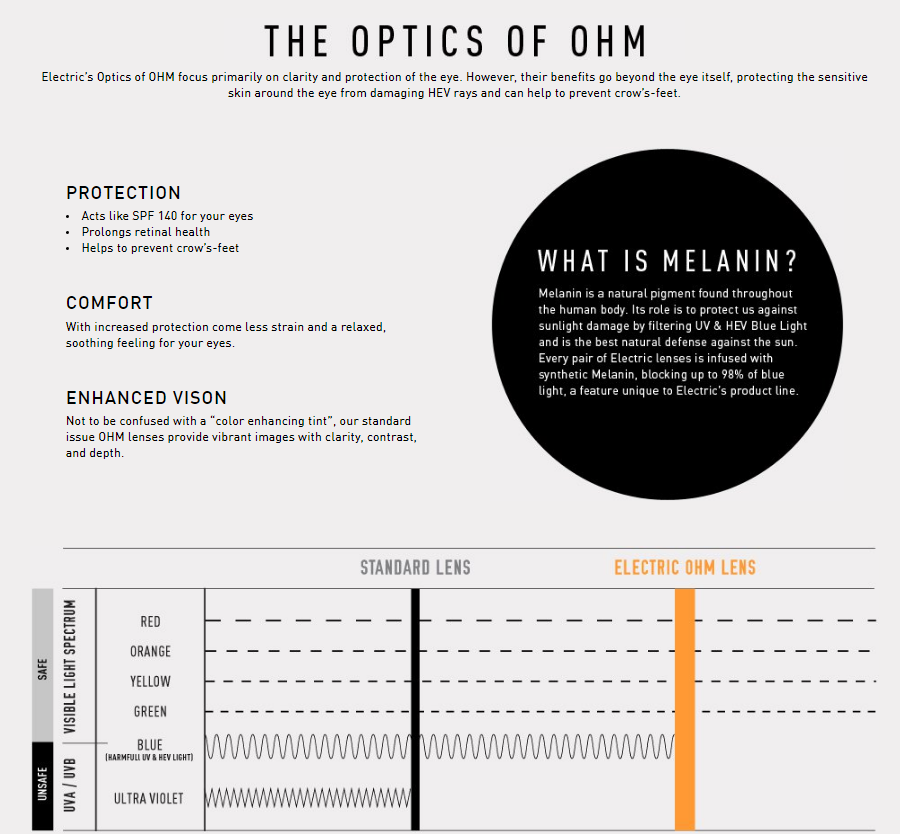 The SPY Happy Lens creates an incredible color enhancing and contrasting experience. A straight symphony of color infusion. With the Blue Light filter at the forefront of SPY Happy Lens technology, SPY Happy sunglasses will keep your eyes safe while you keep that stylish look you desire.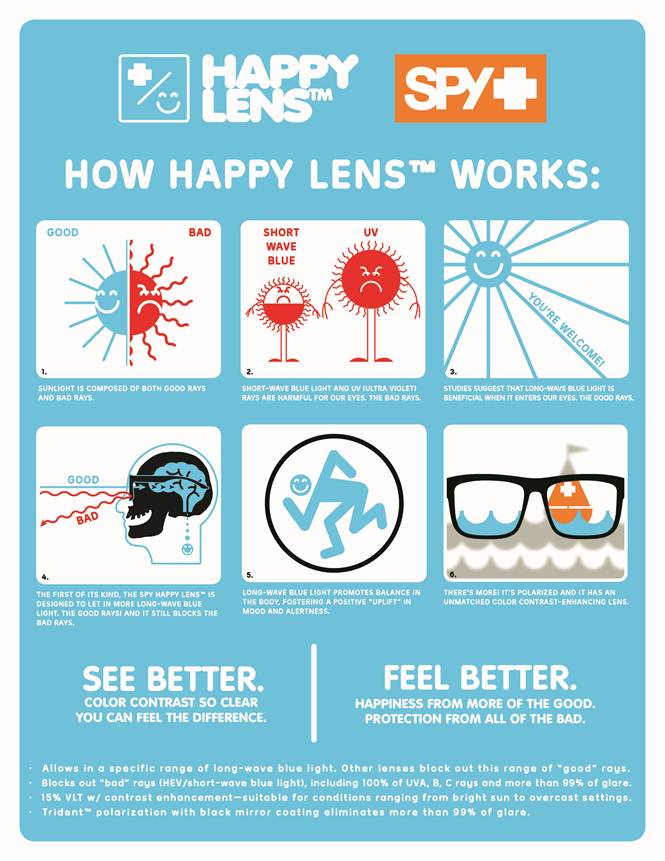 Save Your Eyes with Blue Light Lenses
Thanks to these innovative blue light lenses, we can still enjoy our outdoor adventures without fear of ruining our eyes! If you have any questions about blue light filter sunglasses or anything pertaining to blue light lenses or blue light in general, give us a call! We care about your eyes, which is why we are here every day of the week.