If you have a high prescription, you've probably experienced the disappointment of having limited options when it comes to selecting sunglasses. We've compiled a list of some of our most popular RX-able frames from top brands to expand your options.
What to Look for
Frames that can accommodate a strong prescription without distortion have several different key features:
Flat (no wrap)
Small-medium lens
Full rim lens
Plastic
Keep in mind, these are just guidelines! We can put your prescription in just about anything, but these features decrease the chance of distortion.
Table of Contents
1. Rudy Project Horus
2. SMITH Outlier 2
3. Ray-Ban New Wayfarer
4. Ray-Ban Daddy-O
5. Oakley Mainlink
6. Oakley Latch
7. 100% Centric
8. Nike Brazen
9. Nike Premier
10. Kaenon Silverado


Rudy Project Horus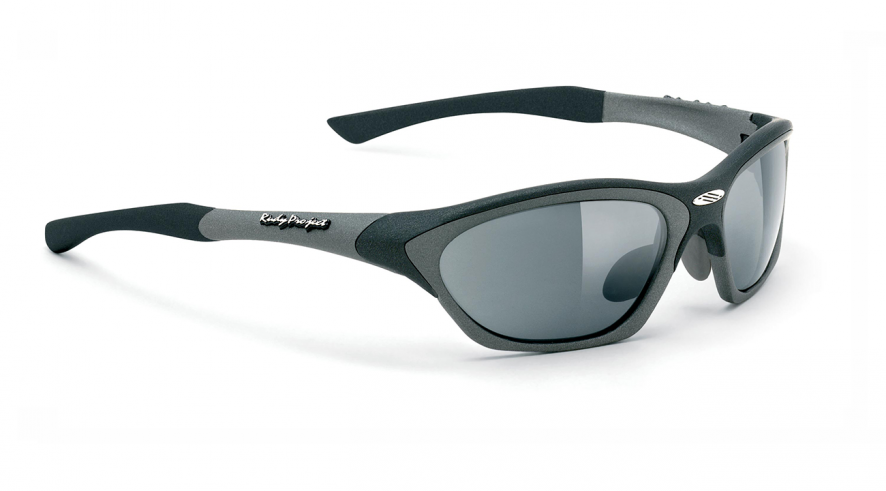 Rudy Project Horus with Anthracite/Graphite Frames & Laser Black Lens
Rudy Project Horus is a sports frame with all the bells and whistles! These best-selling sunglasses feature interchangeable lenses, adjustable nose pads, and rubberized grip on the nose and temples for a comfortable, secure fit.
SMITH Outlier 2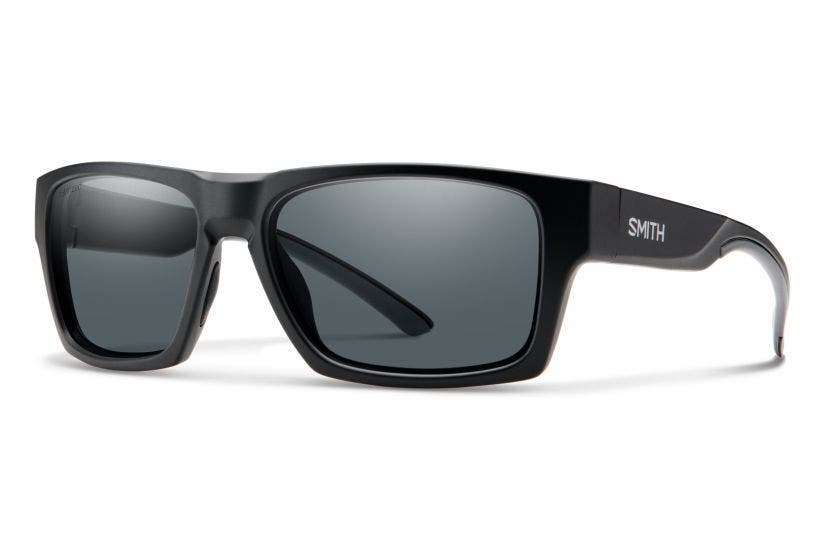 SMITH Outlier 2 with Matte Black Frames & Polarized Grey Lens
SMITH is their name and versatility is their game. SMITH Outlier 2 is a hybrid sports-lifestyle frame with a fashionable look and built-in performance features like megol nose pads and temples. This is an excellent everyday sunglass that will stay in place if you decide to take them on an adventure.
Ray-Ban New Wayfarer
Ray-Ban New Wayfarer with Tortoise Frames & Crystal Green Lens
For an all-around ideal RX-able sunglass, take a look at Ray-Ban New Wayfarer. The frames are plastic, flat, and have that classic Wayfarer shape. These sunglasses are available in a variety of sizes to accommodate any head size.
Ray-Ban Daddy-O
Ray-Ban Daddy-O with Matte Black Frames & Green Lens
Because of it's shape and lens size, Ray-Ban Daddy-O can accommodate a wide range of prescriptions. These are some of our top-selling sunglasses because of their adjustable temples, durable plastic frames, and amazing wind protection. The temples also have some texture for added grip.
Oakley Mainlink
Oakley Mainlink with Dark Ink Fade Frames & Chrome Iridium Lens
Oakley Mainlink is a hybrid sports-lifestyle sunglass with a casual look and performance features like Unobtanium on the nose and temples for unmatched grip. Sport functionality without the high wrap, these are any athlete with a strong prescription's dream!
Oakley Latch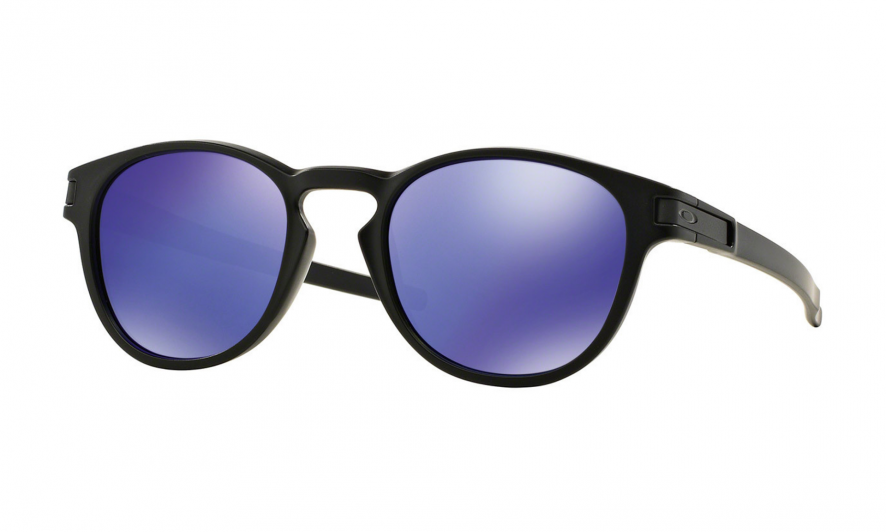 Oakley Latch with Matte Black Frames & Violet Iridium Lens
The rounded lenses of the Oakley Latch not only give them a funky style, but they make them very RX-able, too. Their frames are made from durable and lightweight O Matter material and they even have a feature to help you "latch" them to your shirt.
100% Centric
100% Centric with Matte Crystal Black Frames & HiPer Red Multilayer Mirror Lens
100% Centric can hang whether you're relaxing on the beach, or speeding downhill. Your prescription can be added to the water repellent lenses and they have thick temples to provide ample coverage and protection from wind and debris. These sunglasses also have rubber nose pads and temples.
Nike Brazen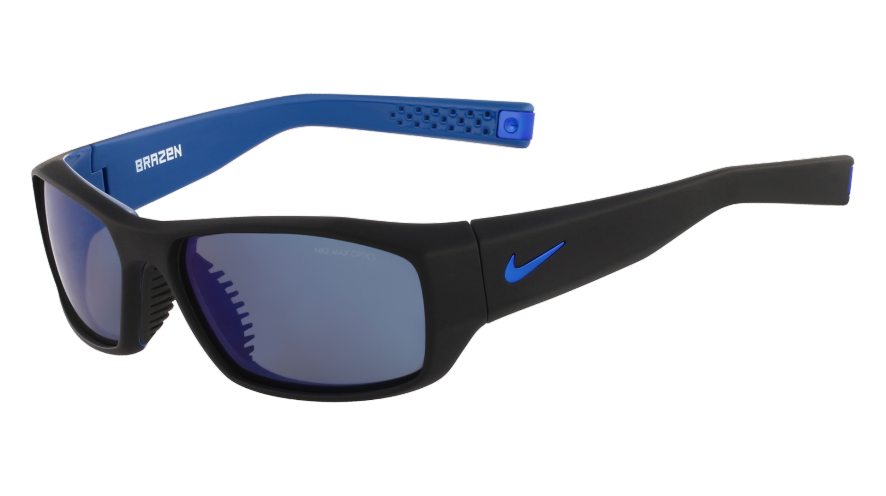 Nike Brazen with Matte Black/Military Blue Frames & Grey with Blue Flash Lens
Note: Nike Mercurial 6.0 is discontinued. Nike Brazen is also a great high-RX option.
For a bold, standout look, check out Nike Brazen. They have rubber nose pads for a comfortable fit and a ventilated nose bridge to reduce fogging. The lightweight, nylon frames are prescription-ready and style-savvy.
Nike Premier
Nike Premier with Matte Black Frames & Light Bone Course Tint Lens
Nike Premier's lightweight design features slimmed down temples with comfortable rubber in them as well as the nose pads. The flat, 6-base frames are made with durable nylon and their style is sleek and versatile.
Kaenon Silverado
Kaenon Silverado with Sequoia Frames & Brown 12 Polarized Lens
The epitome of "athleisure," Kaenon Silverado is a lifestyle frame with sport functionality. They have flat, acetate frames and rubber nose pads for extra grip and comfort. Kaenon Silverado's bold design makes them a total classic.
PRESCRIPTION SUNGLASSES AT SPORTRX
Need prescription sunglasses? Done. When you shop with us, you'll find video guides and tooltips throughout the build process as you customize the perfect pair. An answer to all your questions is at your fingertips, and if you want to chat with an expert, Contact Us. We'll put you in touch with one of our friendly in-house opticians who can help you build your prescription sunglasses.
Ditch risky online shopping with the See Better Guarantee. Try your sunglasses for 45 days. If you're not satisfied, send them back. Get a full refund, exchange, or credit towards a better pair. And return shipping? Covered. Get your pair of prescription sunglasses at SportRx today!