Every fisherman knows that light reflecting off the water creates poor visibility. When the bait is on the line and the hours of sunlight are dwindling away, seeing better is everything. Our avid fisherman, John, knew what he was looking for and found it with his customized prescription Wiley X Omega sunglasses.
1. Eliminate Glare to See Beneath the Surface
Glare is the bane of all fisherman. Light bouncing off the water is nasty bright and makes it impossible to get a clear look at the prize below the waves. The answer is polarized lenses for your fishing sunglasses.

Having darker lenses doesn't quite cut it when it comes to harsh glare, but polarized technology effectively eliminates that intense light by applying physics to the problem. Do you know what polarized sunglasses are? Find out what John knows and why he went polarized.
2. Pinpoint Where to Cast Your Line with Color Enhancing Lenses
John knew there was more to seeing beneath the surface. He needed to see the details under the water. Ever the researcher, John discovered that he wanted lenses that could make the in-shore waterways pop with color so he could see where he was fishing.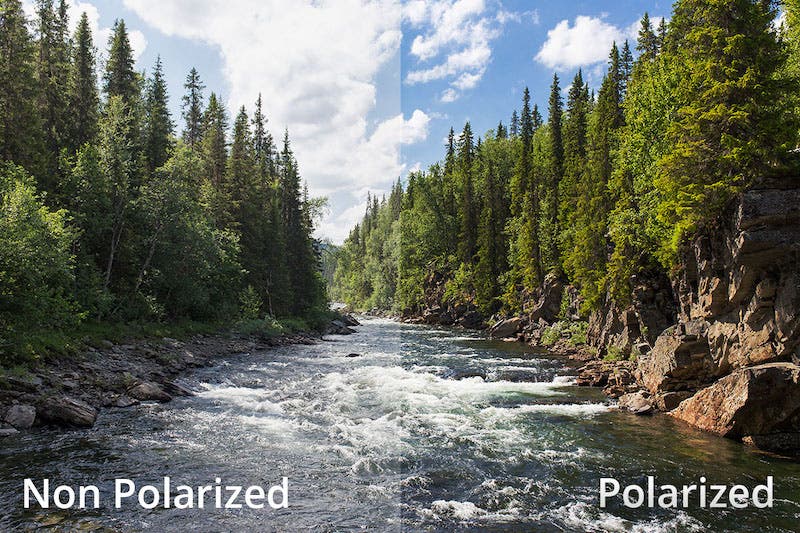 Ultimately, John decided on a brown lens for a mix of high contrast and versatility even when fishing on cloudy days.
3. See Perfectly All Day with Transitions Lenses
While John passed on the Transitions lens option, also known as photochromic lenses, for his new Wiley X Omega, we wanted to put the option out there for you. Sometimes the lighting conditions are constantly changing. Rolling cloud cover, relocating to an area with more shade, and fishing from sunrise to sundown, these are just a few situations where Transitions lenses can help give you the perfect amount of tint.
For the avid fisherman who wants to go out for extended periods of time, Transition lenses are an absolute must.
4. Sunglasses so Comfortable You Forget They're Even There
Some sunglasses are just designed better than others. John wanted a frame that could withstand the abuse if push came to shove without weighing him down. Does the best of both worlds exist?
That's why John grabbed his pair of Wiley X Omegas and slapped some customized prescription lenses inside for the perfect combo.
5. A Lifetime of Fishing – Protection Against Damaging UV Light
John is all about value. He was looking for a pair of sunglasses to do all his outdoor activities in. But John doesn't just like value, he likes the assurances of doing what he loves tomorrow.
Does "sunburn of the eye" sound like something you want to reel in with the catch of the day? John doesn't think so either. Instead of regretting his fishing trips, John sports his fishing sunglasses and enjoys his time out in the sun.
6. Weather the Elements – Shield Yourself Against Sun, Wind, and Water
Sunlight isn't the only obstacle messing with your vision. Water can cause a splash and irritation while a constant battering of wind can leave your eyes feeling dry and just as irritated.
John went with a maximum coverage against the elements so he could focus on the prize not his eyes.
7. Vision Without Compromise – Customizable Prescription Lenses
We'll let John take in from here:

Get Your Next Pair of Prescription Fishing Sunglasses at SportRx
Like John, your new go-to pair of fishing sunglasses can be on the way to your doorstep today when you order with us online. We made the process of customizing your perfect pair of prescription sunglasses as simple as possible.
Grab the Wiley X Omega with our signature Fresh-Water Green lens or discover your own style with our curated list of the best fishing sunglasses.
Ditch risky online shopping with the See Better Guarantee. Try your fishing sunglasses for 45 days. If you're not satisfied, send them back. Get a full refund, exchange, or credit towards a better pair. And return shipping? Covered. Get your pair of prescription fishing sunglasses at SportRx today!